3% advance payment discount*:

1.881,80 €

(Save

58,20 €

)
Available in two sizes the Knoll coffee table impresses, as with all members of the 1960s Platner Collection, from the unique, highly characteristic form of the steel bars that make up the frame. Produced by Knoll International the exclusive design of fine tubular steel and bronze braces is not only a visual treat but also an expression of highly elaborate processing of the material.
Product type
Sofa table
Dimensions
Small ø 91,5
Large ø 107 cm
Height 38,5 cm
Material
Frame: round steel rods, nickel plated, with clear protective lacquer or bronze metallic paint
Table top: polished crystal glass with bevelled edge profile, 10 mm thick
Variants
Available in two sizes
Frame available in steel or bronze and table top optionally in glass or marble
Colours
Frame



Tabletop




Care
For rapid removal of stains on metal, glass or marble surfaces you can use any glass cleaner with a clean, soft cloth followed by wiping dry. Please clean the surface with care and without scrubbing. On no account should cleaning agents which contain granular substances, acetic acid or citric acid be used.
Sustainability
GREENGUARD Indoor Air Quality Certified®
Warranty
24 months
In the mid-1960s Warren Platner developed a furniture collection for Knoll International, a collection consisting of various tables, the Platner Armchair, a chair and a stool: and a collection which have gone on to become recognised icons of their age. As with the other pieces in the collection the frame of the Warren Platner coffee table is constructed from curved, nickel-plated steel wire struts which simultaneously serve as the basic structure and through the moiré effect as ornament. In addition the, then, new and complicated steel wire production principle was, and indeed still is, the reason for the fascination of the Warren Platner table. The frame is perfectly complemented by a much more simple table top available in either marble or glass. Warren Platner, who collaborated with legendary architects such as Raymond Loewy and Eero Saarinen, can be regarded as a key figure of the 2nd generation of modernist designers who worked with steel wire rather than the steel tubing employed in the early days of modernism. In his designs Warren Platner continually strove for decorative, graceful and for all less severe forms than his predecessors. Thus Warren Platner's Collection for Knoll International reflects the cultural and social changes in the 1960s and a move towards more expressive form languages. In combination with the high-quality materials of the tabletop the Knoll Platner Coffee Table is an exclusive designer furniture object and piece of everyday furniture which is in many ways even more fascinating today than it was then.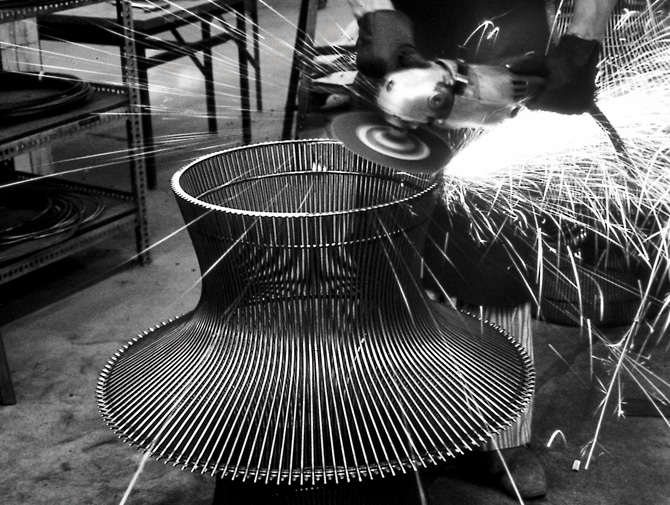 You may also like these articles