3% advance payment discount*:

840,99 €

(Save

26,01 €

)
The Series 7 Swivel Chair with the unmistakable formed seat and extended by the addition of castors, brings a new level of flexibility to the famous Series 7 by Arne Jacobsen for Fritz Hansen. The Danish manufacturer achieved its global breakthrough with the legendary Series 7 Chair by Arne Jacobsen: a timeless classic from the 1950s and a design classic which remains as popular and endearing today as ever.
Product type
Office swivel chair
Dimensions

Colours
Wood, clear lacquered



Coloured ash



Lacquer





Material
Seat shell: laminated, pressure moulded veneer
Frame: steel tubing, chrome plated
Castors: plastic with aluminium caps
Variants
Optionally available with hard castors for carpeted floors or soft castors for hard floors
Matching cushions available separately
Others colours and upholstery available on request
Function & properties
Height adjustable
Care
Lacquered surfaces of natural wood tolerate neither moist heat nor alcohol: all spills must therefore be wiped up immediately. When cleaning use only small amounts of water - ideally only with a damp cloth.
How much and how quickly the surface acquires a patina depends on the type of wood, nature of use and exposure to sunlight.
Certificates & Sustainability
Fritz Hansen conform to:
ISO 90001: 2008 (Quality management systems)
ISO 14001: 2004 (Environmental management systems)

Series 7 tested for strength and durability according to:
EN 1728
EN 13761
BS 4875

as well as for stability according to:
EN 1022
ISO 7174-1
BS 7945
Warranty
5 year warranty on manufacturing defects

Register your chair at fritzhansen.com/MY-REPUBLIC and take advantage of an extended warranty. To qualify you must register within three months of purchase and obtain the following warranty periods:
5 years for height adjustment, pivot function and castors
10 years on frame, shell, armrests, paint, coloured ash and natural wood veneer

Ordinary wear and damage are excluded from the warranty!
Accessories
Matching cushions available separately
Product family
The Series 7

Concept
Datasheet
Click for more information (ca. 0,8 MB).

In 1952, and after many years of collaboration the Danish furniture manufacturer Fritz Hansen recorded its first major success with the three-legged Ant chair by Arne Jacobsen. And released a chair design which was to become the predecessor of the company's best selling chairs: The Series 7 Chair, also from Arne Jacobsen. The ergonomic shape of the seat shell was for its day genuinely revolutionary, makes the Fritz Hansen chair unmistakable for later generations, and is just one of the reasons why the Series 7 Chair is still regarded as a design classic. The seat shell characterises the Series 7 family and can be combined with different bases, a feature which makes the Jacobsen chair in all its variants the perfect solution for any space. And not just the shell itself was revolutionary, also the production process developed by Fritz Hansen and Arne Jacobsen set new standards. Although the glued plywood moulding process employed was in itself not new, Arne Jacobsen and Fritz Hansen, perfected it through the addition of steam and thus achieved the one-piece, three-dimensional shape that makes the Series 7 so characteristic. The swivel armchair is arguably the most functional of the Series 7 chairs and simultaneously one which offers the highest level of seating comfort. In the Fritz Hansen swivel chair the standard chrome plated tubular steel frame is replaced by a stable swivel base including castors, thus offering functionality, comfort and mobility in one chair design.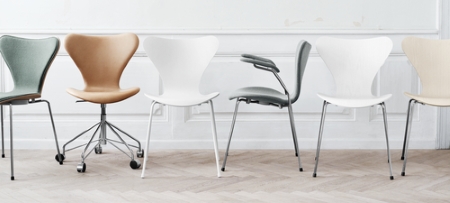 More about '3107' in our blog