3 % advance payment discount*:

328,83 €

(Save

10,17 €

)
The multi-purpose chair Tip Ton from Vitra is a completely new type of chair: the first fully plastic chair which tilts forwards and thus invites gentle rocking. Designed by Edward Barber and Jay Osgerby Tip Ton pays particular attention to pelvis and spine, promoting blood circulation to the legs and thus the oxygen supply in the stomach and back area. As such despite its playful character the Vitra Tip Ton is particularly suitable for prolonged sitting at a desk. In addition, Vitra offers the Tip Ton chair in 8 vibrant colours, five of which are also suitable for outdoor use. With Tip Ton Vitra have a chair which effortlessly meets all expectations of a multi-purpose chair: as a stackable chair it can be used in canteens, with the choice of contemporary colours the Vitra chair is perfect for the modern living room or kitchen while on any terrace it adds a discreet yet poppy element.
Product type
Multi-purpose chair
Dimensions


Dimensions in mm
Colours
Recycled polyethylene



Polyethylene




Material
Chair: Polypropylene or recycled polypropylene (dark grey RE version)
Glides: Polyethylene or recycled polyethylene (dark grey RE version)
Function & properties
Concentrated focus on pelvis and spine and thus improves circulation in legs
Stackable up to 4 chairs
Suitable for outdoor use in the colours basalt, olive, industry green, mango, earth grey, ice grey, glacier blue, basic dark and white
The dark grey RE version is 100 % recyclable
Concept
Care
To clean, wiping with a damp cloth and a mild detergent is recommended.
Certificates & Sustainability
Vitra conform to
ISO 9001: 2008 (Quality management systems)
ISO 14001: 2004 (Environmental management systems)

With the Tip Ton RE (dark grey RE version), Vitra is launching a Tip Ton chair on the market that is both made of recycled polypropylene and is 100 % recyclable and can thus in turn be fed back into the material and production cycle.
Warranty
24 months

Register product and secure extended manufacturer's warranty of 10 years
Accessories
Soft Seats (Typ A)
Product datasheet
Please click on picture for detailed information (ca. 0,2 MB).

Product presentation
DesignStory

"A forward leaning sitting position promotes concentration"
In 2008, the British designers Edward Barber & Jay Osgerby were commissioned by the Royal Society of Arts, Manufactures and Commerce to develop a furnishing concept for the new "Royal Society of Arts Academy" in Tipton, England. As Barber & Osgerby began planning, they noticed that there was a lack of innovative chairs for learning - the last was Robin Day's 1963 polypropylene chair; otherwise all chairs were based on outdated pedagogical guidelines that went from frontal knowledge transfer to silent and upright students. Consequently, the two set themselves the task of developing contemporary chairs for young people when learning: indestructible, light, quiet, stackable, colourful, fully recyclable and easy to use in production. And allowing movement. It quickly became clear that a nearly revolutionary chair was needed for a new era of learning and sitting.
Over 30 prototypes for the perfect sitting experience
At that time, Barber & Osgerby were already in loose contact with Vitra and knew that, in cooperation with the ETH Zurich, they were exploring dynamic sitting in office chairs. The two came together and the result of the ETH study was not long in coming: a forward leaning sitting position helps prevent physical discomfort and at the same time promotes blood circulation and thus the ability to concentrate. Immediately the intense design process of Edward and Jay began. The idea was a chair that was designed to stimulate different seating positions, keeping body and mind in motion. It was followed by a period of tinkering and trying out - including over 30 prototypes. Some of them were made of metal base and separate seat shell and had little in common with the final product formally. Nevertheless, they served to solve technical problems and to work out stacking and tilting function. It soon became apparent that a chair made completely of plastic was the most suitable. Since the chair should be designed for educational purposes, its durability was strictly tested before its finalisation; which was important because it was to meet the specific requirements of different countries, which meant fine adjustments of design details over and over again. Finally, the final shape and name of the original Vitra chair was confirmed: Tip Ton, a moniker which both reflects the tipping motion of the chair, and also makes a passing nod to the injection-mould in which the polypropylene Tip Ton is produced - and which itself weighs over 20 tons. And that in a chair that just brings it to 4.5 kg. Finally, the original Tip Ton also references the town of Tipton, where the school for which the chair was originally intended is located.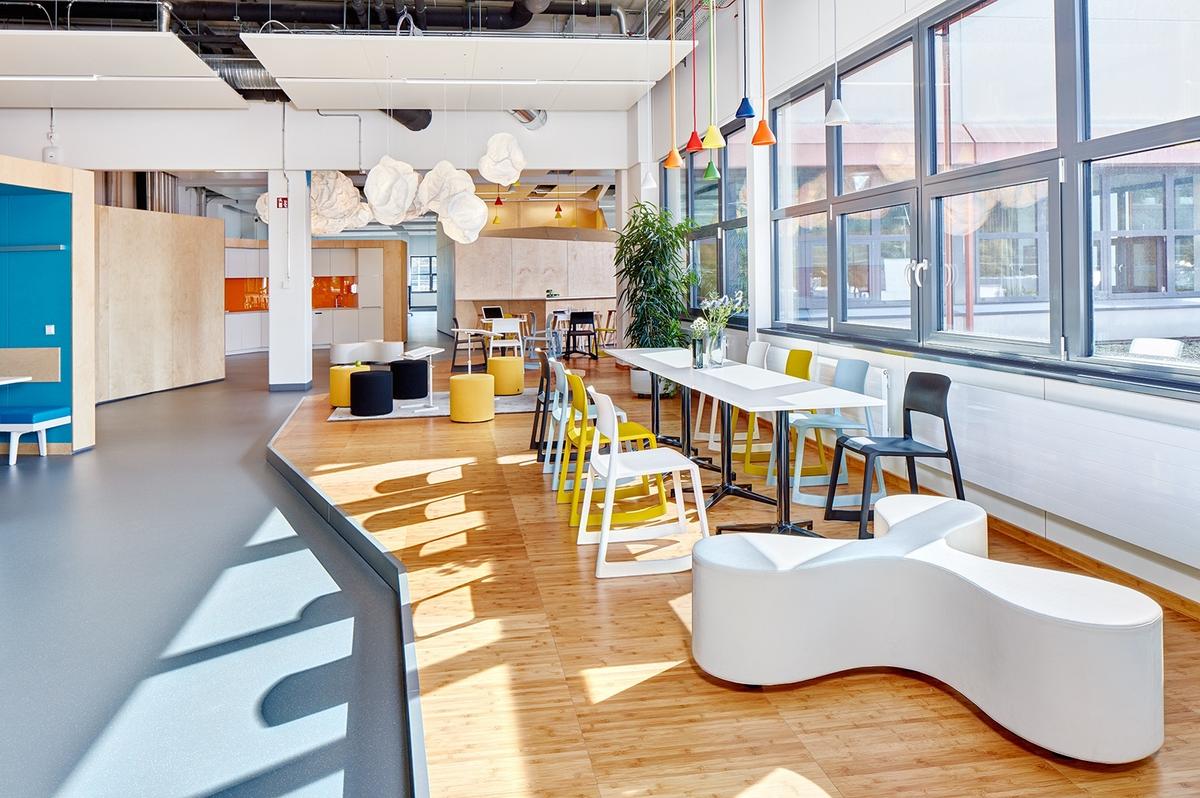 The development of the chair ultimately took so long that it was not used in the "Royal Society of Arts Academy", but exemplifies that good, purposeful design sometimes takes time. In the meantime, it is clear that the dual seating experience of the Tip Ton is not only appealing in schools, but is also suitable for office environments and the living area, making the original Vitra Tip Ton a true multi-purpose chair.
You may also like these articles