George Nelson's Coconut design is typical of the 1950s- combining formal clarity and minimal use of materials with a pinch of humour.
Chair
White shell in fibreglass-reinforced plastic
Chrome-steel tube legs
Single-piece upholstery, with leather or Hopsak covers.
Also available with matching Coconut Footstool.
Hopsak: 100% Polyamide
Colours & Material Coconut Chair
Description
The Coconut is a typical 1950s design– it stands out for its humorous touch, formal clarity and minimal use of materials. Nelson himself compared it with a coconut cut into eight parts, and inverted the coconut's colours: the plastic seat shell is white, while the single-section upholstery comes in a variety of colours. This return to the natural spatial shape of a shell enabled Nelson to create an inviting, comfortable armchair that offers users the freedom to sit in countless different positions. The ottoman, which Nelson designed to complement the armchair in 1955, ensured even greater sitting comfort and increased the range of uses.
Dimensions Coconut Chair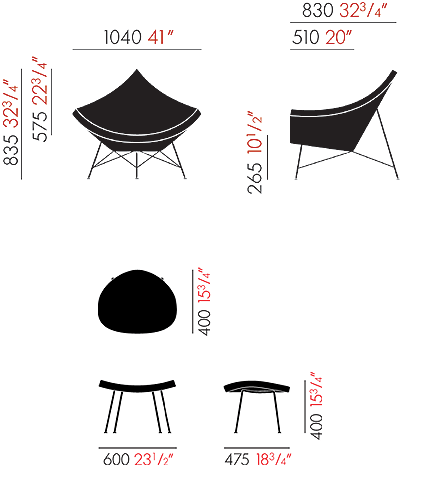 More about 'Coconut Chair' in our blog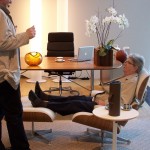 ... On account of the horrendous hotel prices demanded during design week the (smow)blog team camp in Milan. And that despite last years near-drowning episode. This year the decision was a real blessing. Spared the torment of those trapped by Eyjafjallajokull...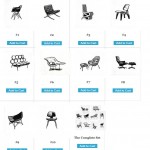 ... We find them rustically charming and at 15 x 20 cms the prints are a nice size and we can well imagine three or four hanging in formation. If you would like one or more of these prints to compliment your furniture, you can get find all relevant information...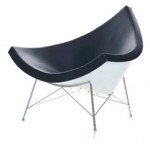 ... In addition to the Pretzel Chair, Nelsons most popular seating solutions include the Marshmallow Sofa and the Coconut Chair. The Coconut Chair was genuinely inspired by the form of the coconut – or more specifically from an eighth of a coconut shell, ... Available in a range of colors and with an optional footstool, the Coconut Chair is a genuine design classic that fits into any room. The Marshmallow Sofa is formed from 18 multi-colored cushions...
'Coconut Chair'-posts
You may also like these articles: