Kristalia
Elephant Sledge
by Neuland Industriedesign, 2010
— from 399,00 €
3% advance payment discount*:

387,03 €

(Save

11,97 €

)
The plastic Elephant Sledge chair, named on account of the runners-shaped steel frame, only differentiates from the related Elephant Tube and Elephant Wood by its base: the seat shell of each version of the organic and at the same time clearly shaped Kristalia chairs is subtly modelled on the back of the popular pachyderm.
Product type
Multi-purpose chair
Dimensions
H 85 x W 62 x D 59 cm
Seat height 44 cm

Weight
7,8 kg
Material
Seat shell made of polyurethane
Steel frame with plastic glides
Variants
Frame optionally available as chrome plated, brushed steel or painted in the colour of the seat shell
Colours
Seat shell



Frame




Function & properties
The version with lacquered base is suitable for outdoor use.
Product presentation
Care
For cleaning of plastic, please use a soft, damp cloth with no rough surface. Subsequent careful drying is recommended.
Warranty
24 months
Accessories
Elephant cushion separately available
Product family
Elephant Collection

Product datasheet
Please click on picture for detailed information (ca. 1,3 MB).

Design
The Elephant Tube by Neuland Industriedesign, awarded the "The Best of Best Winners of the Interior Innovation Award 2012", is joined in the Kristalia family by its sister model the Elephant Sledge. The difference between the two is the steel sledge skid-shaped base of the later. The welcoming, fresh, form of the chair is reminiscent of the Kristalia Elephant Tube and, and as with the third chair in the family, the wooden framed Elephant Wood, is modelled on an elephant's back. With is gently curving base the Elephant Sledge presents a very compact, unassuming character, which is almost sculptural in its effect. The plastic seat shell is available in a range of colours making the Kristalia Elephant chair a reliable and practical all-rounder applicable in many situations both indoor or out, commercial or domestic.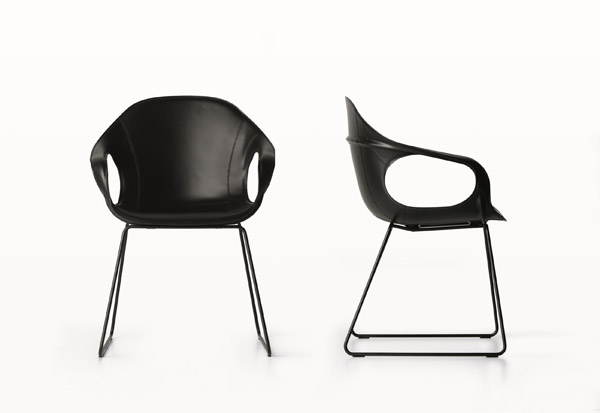 Designer
Eva Paster and Michael Geldmacher established Neuland Industriedesign in Munich in 1999 and initially concentrated on classic industrial design for the cosmetic, media and outdoor sectors before in 2005 the pair switched to concentrate on furniture. Since making the switch the pair have established a portfolio of projects with international furniture manufacturers such as, for example, Kristalia, Nils Holger Moormann, MDF Italia or Interlübke. The work of Paster and Geldmacher is based on the belief that products are an expression of a certain world view, from this position the designer duo saw a need to respond to changing values ??and social phenomena with new aesthetic expressions - innovation rather than chasing trend. In addition to designing both have also taught at the University of Applied sciences in Munich and won major industry awards including the Compasso d'Oro.