3% advance payment discount*:

6.932,59 €

(Save

214,41 €

)
The compact oak table SH900 Extend can, thanks to a discreetly mounted technology, be "extended" from its basic 190 cm to an incredible 300 cm. Thus making it exceptionally suitable for large parties, family gatherings or groups of friends. Designed by Christina Strand & Niels Hvass in 2007 the SH900 Extend is produced by the Danish manufacturer Carl Hansen & Søn.
Product type
Dining Table
Dimensions


Distance between legs (unextended) 168 x 64 cm
Material
Tabletop and frame, solid oak
Extension element, lightweight MDF panel in black
Colours



Function & properties
Extendable from 190 to 300 cm
Care
Soaped wood:
In order to maintain the best possible quality, you should regularly wash soap treated furniture with soap and water. For daily maintenance, the use of a soft, moist wrung cloth with clean water is recommended. Please avoid using detergents or chemicals.



Oiled wood:
The ensure the maintenance of your furniture in the best possible quality oiling every six months is recommended. For daily maintenance, the use of a soft, moist wrung cloth with clean water is recommended. Please avoid using detergents or chemicals.



The Carl Hansen & Søn Wood Care Set is available separately:

Certificates & Sustainability
Carl Hansen & Søn use woods exclusively sourced from sustainable forests, and oak principally from Danish forests managed in accordance with Denmark's National Forest Programme. In all cases the company follow the guidelines of the EU Timber Trade Regulation (Eutr)-2013.
Warranty
24 months
Product datasheet
Bitte klicken Sie auf das Bild, um detaillierte
Informationen zu erhalten (ca. 0,1 MB).

The Design
With the SH900 Extend the Danish furniture manufacturer Carl Hansen & Søn provides the ideal, elegant dining table for large family gatherings or long evenings with good friends, good food and good drinks. Designed by Christina Strand and Niels Hvass and released in 2007, the SH900 Extend is true to its name and extends from a compact 1.90 meters out to an incredible 3 meters, and that without losing the overall harmony of its appearance and its innate stability. This functionality is achieved not only on account of clear and uncompromising design of the dining table, but also from the noble oak, from which the SH900 Extend is manufactured. This purist, aesthetically charming dining table is as inviting, as you could wish from such a piece of furniture in its category only and moreover, it is consistent with the finest traditions of Scandinavian design, a tradition which which Carl Hansen & Søn helped establish through their cooperations with Hans J. Wegner and Arne Jacobsen in the 1950s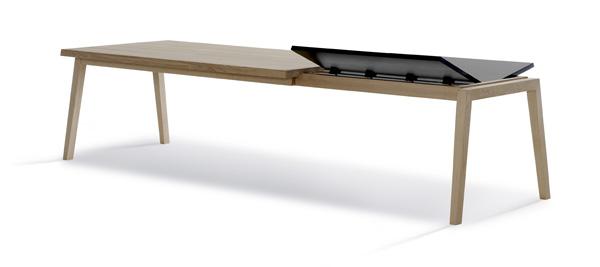 Designer
"Inspiration is often to be found where nothing is - in silence, in the empty space. It should not be too much, and for those details that exist, there is a good reason", says Christina Strand, who since 1998 has operated a design studio in Copenhagen with her husband Niels Hvass. As a design duo Strand + Hvass follow the conviction of design as an opportunity to improve the condition of human life. Here the user is at the centre: function and beauty, simplicity and harmony are the goal of each design. Strand and Hvass are deeply rooted in Scandinavian culture and in context of their collaboration with Carl Hansen could develop this understanding of and respect for the finer traditions of Scandinavian design with their SH 900 Extend table.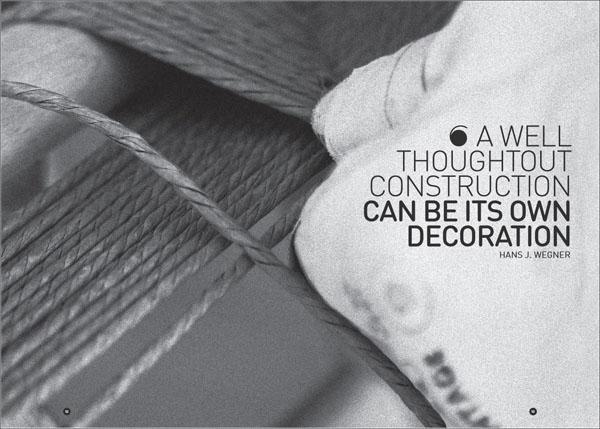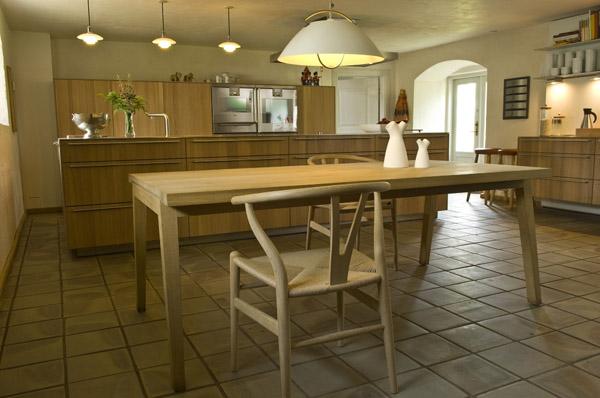 Production
The ingenious design of the Carl Hansen SH900 Extend dining table is defined by the built-in extension plates of lightweight black MDF which remain hidden inside when not extended, yet which allows the table to be extended to 3 meters if required. The distance between the legs is 1.68 meters is increased as the table extends, thus ensuring stability and safety. In addition to the MDF the SH900 Extend is crafted from solid oak, a material which not only brings warmth to the composition but also defines the overall aesthetic experience. As a principle Carl Hansen & Son processed predominantly hardwoods from Danish forests which are sustainably managed in accordance with legal guidelines. In the case of the Carl Hansen SH900 Extend this combination of exquisite oak, the clever design of Strand & Hvass and the know-how of the Danish furniture manufacturer