WHY STAND-SIT DESKS ARE THE OFFICE WORKPLACES OF THE FUTURE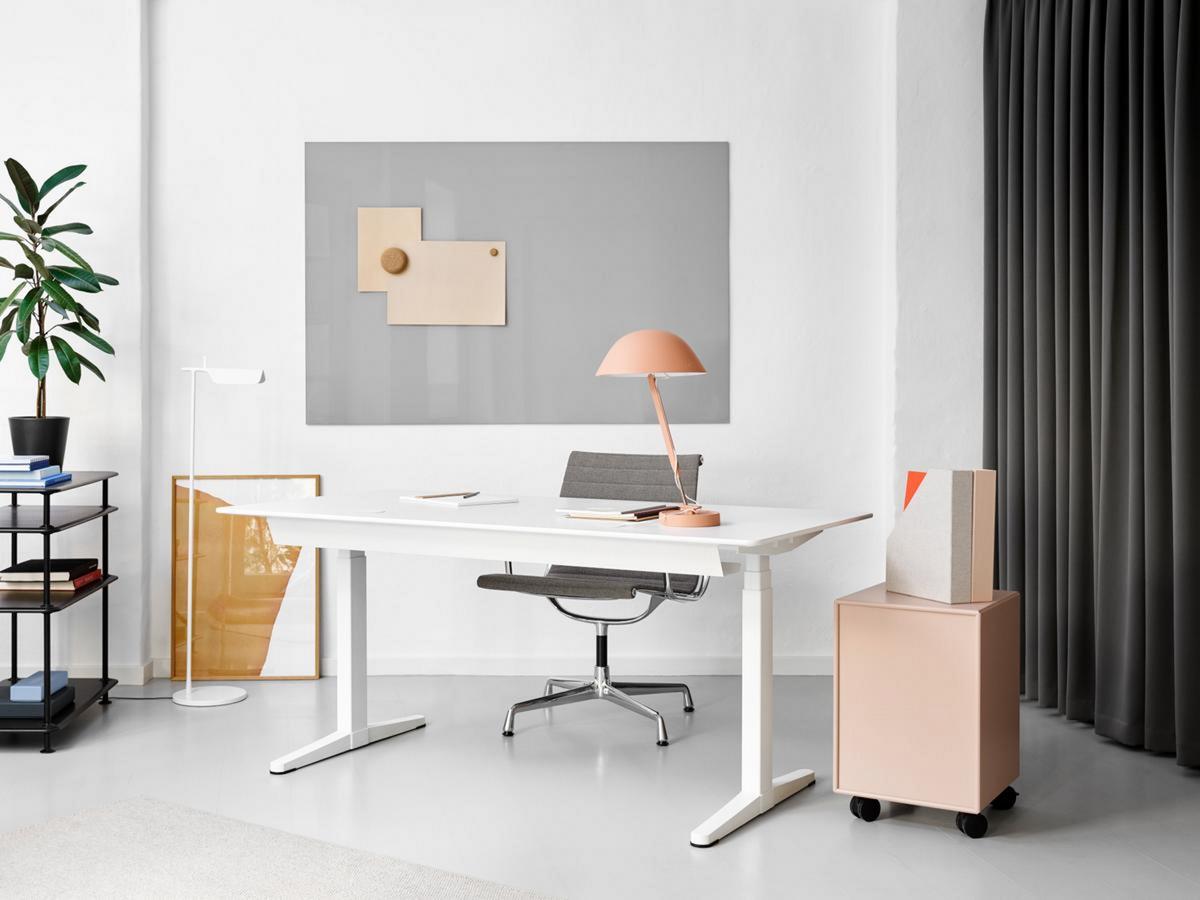 Why do you need a height-adjustable desk?
Sit-stand desks are becoming more and more popular in everyday office life - and rightly so: Height-adjustable desks, enable an uncomplicated change of working posture from sitting to standing and back again, be that via an electrical mechanism or manually using a crank or gas lift.
Height-adjustable desks - an investment that pays off!
This investment in a height-adjustable is worthwhile as can prevent back problems, increase performance, the ability to concentrate and motivation, and minimize downtime. The smow furnishing experts have compiled the key considerations in contexts of choosing and purchasing a height-adjustable desk and answers to the questions why they are so enormously advantageous for workers and employers.
Sit-stand desks allow for frequent changes of position, and that's the key!
It is important to regularly move position during the working day, and sometimes for a prolonged period. Of course, that doesn't mean that you should just stand all day - that's not healthy either, and it's also hardly feasible, especially in the office. Rather, it is advisable to change position frequently, which benefits the body and head. Occasional change of position and posture is essential for an active mind. Some experts recommend sitting 60% of the working time, standing 30% and being active 10% of the working time, others speak of 50:25:25. Regardless of the numbers, what is clear is that a healthy combination of sitting, standing and active movement should be encouraged.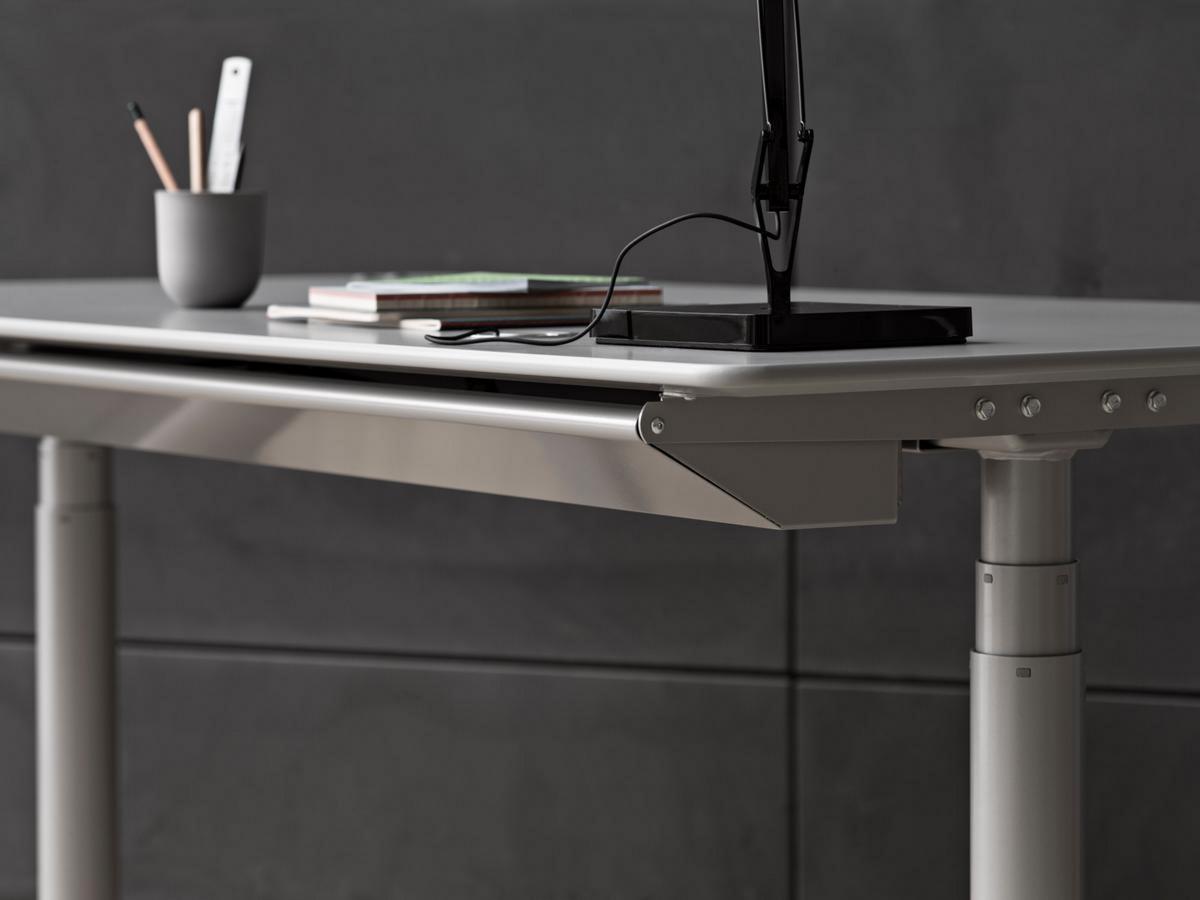 WHAT IS IMPORTANT WHEN CHOOSING YOUR STAND/SIT TABLE?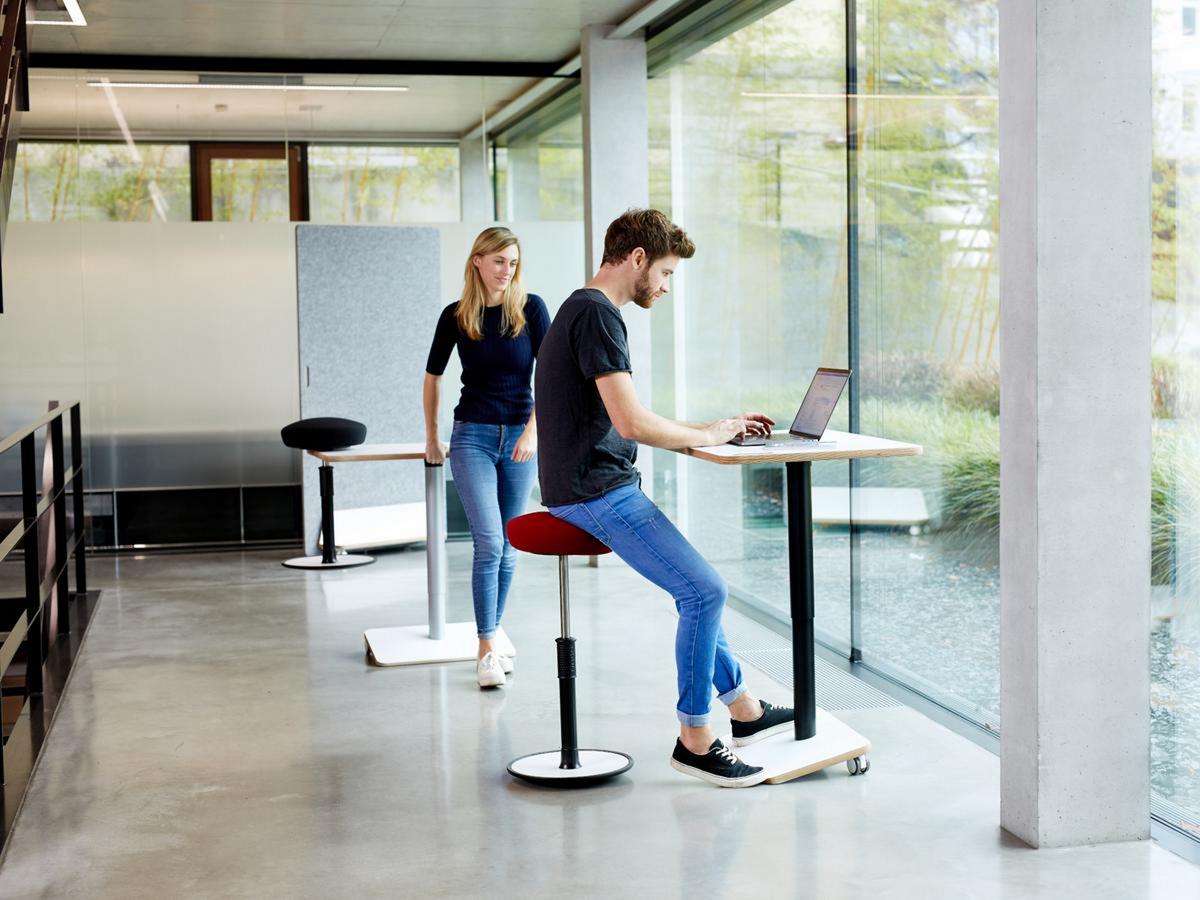 How big should an office desk be?
When it comes to ergonomic office equipment, the right dimensions play a decisive role: not only in context of ergonomic office chairs, but also the desk should be the right size. The information from the German Federal Institute for Occupational Safety and Health (BAuA) can serve here as a guideline: desks, so the recommendations, should have a minimum size of 160 × 80 cm. Depending on how many accessories you use and how much space you have available, it is advisable to choose a height-adjustable desk with the dimensions between 140 × 80 and 160 × 100. But space-saving desks, such as the Ongo Spark with a work surface of 100 x 62, also offer sufficient work space to work flexibly, especially with laptops.
How much does a height-adjustable desk cost?
An innovative desk that meets high standards and is well made has its price. Height-adjustable desks are more expensive than conventional desks on account of their technical features: in the case of electrically height-adjustable tables in particular, technology is used that must be installed in such a way that the desk can be used in a space-saving and ergonomic manner. Height-adjustable desks are therefore different in the price comparison.
Models such as the Montana Hilow3 desk are in the upper price category. The height-adjustable Montana desks Hilow2 and Hilow3 can be flexibly adapted to a wide variety of needs and impress with their simple design and first-class workmanship. An inexpensive desk with a height-adjustable work surface is the mobile desk Ongo Spark from the manufacturer Ongo, which allows flexible and ergonomic work while sitting or standing.
How should you stand at your desk?
Standing workstations should always be tailored to the respective worker in terms of height and needs. This is the only way to ensure that the change of position brings an actual benefit. Here are a few points to keep in mind:
► Upright posture
► Upper arms should flow vertically downwards
► Maintain a right angle between upper and lower arm
► The tilt of the head and gaze should add up to approx 30 to 35°
For which activities is a standing workstation suitable?
More work can be done at a standing workstation than you might think. In fact, it is mainly a matter of habit, because most activities in the office can be carried out just as effortlessly at a raised table as at a seated table; however, it is advisable to slowly get used to the change between sitting and standing while working.
In the beginning, activities such as telephone calls, short research, mail processing, quick reading, taking notes or brainstorming can be done while standing, so that you can gradually get used to it and the change between standing and sitting work will soon come naturally. Once you have gotten used to the upright position while working, it will soon become completely normal to do typing or other work that were previously only performed while sitting in doses while standing.
Electrical height-adjustable desks
Electrical height-adjustable desks are particularly suitable for switching back and forth between a standing and a sitting table quickly and without complications. On the one hand, manual cranking does not always prove to be ergonomic, on the other hand, when it comes to professional computer work, there is usually not enough time to adjust the desk several times a day by laboriously cranking it. In addition, the motivation for a change decreases if it involves a lot of effort. Colleagues should not be distracted by the attitude at the next table either. The height adjustment of the desk height should be done quietly, easily and as quickly as possible. In this respect, electronica height-adjustable desks are considered to be the preferable and most ergonomic.
5 REASONS FOR AN ADJUSTABLE HEIGHT DESK
1. Sit-stand desks reduce the risk of heart disease
Standing up from time to time while working is also good for your health! Studies have shown that sitting for long periods of time has a negative effect on the cardiovascular system: so-called HDL level (high density lipoproteins) levels decreases when sitting, and the risk of a heart attack increases. This is because HDL transports excess cholesterol to the liver to keep blood vessels clear. However, if this function is impaired because the productivity of the HDL level has reduced, then calcification of the arteries can occur. In the worst case, this can lead to fatal diseases such as a heart attack or stroke. Height-adjustable desks and thus a healthy HDL level through sufficient exercise during the day are thereby a positive influence.
2. Why is a height-adjustable desk easier on the spine, ankles and knees?
Interruptions in the period of sitting not only keep body and mind busy throughout the working day, they are also healthier in the long term, since the spine, ankles and knees are significantly protected. Discomfort in the back, neck and shoulder area as well as in the joints are quickly reduced with a sit-stand desk, making the workplace more ergonomic. Acute back problems, which are becoming more and more common nowadays, even at a young age, can be caused by stress, psychological problems or, very often, incorrect posture. Sit-stand solutions can help!
3. More brain power thanks to the height-adjustable desk
According to experts, human brain activity increases by up to 20% when standing, which ensures significantly faster decision-making of higher quality, even at the end of a long, tiring workday. Thus it helps not to spend the entire working day in a tiring sitting position and rather to get up regularly to get the brain working at full speed. A sit-stand desk is a great advantage if you have to work in a highly concentrated manner for many hours. In addition, employees generally become fitter, more open-minded and more flexible with a height-adjustable desk.
4. Why do sit-stand desks save time and money in the long term?
It is estimated that height-adjustable desks increase efficiency at work by at least 10% - calculated over the year, this means a lot of working time gained. In addition, absenteeism due to visits to the doctor for back problems or other ailments caused by long-term sitting is reduced. According to a study by the Fraunhofer Institute for Labor Economics in Stuttgart, the annual damage in German companies amounts to 35 million euros, which can be traced back to absenteeism and reduced productivity, which in turn are caused solely by back problems. Reduced absenteeism through improved employee health also serves the profitability of a company. Take action and invest in height-adjustable desks because they can save you time and money in the long run.
5. Thanks to height-adjustable desks, meetings run more efficiently and motivation increases
A study by behavioural researchers at the University of Missouri hs shown that people communicate much better when standing than when they are sitting. A reduction in stress leads to less stress, frustration and chronic pain, which in turn creates more motivation in the workplace. If an employee feels healthier and fitter, makes quick progress and achieves what they have set themselves, then they enjoy their work more and can create more ideas and concepts and implement them with motivation. More exercise by getting up regularly leads to more employee satisfaction and efficiency.