3% advance payment discount*:

1.602,44 €

(Save

49,56 €

)
Typical Moormann! The desk Kant, made of birch and maple and featuring a tool-free construction, features,a s with all Moormann products, a novel idea: a kink at the rear end of the table not only provides for an interesting look but also for storage. Utensils, book, folders, sweets etc can be kept free of the work surface, yet remain within easy reach.
Product type
Desk
Dimensions
H 74 x W 160/190 x D 105 cm
Worksurface depth 70 cm
Material
Table top: FU (birch plywood) with laminate or linoleum surface
Legs: Solid maple

Attention: FU (Plywood, birch) is a high-quality, industrially produced multi-layer product with a protective film covering. Variations in colour and structure in addition to small scratches are always possible!
Variants
Available in 2 sizes
Colours



Function & properties
Tool-free construction
Care
FU: Light, superficial, blemishes of the untreated edges can be removed using a fine-grained sandpaper. The surface can be wiped with a soft cloth. If necessary, use lukewarm water with a small amount of detergent.

For waxed surface only use a dry soft cloth, never use a wet cloth!

Table legs: Light, superficial stains can be removed using a fine abrasive paper. Always sand in the direction of the wood grain! Oiled or waxed surface can be treated with a colourless oil or wax
Awards & museum
Good Design Award 2003, The Chicago Athenæum
Deutscher Designer Club 'Gute Gestaltung' Auszeichnung in Bronze 2005
iF design award 2005
Nominated for Designpreis der Bundesrepublik Deutschland 2004
Sustainability
The sustainability of Moormann products largely results from the use of natural materials and their processing into durable, often modular, products which offer the user the chance to adapt and modify them as required. For transporting and distribution an emphasis is placed on achieving small packing sizes and only using recycled / recyclable packaging material. Production of Moormann furniture is completed to 90% by regional suppliers thus reducing shipping requirements.
Warranty
24 months
Product datasheet
Please click on picture for detailed information (ca. 0,8 MB).

Production
Just as innovative as the designs in Moormann catalogue are the Moormann production processes. The majority of Moormann products are crafted by small businesses in the immediate vicinity of the company headquarters in Aschau im Chiemgau. The Kant desk from Moormann is delivered flat-packed and can easily be assembled at home: and as is standard with Moormann products the assembly is tool free. The decision to ship Kant flat-packed is to reduce shipping volume, a key component of the company's approach to and understanding of sustainability, as is the fact that Moormann products can be easily recycled should that prove desirable. Which it won't. In addition Nils Holger Moormann place great importance on the selection of materials and processing technology. For example, Kant's FU birch plywood table top and maple legs are sourced exclusively from European forests with an FSC certificate.
The Design
As you would expect from the furniture manufacturer Nils Holger Moormann, the design of the table Moormann Kant is based on an unconventional, but quite catchy design idea. The table top features namely at the rear end on a bend, forming a kind of storage channel and provides storage space for various desk accessories. So you have a free of cleared work table and yet everything you need at hand. The design by Patrick Frey and Markus Boge from 2002 proves to be so slick that it was immediately applied to three tables: in the form of mini head of table and small desk, the Kant Bureau is the ideal home office solution with the dimensions H74 x B120 / 140 x T85,5 cm. And Kant thinks even further! Several accessories complement Moormann Kant Desks for practical organizational aids.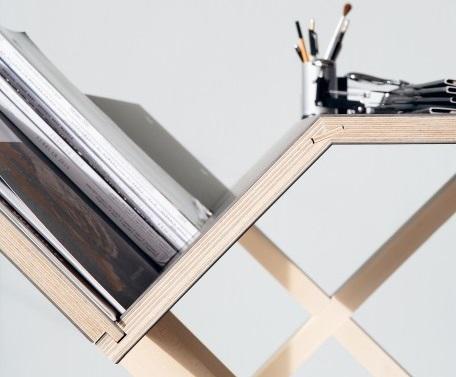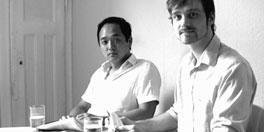 Manufacturer
As a manufacturer of contemporary furniture Moormann has a clear concept and a unique portfolio. And since the company's establishment in the early 1980s, founder and eponym Nils Holger Moormann has continued to develop both. In addition to the idiosyncratic designs, around which often weaves a story, another unique feature of the Moormann philosophy is the targeted promotion of young, still unknown, designer. Kant coming directly from the college to Moormann: Kant, Kant Secretary and Kant Mini were the diploma thesis of Markus Boge and Patrick Frey. In addition, Moormann remain true to their home region. Located in the enviable Alpine panorama of the Chiemgau are of Bavaria, Moormann uses regional structures and manufactures for the production of their furniture and also run a small private hotel in Aschau, Berge.
Designer
The refreshingly impertinent design of Kant originates from the relatively young designers Patrick Frey and Markus Boge. When the desk and table family entered production in 2002 the pair had still to complete their design studies at the Fachhochschule Hanover. The establishment of the joint office Frey-Boge quickly followed. As did the awards. Their motto, "simple but not simple", fits perfectly with the world of contemporary designer furniture and is ultimately what makes their Kant desk with his brilliant symbiosis of worktop and storage space into an endearing public favourite.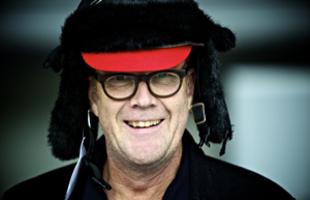 More about 'Kant' in our blog
<