3 % advance payment discount*:

1.944,85 €

(Save

60,15 €

)
The Cassina Zig-Zag chair was designed by Gerrit T. Rietveld in 1934 and is considered a pioneer of the Panton Chair by Verner Panton. The Cassina chair, a work without the classic chair legs, gets its particularly extravagant look through four wooden panels that elegantly connect from top to bottom.
Product type
Chair
Dimensions
Height: 74 cm
Width: 37 cm
Depth: 43 cm
Seat height: 43 cm
Weight
7 kg
Material
Cherry, natural stained
Manufacturing
Function & Properties
Part of the "Cassina I Maestri" collection
Care
To clean a damp cloth and a mild detergent are recommended.
Warranty
24 months
Datasheet
Click for more information (ca. 0,4 MB).

More about 'Zig-Zag chair' in our blog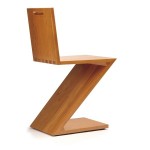 ...com, a range that features design classics such as the Zig-Zag chair by Rietveld or the Argyle Chair by Mackintosh...
You may also like these articles