3 % advance payment discount*:

473,36 €

(Save

14,64 €

)
As with all USM units the USM Haller lowboard is manufactured according to the modular design of three main elements: Metal tubing form the framework, chrome plated brass balls the joints and metal panels the outer cladding. It is precisely this simplicity that makes USM Haller such a perfect all-rounder.
Product type
Lowboard
Dimensions
Overall: H 39 x L 78 x D 38 cm
Ball centre to ball centre: H 35+4 x L 75 x D 35 cm
Material
Panels: Metal, powder coated
Structure: Steel, chrome plated
Ball: Brass, chrome plated
Weight
ca. 13 kg
Variants
Upper element (drop down door can be retrofitted at any time)
Also available as version with folding door
Other versions can be configured in the smow USM Configurator
Colours



Colour chart
Request a USM Haller Colour Fan
Function & properties
Lowboard can be extended in all directions
Care
Chrome plated, powder coated and glass elements should be cleaned with a damp, light cloth and subsequently dried.
Stubborn stains can be cleaned with glass cleaner or water mixed with ethanol in a ratio of 10:1
Awards & museum
MoMA, New York
Certificates
Inflammable class 1 (DIN 4102)
Sustainability
GREENGUARD - Indoor Air Quality
LEED "Green Directive"
Warranty
24 months
Product datasheet
Please click on picture for detailed information (ca. 1,6 MB).

Product presentation
The Design
The USM Lowboard M open, owes its existence to a certain degree of chance. The designer of the USM Haller system, Fritz Haller, was initially namely only tasked with building new offices and factories for USM. With those safely completed USM decided they needed new office furniture, and who is more appropriate for designing such that the architect himself? So it was that Fritz Haller came to develop the USM Haller modular furniture system in 1963. Initially intended for use exclusively in the offices of USM, in 1969 a contract to furnish the offices of the Paris Rothschild Bank saw USM begin commercial production and so launch the success that continues to this day. What makes the USM Haller office furniture as endearingly practical today as then is its modular design principle: essentially a very basic structure comprising chromed plated brass balls, chromed plated steel tubes and metal or glass cladding. A combination which allows the minimalist, elegant USM Haller system to meet any requirement and room condition and thus remain flexible over time and space.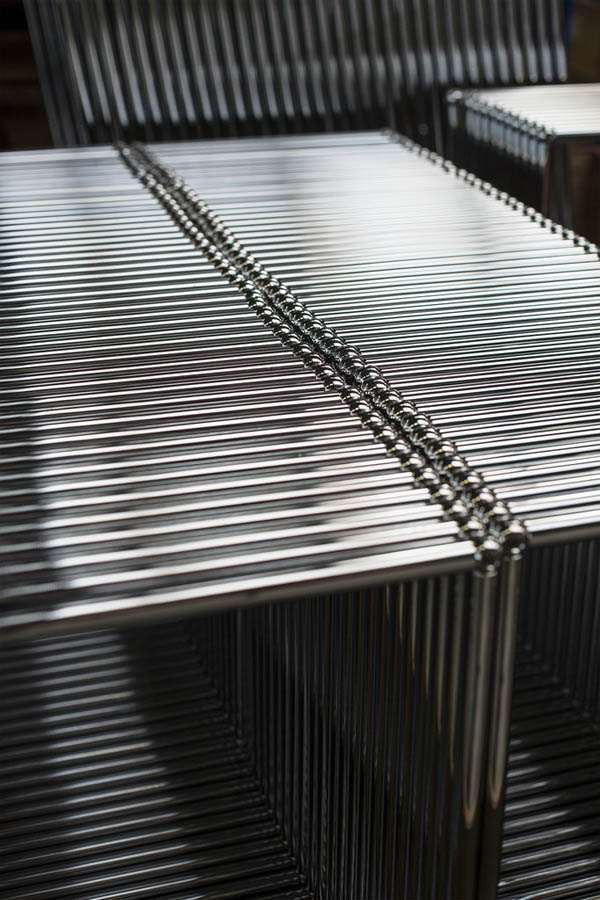 Designer
Eponym and designer of the USM shelving system is the architect Fritz Haller. Born in Solothurn, Switzerland in 1924 Haller's functionalist design language developed during his architectural studies and he later built numerous schools, office buildings and facilities in Switzerland in his own personal style, However, his most significant work remains to this day the USM Haller modular furniture system he developed in 1963 in conjunction with the former USM CEO Paul Schärer. An established classic of 20th century design the USM office furniture system is in demand globally and is included in many museum collections, including that of the Museum of Modern Art in New York. The modular furniture system was to be Fritz Haller's only commercial furniture project and for the majority of his career Haller was employed primarily as a professor of architecture at the universities of Karlsruhe and Stuttgart. Fritz Haller died in his native Switzerland on October 15th 2012.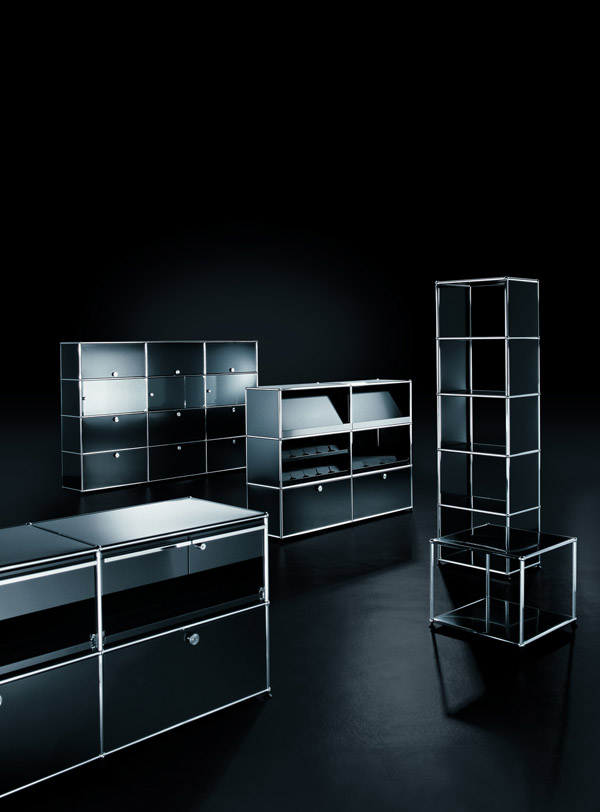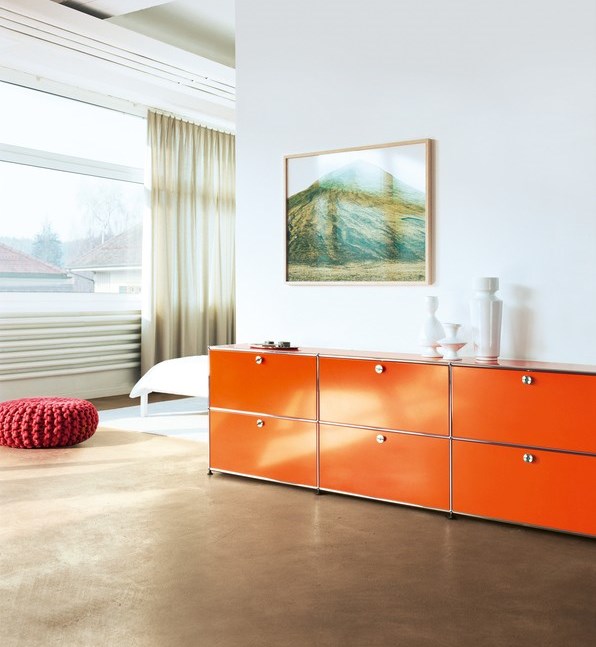 Production
All parts of all USM Haller sideboards and other USM furniture are produced at the company's headquarters in the Swiss village of Münsingen. Items intended for the German market are then unassembled to the USM factory in Buhl, Baden-Württemberg where finally assembly occurs. In addition to the eco-efficient shipping method the USM Haller furniture system embodies sustainability and environmental responsibility through the utilisation of high quality materials and the modularity of the system: USM Haller units are not only extremely durable but individual components can be exchanged, extended or reduced, and so, for example, a Lowboard M can with a little effort be transformed into a USM Haller Lowboard XL with doors and drawers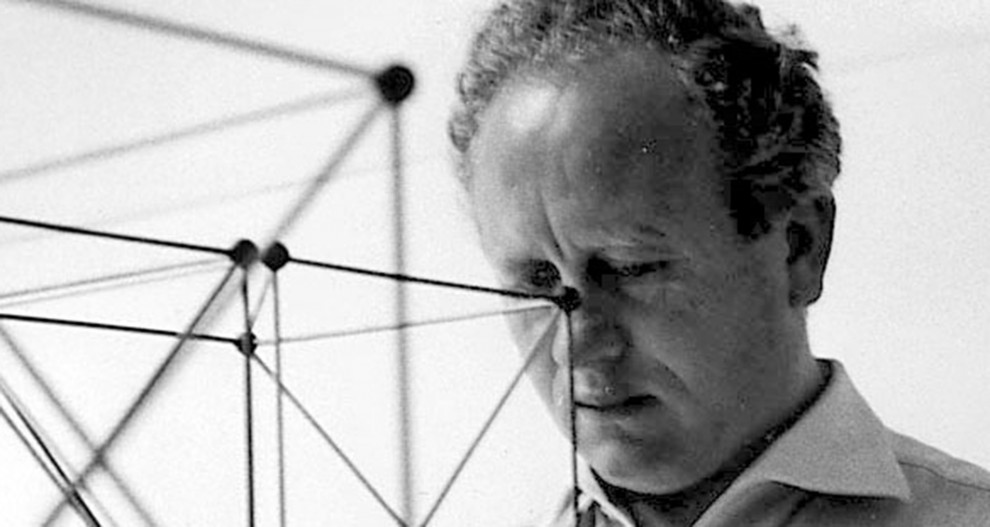 Historical Context
The USM Haller shelving system originated as an interior design concept for a functionalist building, and in many ways can be regarded as a textbook example of functionalism. From the mid-20th century onwards functionalism in design and architecture saw a switch to a concentration on functional aspects rather than superfluous ornaments and mere aesthetic element. In particular functionalist architects and designers focused on the integration of new production technologies and increasingly sought objective forms that served the functionality. Fritz Haller's USM Haller shelves beautifully represent this ethos thanks to their their modularity - their form can be adjusted to meet the particular desired function.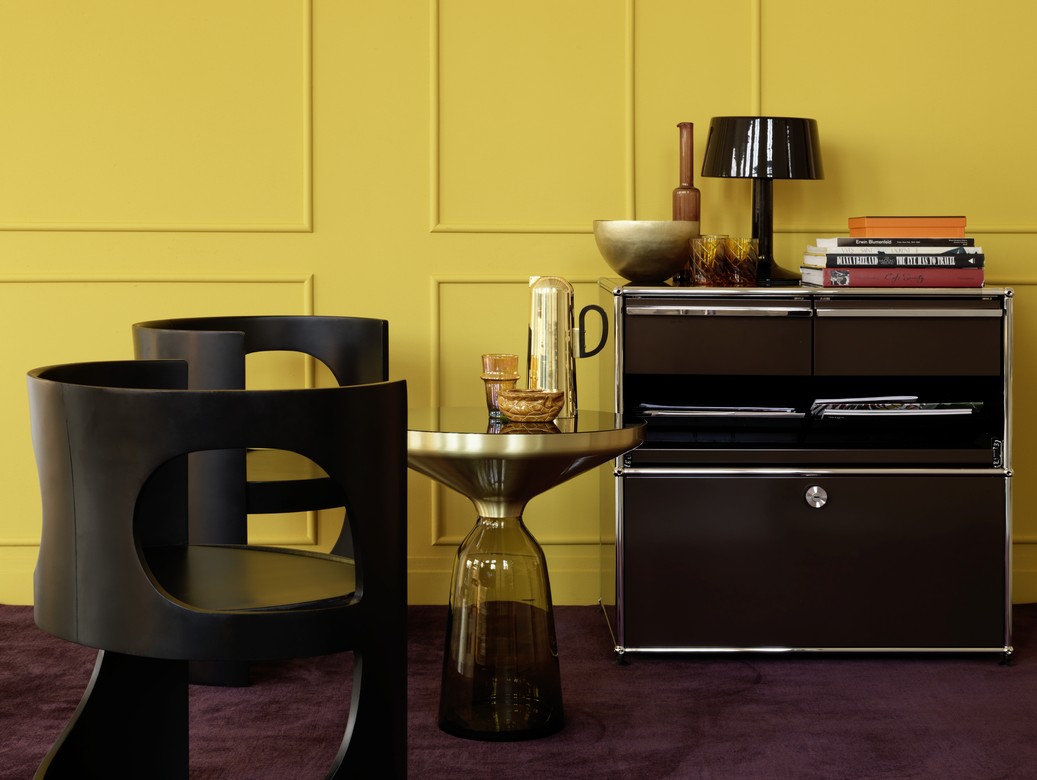 Manufacturer
The long success story of USM Haller began in 1885, when Ulrich Schärer founded a locksmith and hardware store in Münsingen, near Bern in Switzerland. By the early 1960s the company had switched its principle focus to metal and sheet metal processing meaning that USM was able to effortlessly produce Fritz Haller's shelving system for their own production, and from 1969 begin their serial production under the direction of Paul Schärer. The commercial success of the USM Haller modular furniture has been such that USM has ceased all other forms of fabrication and concentrates 100% on the production of the furniture collection, a collection that now includes, in addition to the USM sideboards and highboards also USM tables.
You may also like these articles