The shape and structure of Charles and Ray Eames 1969 designed Soft Pad Chair closely resembles that of their Aluminium Chair. EA 223 is the companion stool for EA 222.
Swivel easy chair and stool; available as a set or individually
Upholstered with five stitched-on cushions in leather
Chairs/Stools in nero, bianco, red, orange, blue, yellow and blackish brown leather come with a back cover in a matching Plano colour.
Chairs/Stools in dark grey and light grey leather come with a back cover in Plano Antra II
Brown leather chairs/stools come with back covers in Plano nero.
Plano: 100% Polyester
More about 'Soft Pad Chair' in our blog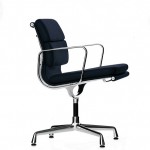 ... Zeeland, Michigan, 1969 Ten years ago Charles and Ray Eames revolutionised the world of chair design with their "aluminium Chair" range. And now they hope to do it again. In one of the most eagerly anticipated announcements of the year, Charles and Ray...
'Soft Pad Chair'-posts
You may also like these articles: