smow Homestory: At home with si.len.cio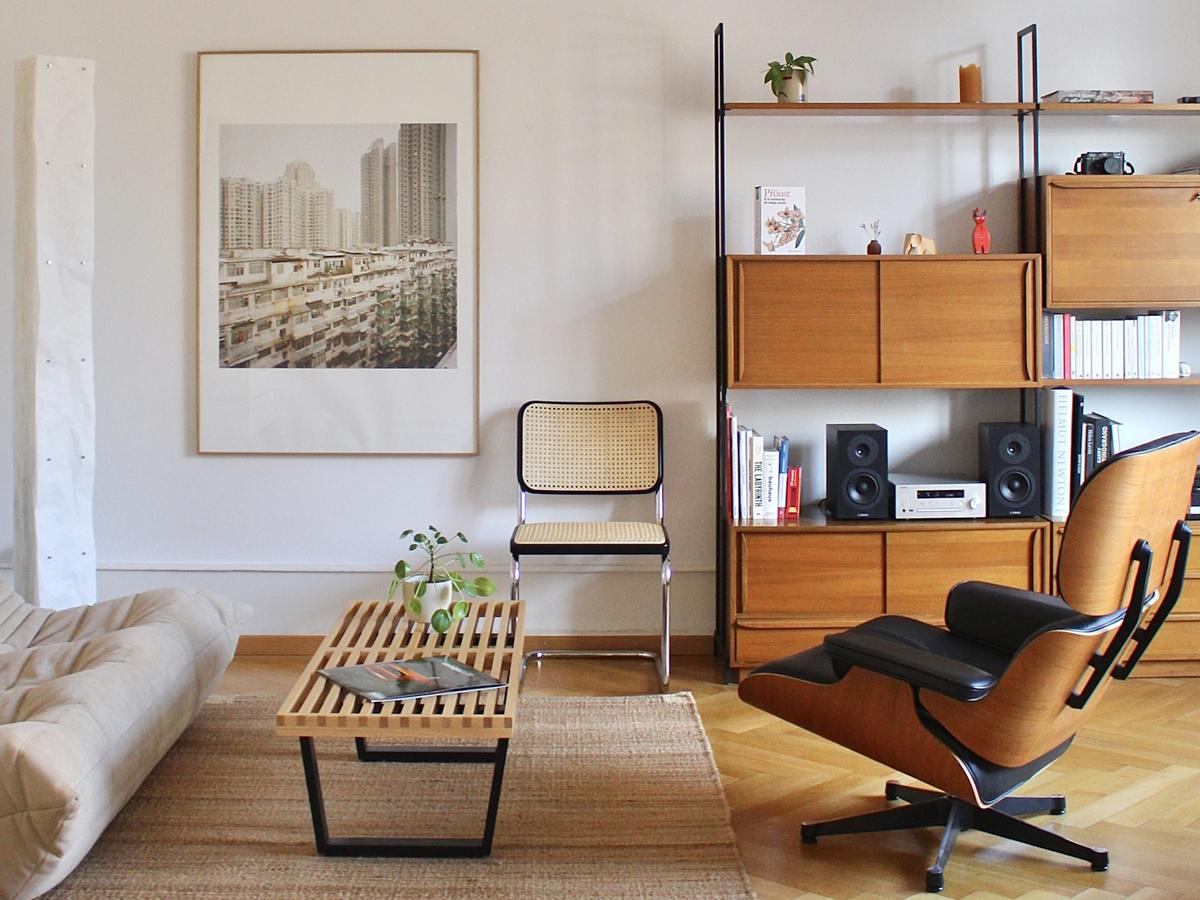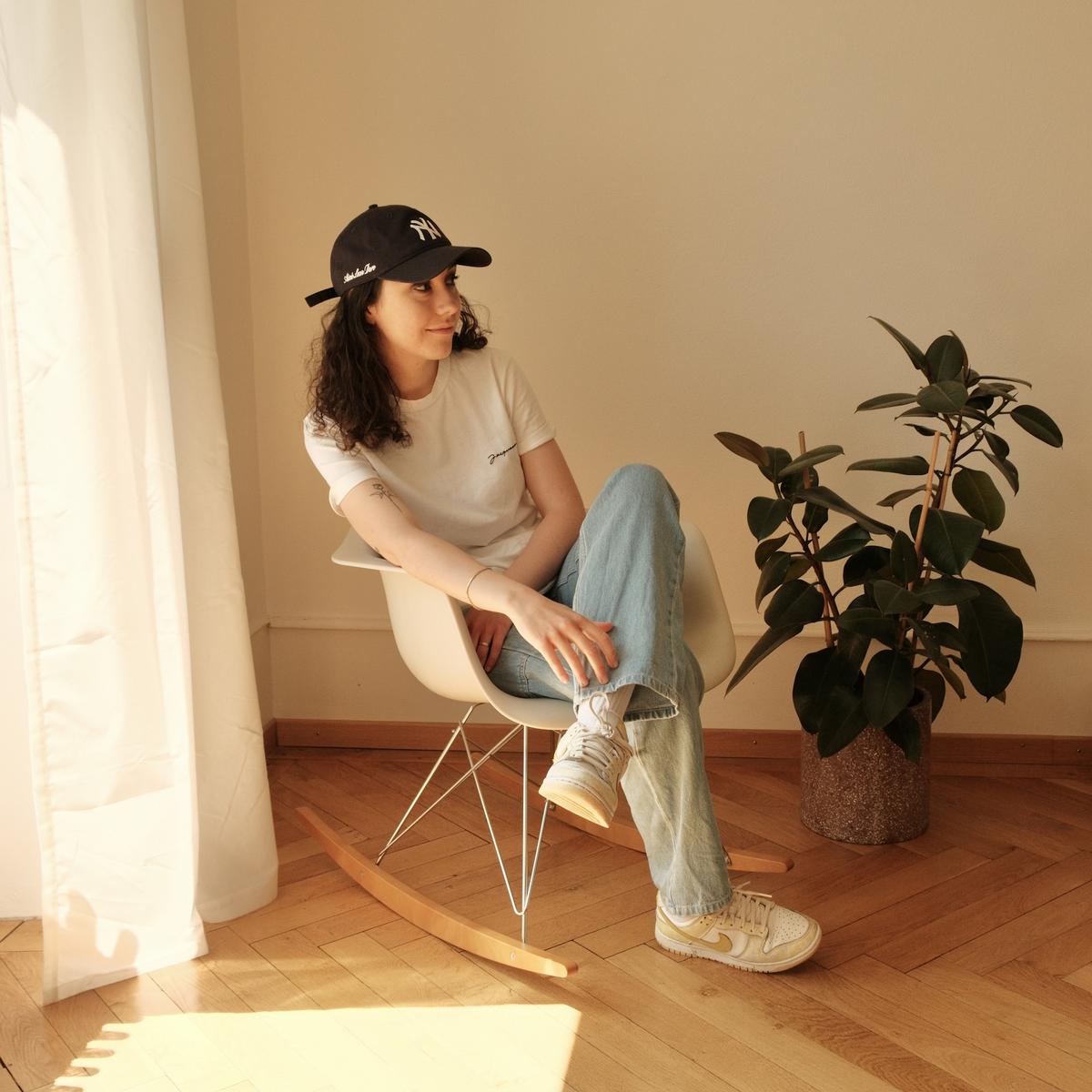 Design classics radiate consistency, they convey a calm that represents a wonderful antithesis to the activity of everyday life. Is that why Camille decided to furnish her home so? Her Instagram account, where she showcases her home and design treasures, is called si.len.cio, a name which harks back to her favourite David Lynch film, Mullholland Drive (a scene takes place in a club called Silencio); a film which undoubtedly shaped Camille's aesthetic vision.
Camille is a young modern woman who lives in Biel, Canton Bern, and concerns herself with more serious issues in her job: criminal law and legal philosophy. In her home, she pursues her passion for interiors, after all, as she says herself, her biggest quirk is constantly redesigning her apartment.
At home with si.len.cio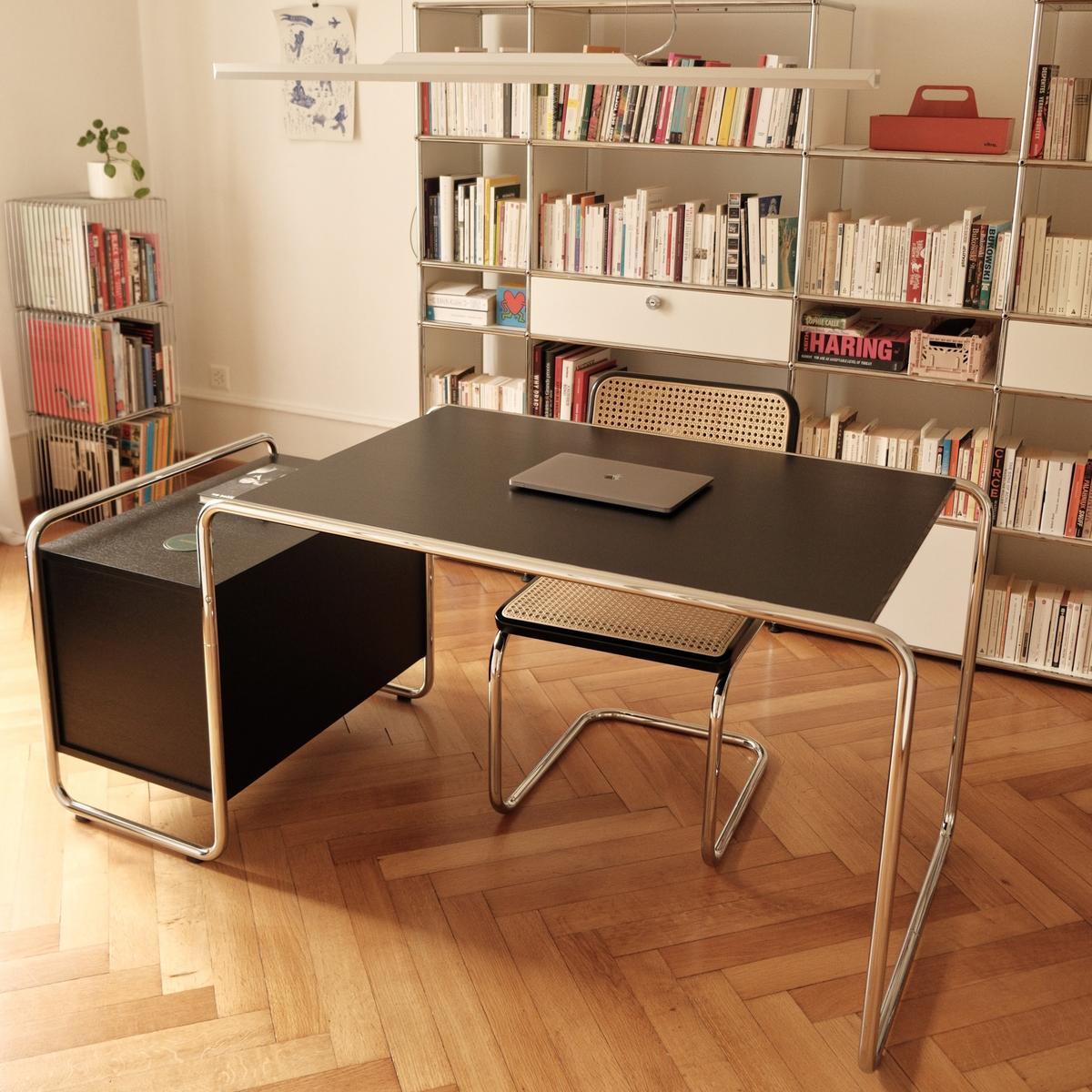 Harmonious home office with Thonet and USM Haller
Among the focal points of Camille's study are two design icons by Marcel Breuer crafted from elegant tubular steel. The Thonet S 285 desk and the S 32 cantilever chair arose in the Bauhaus era and, then as now, represented a bridge between the new and the tried and tested: Viennese wickerwork and wooden elements symbolized the traditional, while tubular steel predicted the future.
The desk and chair offer the perfect complement to Camille's USM Haller wall - the furniture harmonises with the common material chrome and radiates a subtle timelessness and calm. The name si.len.cio says it all.
Mid-century and seventies
The relaxed mix of mid-century furniture and 1970s style is striking in Camille's living area. Design icons from different decades exist in peaceful coexistence; for example, the lounge chair by Charles and Ray Eames and the bench by George Nelson alongside the more contemporary Togo sofa by Ligne Roset.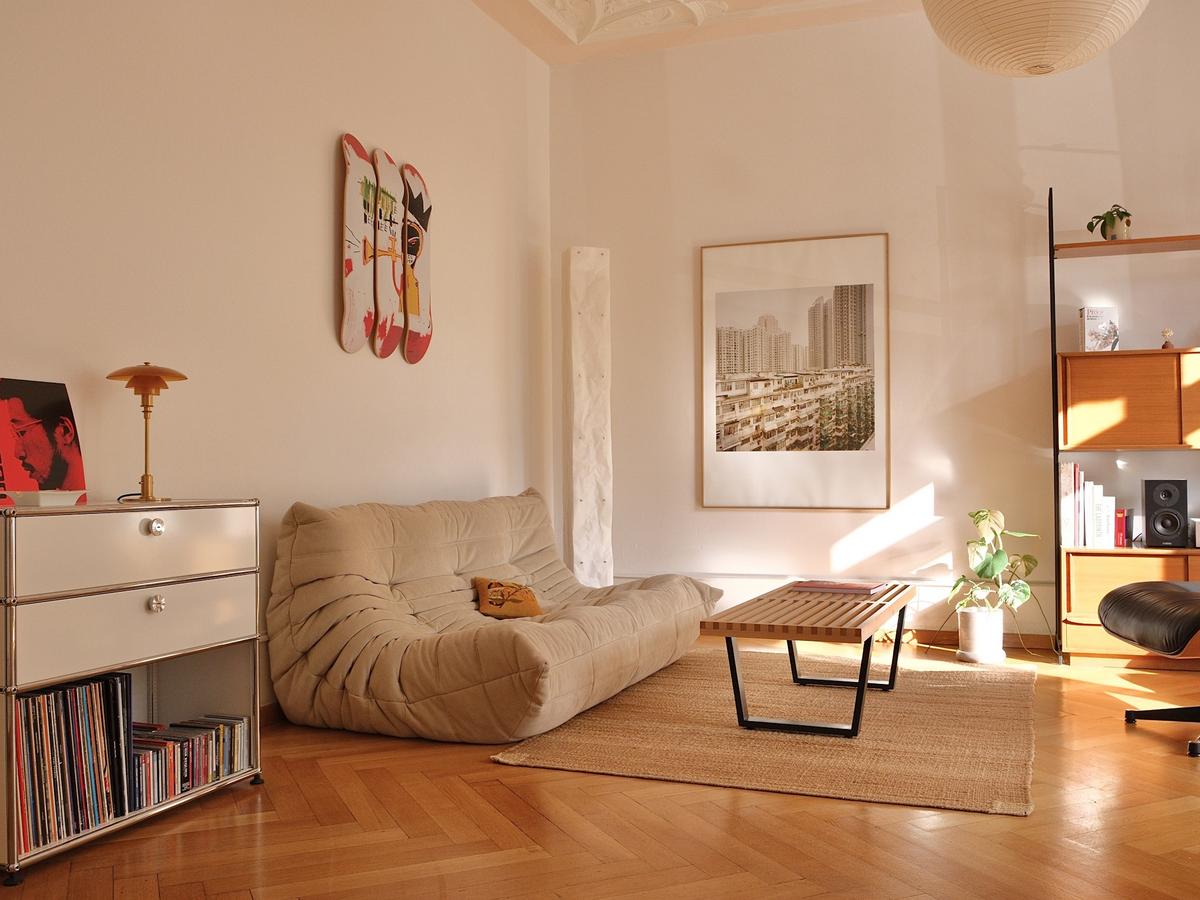 About Camille
We caught up with Camille to chat about her interior style, her design favorites and her sources of inspiration.
smow: Tell us a bit about yourself, who are you, what do you like in your spare time, what do you do for a living, what is your biggest quirk etc?
Camille: My name is Camille, I live in Switzerland, and I am a researcher in the field of criminal law and legal philosophy. I am passionate about art, especially music, cinema, and literature, gastronomy and, of course, interior design. In my free time, I love to enjoy quality time with my family at home, in museums, or hiking in the mountains. I would say my biggest quirk is rearranging my home and therefore moving furniture everywhere in the apartment.
smow: How would you describe your interior design style?
Camille: My interior design style is a mix of midcentury and modern furniture by design pioneers whose work I highly value for its timeless and beautiful aesthetic, conceptual intelligence, and everything it represents in the design world. My interior design style is also closely linked to my family's own sense of aesthetic and our personalities. I like to think about our home as a mirror of ourselves, that reflects who we are, and that can evolve and change with us over time. So, if I had to sum it up, I'd say my interior design style is a harmonious encounter of midcentury and modern furniture honoring our favorite designers, but which is also very personal and intimate, and which expresses our artistic sensibility.
smow: As a self-confessed design enthusiast, what was your first piece of designer furniture?
Camille: My first piece of designer furniture was the Eames Armchair RAR that I bought at the VitraHaus in Weil-am-Rhein back in 2018. This is a very symbolic piece of furniture which started the whole journey!
smow: Do you have a favourite designer or manufacturer?
Camille: It's impossible to name just one; however amongst those pioneers whose work I really admire I'd name Charles and Ray Eames, Marcel Breuer, Le Corbusier, Jean Prouvé, George Nelson, Charlotte Perriand and Florence Knoll.
smow: You are 29, so still young in design terms. How did you get a taste for design? How did you come to furnish yourself so extensively with designer furniture?
Camille: I think my interest for interior design is a logical continuity of my love for art in general, in the sense that my artistic sensibility and my curiosity led me towards interior design. I then developed my interest towards interior design by diving in design books dedicated to mid-century design and architecture. I feel extremely privileged, lucky and grateful to have been able to furnish myself so extensively with designer furniture over the past five years. My partner and I chose each piece consciously, with an emphasis on quality and durability. When we get designer furniture, we are always thinking long-term: we want our furniture to follow us through the years, no matter where we are. These are values that we would like to pass on to a child when we have one; we want to show them that they grow up in a space that is well-thought and that is valued and appreciated for what it is through the years. I was also lucky to recently collaborate with amazing and inspiring design retailers like smow and thus extend our design collection; I am deeply honored and thankful to work with smow and, in a certain way, to represent the wonderful work done by the team.
smow: We really appreciate that, thats a wonderful compliment.
smow: In your opinion, what makes good design?
Camille: Quality products and creative minds. As for good interior design, I would say authenticity, in the sense of being true to yourself and creating a home that resonates with you.
smow: Where do you get your inspiration?
Camille: I am always on the lookout for inspiration, and I believe it can be found everywhere, in the beauty of the things that surround us, in nature, and most of all inside of ourselves. Think of what you love in life in general, think of what makes you feel alive, what sparks your vision of aesthetic and try to reproduce that feeling in your home. That's my motto.
smow: What do you think are the pros and cons of the Instagram interior world?
Camille: The pros are that the Instagram interior world is a constantly enriched source of inspiration. There are a lot of creative minds out there who are sharing their interior design journey though quality content. The Instagram interior world is also a little community composed of passionate people and it gives opportunity of meeting design enthusiasts with similar interests. As for the cons, in my opinion they are not specific to the Instagram interior world but to social media in general that is: a feeling of repetition and the risk of being caught up in a vicious circle such that we mindlessly consume images from which we derive nothing creative in the end.
smow: What do you like most about your USM home office?
Camille: As for every other USM piece I own, I love its timeless design, aesthetic, practicality, and versatility. As I use the USM Haller as a bookshelf and for storing different office accessories, it's a great advantage that it can adapt to my needs and be extended. The storage possibilities are infinite with USM.
smow: Why did you choose the Thonet desk in combination with your USM home office?
Camille: Both are a perfect match as they perfectly echo the Bauhaus principles and all their materials harmoniously fit together, especially the chrome parts. They're an ode to minimalist and timeless design. It just made perfect sense to bring them together and smow made it possible!
smow: If you could choose 3 items from our shop, what would they be?
Camille: At the moment I have my eyes on the Thonet S 32 SPV cantilever chairs with coloured cover fabric! The Fauteuil dossier basculant by Le Corbusier, Pierre Jeanneret and Charlotte Perriand with spotted hide black-white-brown cover is also such a dream of mine! And last but not least, the Coffee Table Noguchi buy online!
smow: Thanks a million, Camille!
Sweet Harmony Re-styling
How can you bring si.len.cio's "sweet harmony" to our home? Three keywords make Camille's home a timeless oasis of calm:
DESIGN CLASSIC
MATERIAL MIX
CONSISTENCY
The recurring exciting mix of chrome and wood runs through Camille's home. Light colours combined with timeless design classics, such as the Eames Lounge Chair, the Togo Sofa or the Vitra Wire Chairs and vintage pieces, create one thing in particular: a harmony that radiates calm and can also turn the home into a true retreat.