Virus protection screens for your work environment
In order to help your company approach normality in times of social and physical distancing, while at the same time keep the transmission risk of the Corona virus low for your employees and customers, smow offers tailor-made virus protection screens for your office and practice furniture. Together with renowned partners such as USM Haller, Rosconi or Palmberg, our trained furnishing consultants will support you in our smow stores in choosing the best safety equipment for your company. Whether hygiene protection made of acrylic glass, hanging protective walls made of perspex or other hygiene protection measures: our team of experts will find quick, uncomplicated solutions and, if necessary, make individual adjustments to optimise your preferred solution.
Security screens for USM units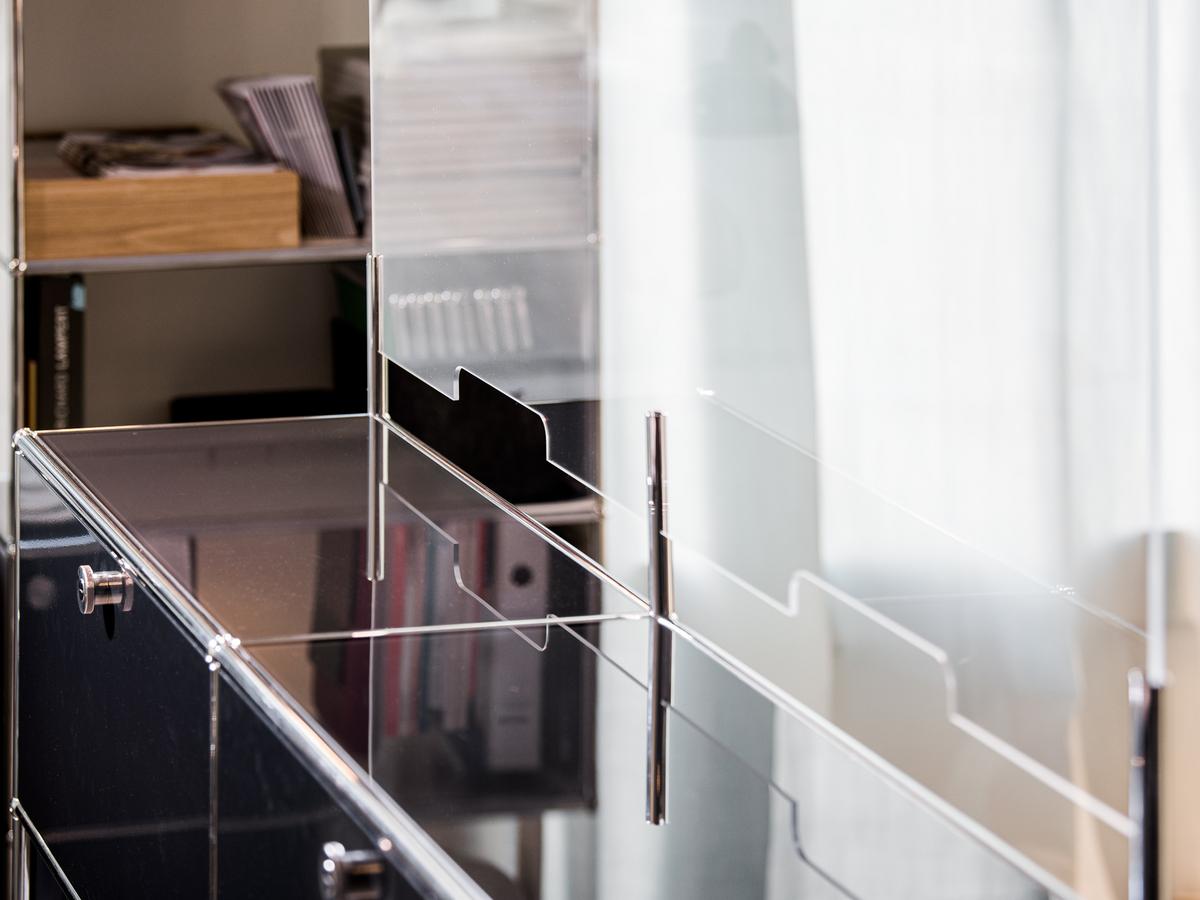 In addition to a wide range of individually configurable USM office furniture, smow now offers USM Haller counters with plexiglass security screens. These specially adapted USM units offer additional protection ("spit protection") for your employees, business partners and customers. A narrow opening at the bottom of the plexiglass pane can be used to transfer documents. The USM Haller Security Screen is also available separately to complement existing USM units. Our experienced USM experts will be happy to assist you with any questions or more specific advice. Whether USM reception counters in your doctor's office or highboards in the office, simply contact us by phone, email or video chat, or in one of our smow stores throughout Germany.
Protect Series from Rosconi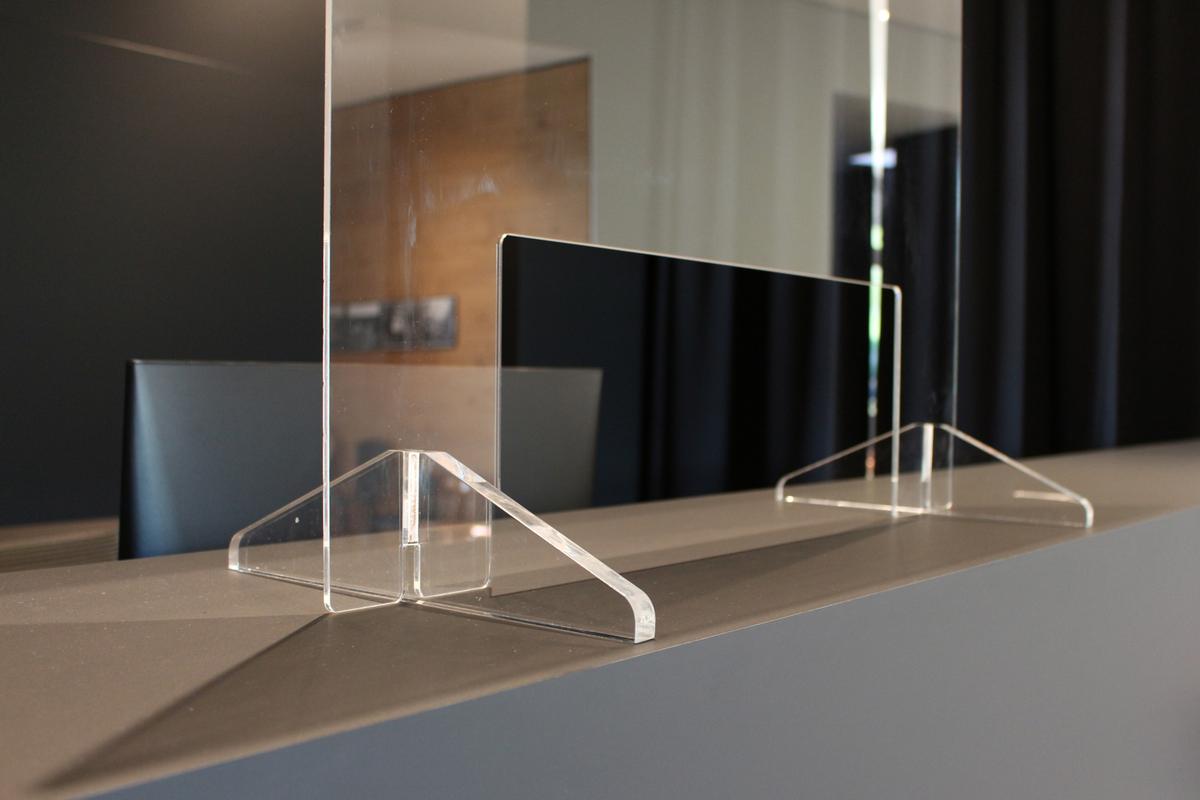 Virus protection screen Type S
The Rosconi virus protection screen Type S from the Protect series consists of easy-care acrylic glass and has a practical cut out for the transfer of documents and similar. The protective screen serves as a spit protection and, thanks to its shallow depth of 4-6 mm, can be stored to save space after use. The security screen is a plug-in system, and the tool-free installation is straightforward.
Virus protection screen Type M
The Rosconi virus protection screen Type M is a self-standing protective wall that does not require any additional feet. Thanks to its foldable side wings, the partition can be securely positioned from an angle of 20°. As with the Type S virus protection screen, a hatch is also integrated in this product from the Rosconi Protect collection and the installation is also tool-free.
Virus protection screen Type L
Should Type S and M virus shields not offer the right solution for your needs, Rosconi can manufacture an individual shield solution with the Type L shield. Should you be interested, please contact the smow planning department or any of our Germany-wide smow stores.
Protect Series from Rosconi: Advantages
Plug-in system with tool-free installation

High quality acrylic glass, bevelled edges

Filigree design for visually barrier-free customer contact

Minimal installation demands, high stability

Stackable for space-saving storage

Easy care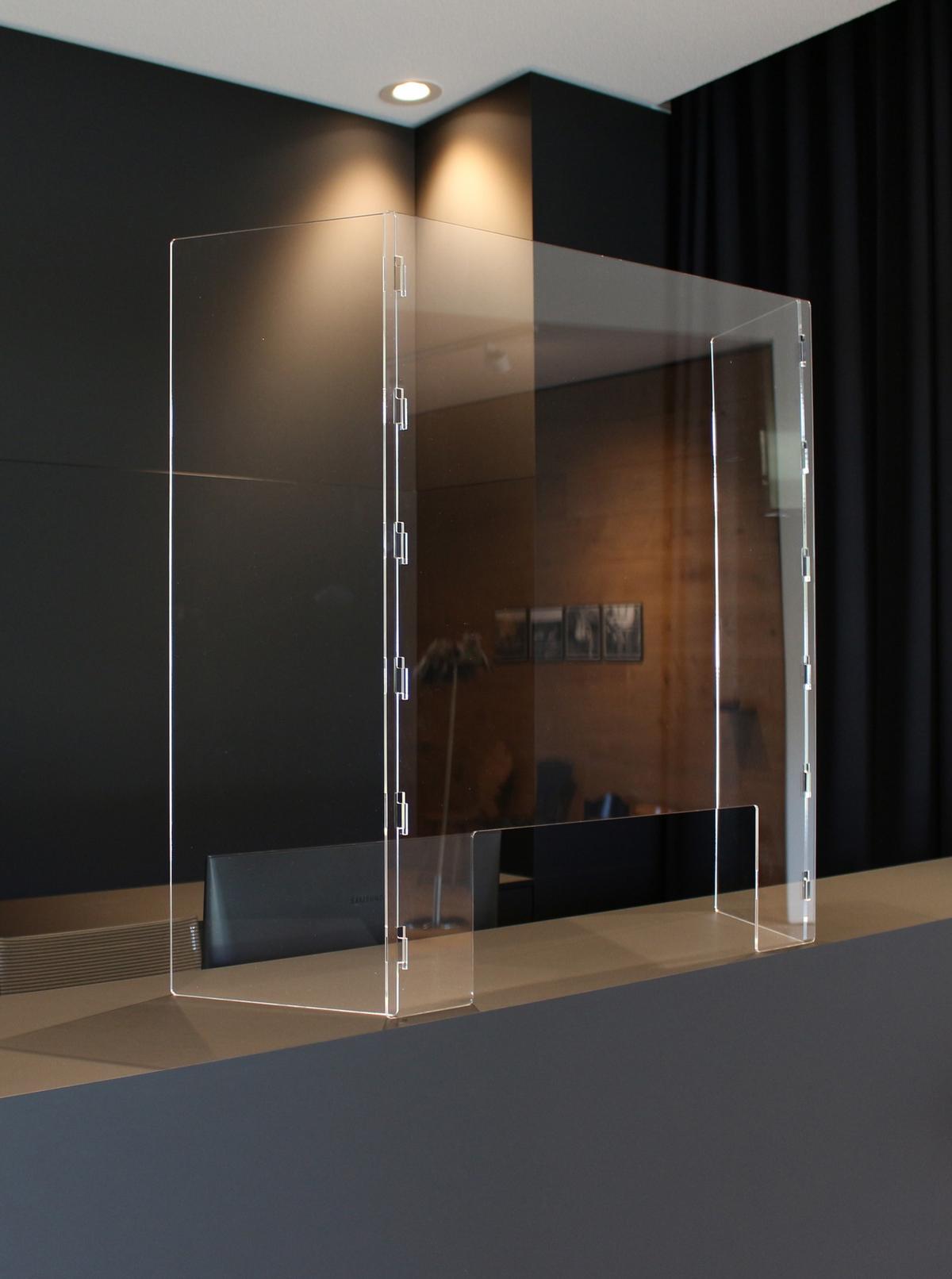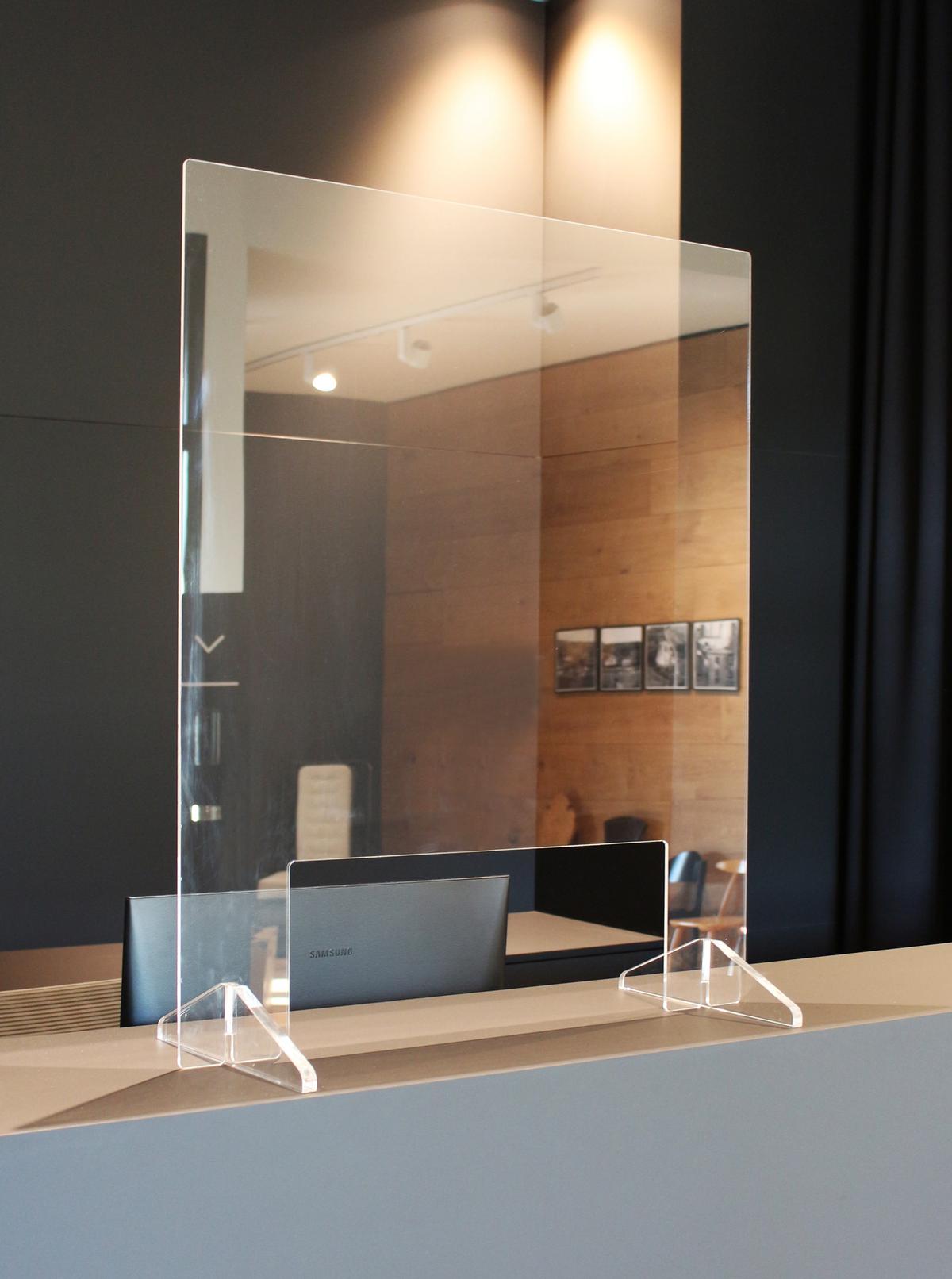 L2 partition and T2 table partition
The L2 partition from Rosconi assists with both the division of complete office space and also small work niches. Thanks to self-adhesive Velcro strips, the walls can be quickly arranged, and if necessary screws for additional rigidity are also included. Matching fabric covers, a magnetic hanging plate or an additional digital screen solution for the Rosconi partition walls are available on request. In order to ensure the desired distance from work colleagues, the table partition wall L2 is a considered choice. If value is placed on privacy, the full core version is suitable; if however colleagues should be in visual contact with one another, the acrylic glass version is recommended. To make the table stand as suitable for as many desk types as possible, three different foot options are available.
L2 partition and T2 table partition from Rosconi: Advantages
Suitable for cleaning with disinfectants

Washable laminate

Tool-free assembly

Easy-Slide-System

Light weight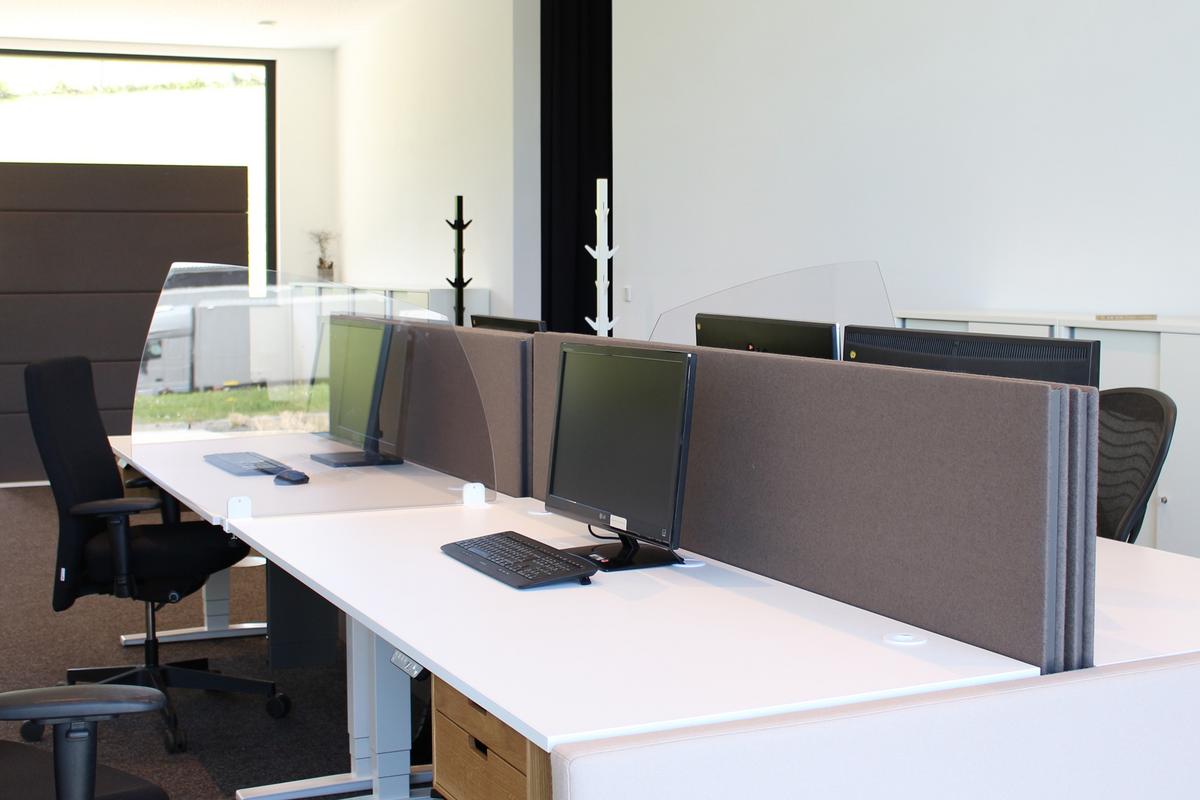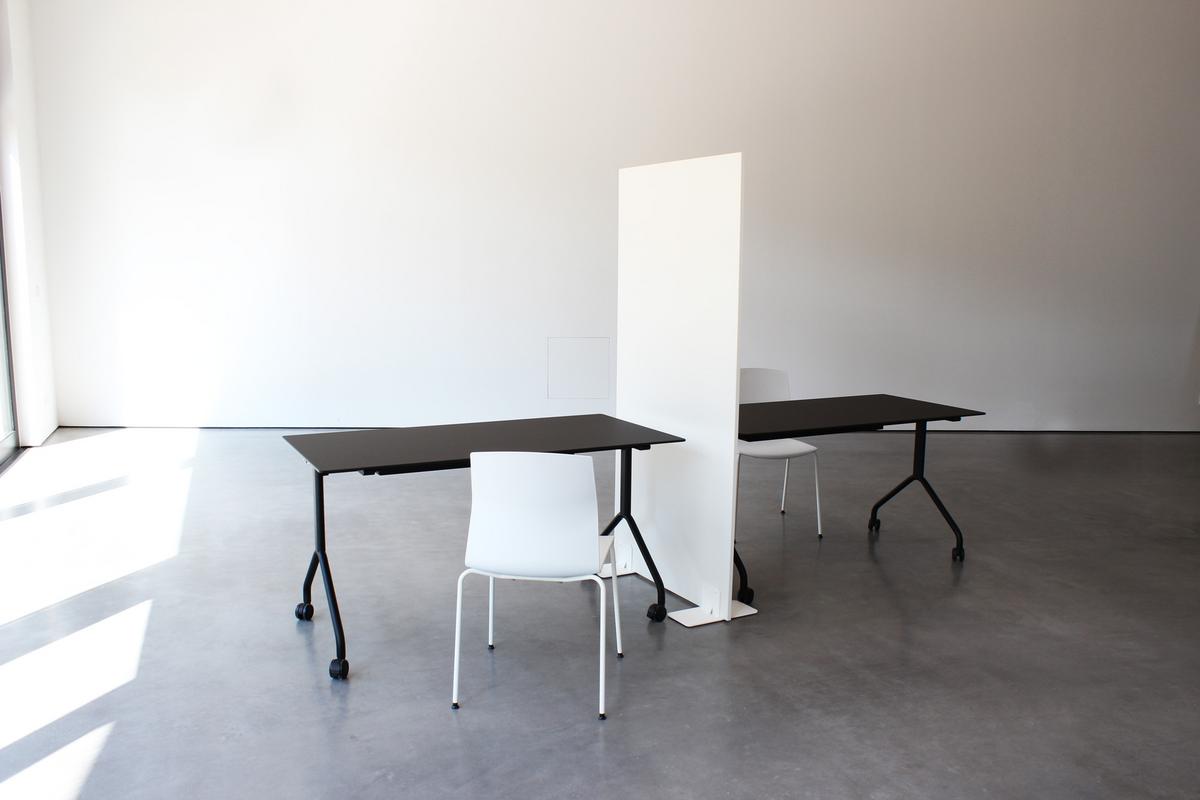 Hygiene barrier Barrio from Palmberg
In addition to the recommended hygiene and precautionary measures such as thorough, regular hand washing and social distancing, the hygiene barrier Barrio made of acrylic glass offers additional virus protection for employees who come into contact with customers. The Palmberg partition can either be hung from the ceiling or used as a top partition - and thanks to the simple construction principle, no expert fitters are required for installation. Each Palmberg hygienic protective wall is made to order, for an individual quote please contact our planning experts in your nearest smow store.