Vitra
DKW Wire Chair
by Charles & Ray Eames, 1951
— 545,00 €
3% advance payment discount*:

528,65 €

(Save

16,35 €

)
Before the development of the DKW Charles and Ray Eames experimented with moulded plywood and aluminium, before in 1950 they realised their first plastic chairs featuring a seat shell made of pressed fibre glass. Just one year later the Eames' varied the organic shape of the seats and created the Wire Chair collection, in which the seat and backrest is made of one piece from a system of bent and welded steel wire. This construction principle gives the chair, whether with or without a cushion, a light transparency and an expression of extreme technicality.
Product type
Multi-purpose chair
Dimensions


Dimensions in mm
Colours
Base




Material
Seat and back shell: formed and welded steel wire, powder coated basic dark
Padding: polyurethane foam
Base: stained maple, braces of round steel
Variants
Wood frame in various stained tones
Optionally available with felt pads for hard floors or glides for carpets
(Please note: All bases are equipped with black glides/pads. White glides/pads can be ordered separately.)
Function & properties
Non-stackable
Care
For cleaning of the steel frame, a soft, damp cloth and a mild detergent are recommended
Certificates & Sustainability
Vitra conform to
ISO 90001: 2008 (Quality management systems)
ISO 14001: 2004 (Environmental management systems)
Warranty
24 months

Register product and secure extended manufacturer's warranty of 10 years
Accessories
Matching backrest und seat cushion available seperately
Product family
Eames Wire Chairs

Datasheet
Please click on picture for detailed information (ca. 1,1 MB).

Design Story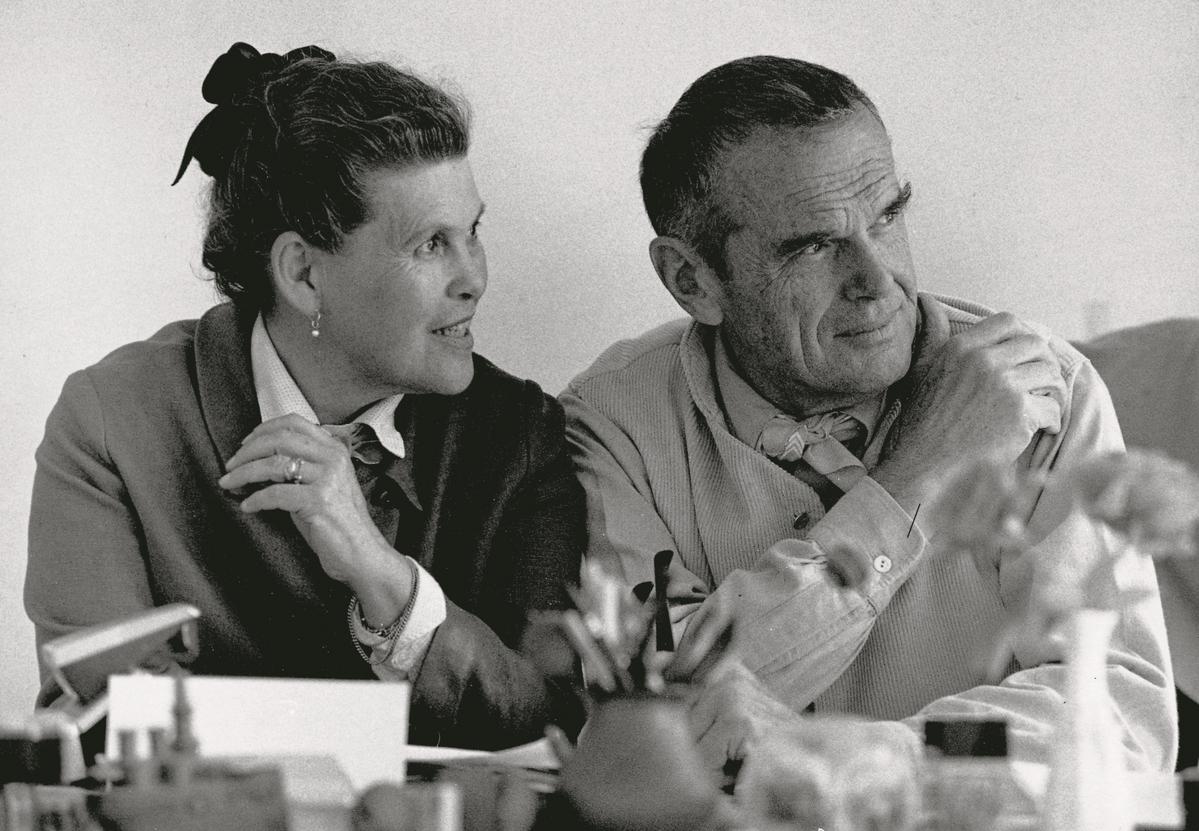 The Charles and Ray Eames wire chairs emerged in 1951 and are in principle very similar to the Eames plastic chairs from the designer couple. As with the plastic chairs the wire chairs are produced by the Swiss furniture manufacturer Vitra and feature an organically shaped one-piece seat and back shell with a range of bases made of wood or steel tubing. Thus the steel wire frame is supported on a four-legged pedestal made of maple wood and round steel struts. This contrast of natural and industrial material adds to the allure of the chair, as does the transparent shell of wire mesh which also adds a technological component. Rounded off with a seat cushion made of high quality fabric cover Hopsak or fine leather the DKW offers a particularly high level of seating comfort. The seat cover for seat and back is known, on account of its shape, as a "bikini" and it certainly forms the DKW into a shapely unit. The wire chair collection underscore Charles and Ray Eames' position as one of the most important designer studios of the 20th century - hardly an artist has succeeded in creating so many world-renowned furniture objects as the Eames' whose products have almost all classic status. Vitra is the only authorized manufacturer of their works for Europe and the Middle East.
The Vitra Eames Shell Chairs: An Overview
Eames Fiber Chairs
Eames Wire Chairs