Vitra
DKX Wire Chair
by Charles & Ray Eames, 1951
— 380,00 €
3% advance payment discount*:

368,60 €

(Save

11,40 €

)
For the so-called Wire Chairs from Vitra, including the DKX Wire Chair, Ray and Charles Eames transferred the form of the one-piece, organically shaped seat shell of their Plastic Chair Collection into a for its time unusual furniture material - factory-made steel wire. Now available in a new height the seat of the chair DKX is a crafted from a mesh of welded, bent steel wire and is combined with a simple four-legged base.
Product type
Multi-purpose chair
Dimensions


Dimensions in mm
Colours
Base




Material
Seat and base: Welded steel wire, chrome plated or powder coated
Variants
Optionally available with glides for carpets (suitable for outdoor use) or felt pads for hard floors (not suitable for outdoor use)
Function & properties
Powder coated version suitable for outdoor use
Non-stackable
Care
For cleaning a soft, damp cloth and a mild, neutral detergent are recommended
Certificates & Sustainability
The Vitra Eames DKX Wire Chair is:
92% recyclable
contains up to 21% recycled material

Vitra conform to
ISO 90001: 2008 (Quality management systems)
ISO 14001: 2004 (Environmental management systems)
Warranty
24 months

Register product and secure extended manufacturer's warranty of 10 years
Product family
Eames Wire Chairs

Accessories
Matching backrest und seat cushion available seperately
Produktdatenblatt
Please click on picture for detailed information (ca. 1,1 MB).

Ray and Charles Eames, arguably the most successful American designer couple, continually experimented with new materials and manufacturing processes in order to realise their innovative, often completely new designs. One of their major achievements was the development of the organically shaped one-piece plastic shell of the so-called Plastic Chairs collection; a design which in terms of production processes, aesthetics and flexibility set new standards. With the DKX and other Wire Chairs the Eames' took this form, and reproduced it in a completely new, and at that time unfamiliar material for furniture design - industrial steel wire. This simple, yet ingenious idea gives the Vitra DKX a very special character and also neatly demonstrates how conceptually the Eames went about their work. Especially in the chrome finish of the Eames DKX with its simple four-legged base one can appreciate the permeability and transparency. The optional cushioning provides in addition not only for comfort but also a special and elegant contrast. A particular note is bequeathed by the one-piece seat and back padding, which with its characteristic form is responsible for the Vitra chair's nickname: the "bikini".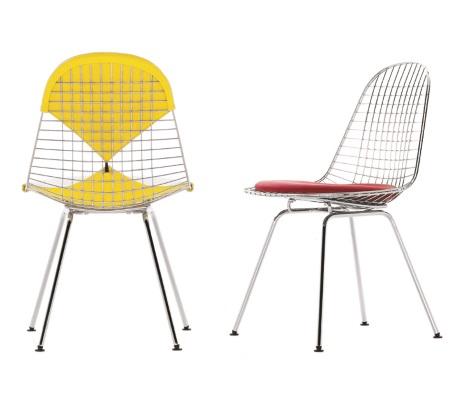 Vitra Wire Chair
The Vitra Eames Shell Chairs: An Overview