3% advance payment discount*:

978,64 €

(Save

30,27 €

)
Marcel Breuer's Laccio coffee table was created in 1925 at Bauhaus. Produced today by Knoll, apart from the characteristic tubular steel frame, it is the possibility to combine different shaped and coloured tables to a landscape which identifies Laccio as a minimalist and geometric product of an austere Bauhaus style.
Product type
Sofa/Side Table
Dimensions
Laccio 1 (small): W 55 x D 48 x H 45 cm
Laccio 2 (large): W 136 x D 48 x H 34 cm
Material
Tubular steel frame
Plastic laminate table top
Variants
Available in 2 sizes and 3 colours, all combinable
Colours



Delivery includes
1 table
Pflege
To clean, use a soft, damp cloth wand a mild, neutral detergent. Subsequent careful drying is recommended.
Sustainability
FSC®
Greenguard
ISO 14001
Warranty
24 months
?
Should the answers to your questions not be found here, our service team can be contacted Mon-Fri, 8 am to 6 pm via
+49 341 2222 88 22
.
How do I recognise an original Laccio Couch Table?
As with all Knoll furniture, the distinguishing feature of the licensed Breuer design is the Knoll company logo and the designer's signature on the Laccio table frame.
The Design
The Laccio coffee table was designed by Marcel Breuer in 1925 while still a student at the Bauhaus; inspired by a bicycle handlebar the table was originally created as a complimentary piece to his legendary Wassily chair. The bold steel tube design and Breuer's simple design language set at the time a new precedent and thus the design of a Bauhaus students became a key work of the whole school. The simple structure of the Knoll Laccio table is constructed from seamless steel tubing complimented by a plastic laminate table top. Available as a small square or slightly lower rectangular version the full majesty of Marcel Breuer's Laccio Table only arises when two are used in combination, thus allowing the creation of the typical silhouette. Moreover, Breuer's coffee table Laccio with its opposing quadratic forms, and combination of red, white and black, is unsurpassed in terms of realising the geometric rigour of the Bauhaus designs.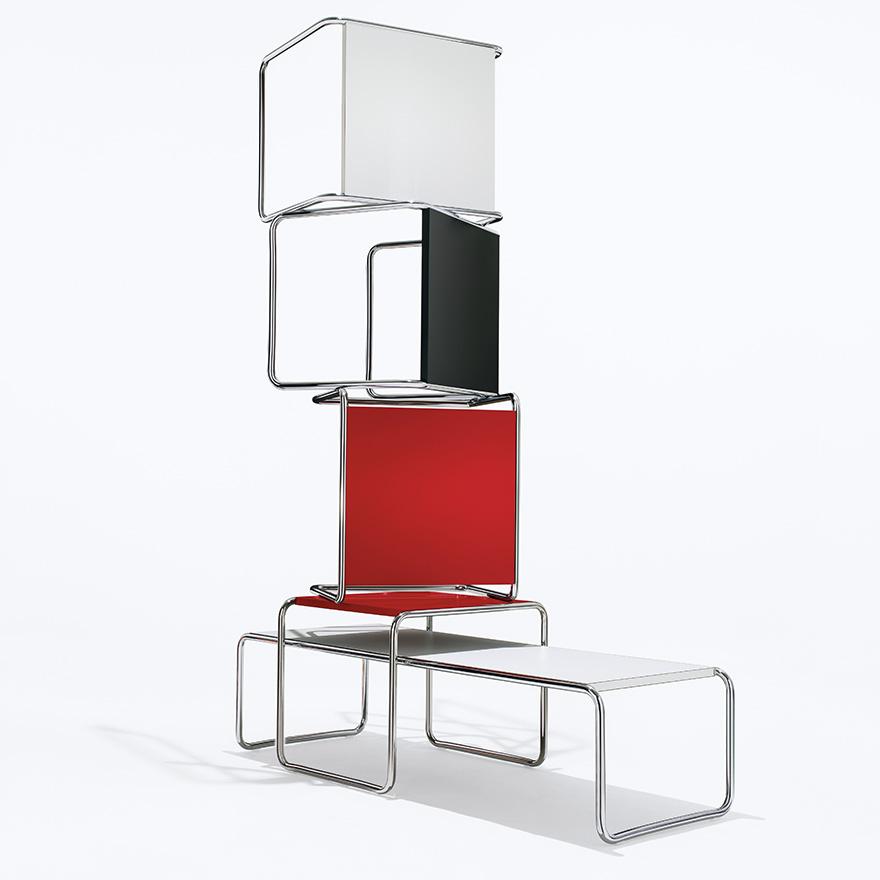 Designer
The Laccio coffee table was designed by one of the most important pioneers of modernism, Marcel Breuer. Born in Hungary in 1902 Marcel Breuer joined Bauhaus in Weimar in 1922 and quickly established a reputation with his avant-garde wooden furniture and soon became a decisive influence on the design philosophy of the school. Marcel Breuer studied and taught at the Bauhaus until 1928 before leaving to move to Berlin where he was mainly active in the field of interior design until he was forced to emigrate to the United States in 1935 on account of his Jewish ancestry. Once in America, Marcel Breuer concentrated on his work as an architect and was also active as a lecturer and later a professor at the Harvard University Graduate School of Design. Breuer opened his own office in New York in 1946 and in the following years he realised numerous designs and buildings in the US and Europe, including in 1963 the Whitney Museum in New York, which probably remains one of his most prominent works. Marcel Breuer died in New York in 1981.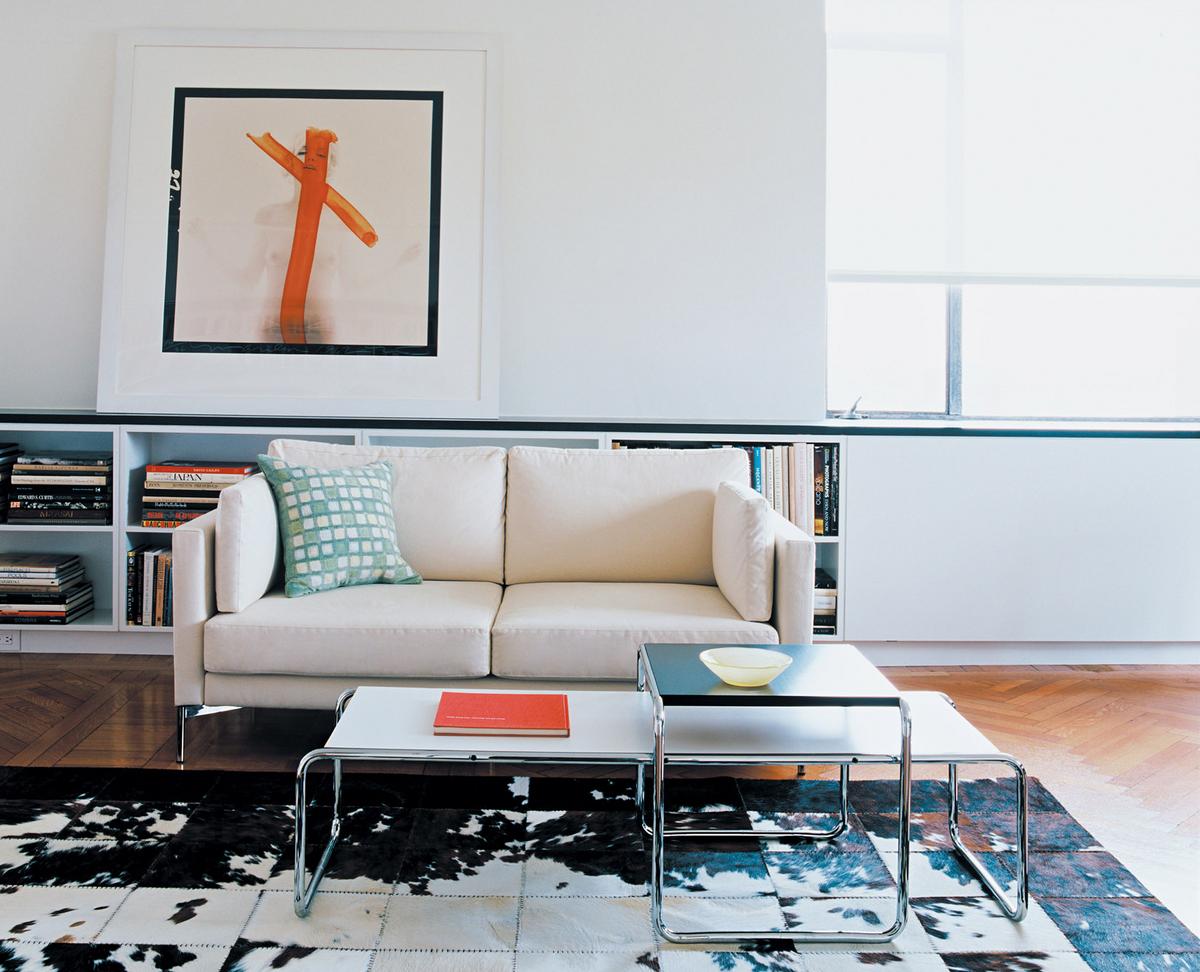 Manufacturer
The US furniture company Knoll International was founded in New York by Hans Knoll in 1938. In the early fifties production was moved to Pennsylvania and Florence Knoll took over after the leadership of the company following the untimely death of her husband . Although contact existed between Marcel Breuer and Knoll during the 1930s, it was only from 1968 on the that Knoll produced Marcel Breuer's designs - Breuer having previously sold his designs to an Italian company which Knoll subsequently took over. Today, the portfolio of global furniture manufacturer features classic and contemporary designs alike. Under the brands "Knoll Studio" and "Knoll Office", the company offers furniture and furniture systems for residential and business use. In addition to Marcel Breuer's Laccio table and his Wassily Chair Knoll produced works by designers and architects such as, for example, Cini Boeri, Frank Gehry or Mies van der Rohe.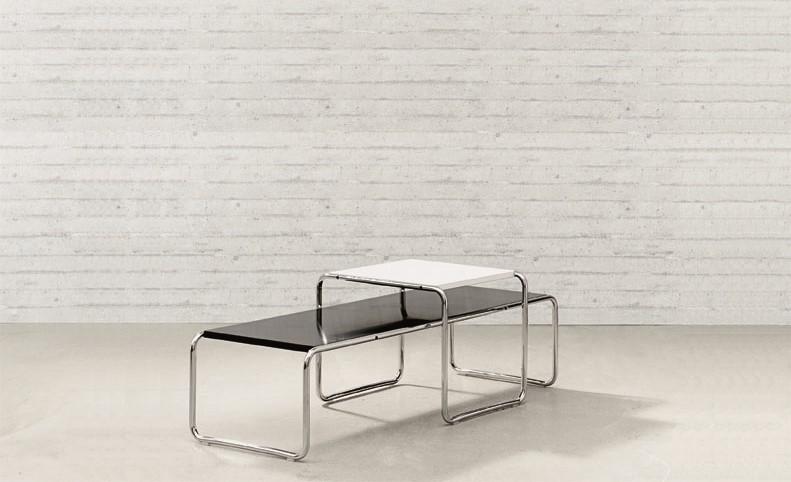 Production
The Laccio Table family is produced by the American furniture manufacturer Knoll International. The table is formed from seamless round steel in a polished chrome finish, the high-quality laminate tabletops are available in red, black/anthracite and white. As with all Knoll furniture the confirmation of the Laccio tables as licensed original Breuer designs is the Knoll company logo and the signature of the designer which are stamped on the Laccio table frame. And the Knoll name is not only our guarantee for the authenticity of the designs, but also for their high quality and durability as well as adherence to strict environmental standards in the production. Knoll has produced the Breuer Laccio table since 1986 at production sites in North America and Italy using selected high quality materials. In addition Knolls fifty years of experience in high contemporary furniture production is your guarantee of the first-class quality of the Laccio coffee table.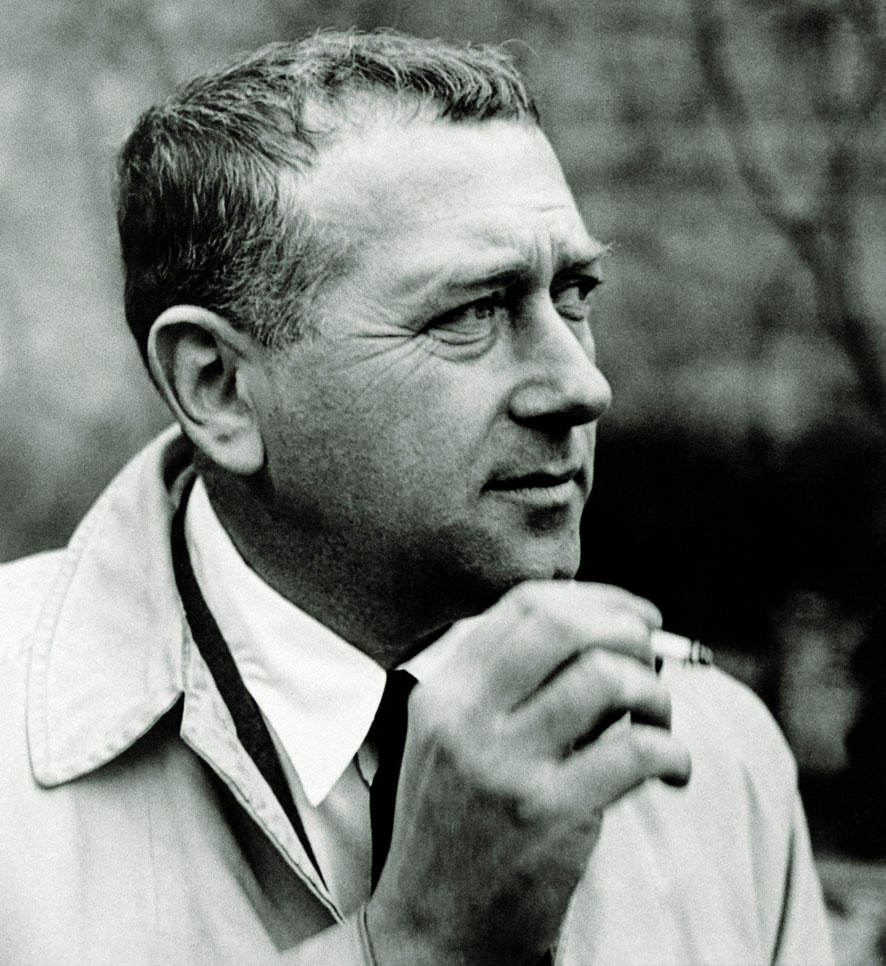 Historical Context
As with his Wassily Chair so expressed Marcel Breuer in 1925 with his Laccio table in a form language which in its reduction and functionality stands alone from the earlier design philosophy of Bauhaus. Whereas he had previously followed a craft based, expressive approach, Marcel Breuer's design moved toward an inherent objectivity and an understanding of the importance of designing for industry. Unlike wood steel tubing radiates a cool, sophisticated elegance, and was ideally suited for industrial processing. A major concern for Breuer was create designs which embodied the possibilities of innovative, industrial production, to make furniture at affordable prices for a wide public. Although the rise of Nazi Germany quickly put paid to the production of tubular steel furniture Marcel Breuer's Laccio coffee table and other steel tube designs remain to this day timeless, elegant expressions of the designer's philosophy and modern classics.