3% advance payment discount*:

615,95 €

(Save

19,05 €

)
The distinctive stacking bed by Rolf Heide is one of the most famous products from the German manufacturer Müller Small Living, a company which has stood for precision craftsmanship and high-quality furniture since 1869. The Stapelliege bed combines like no other object the company's values: meaningful functionality, clear forms and a rejection of trends and fads. An attitude that has seen them contribute to the history of design since 1966.
Product type
Bed
Dimensions
H 23,5 x W 200 x D 100 cm
H 23,5 x W 200 x D 90 cm
H 23,5 x W 190 x D 90 cm

The given widths and depths refer to inside edge, or mattress size; the external dimensions are each +3 cm

Single deck 23,5 cm high, 40 cm stacked
Colours



Material
Solid plywood (15 mm thickness), CPL-coating or coloured lacquered
Variants
Available in other sizes on request
Available in various types of wood and surface treatments
Available with a choice of mattress supports
Stacking Bed Comfort available separately
Function & properties
Stackable
Delivery includes
1 bed for self-assembly
Optionally available with slatted base
Mattress and bedding not included

Matching mattress (H 14 cm) suitable for combination with roller slatted frame available separately
When choosing the solid wood frame, a mattress with H 10 cm is recommended
Assembly
Please click on picture for detailed information (ca. 1,2 MB).


Care
Wood surfaces should never be exposed to excess moisture. For cleaning, the use of a soft, slightly damp cloth and a mild detergent are recommended.
Awards & museum
Interior Innovation Award 2003
Warranty
24 months
Accessories
Bed drawer 16
Modular Bedside Table
Datasheet
Please click on the picture for detailed information (ca. 4,0 MB).


Product presentation
Design
Designed in 1966 by Rolf Heide the Stapelliege with its mix of aesthetics and almost unique functionality remains as relevant and interesting today as ever. The bed's curved sides loosen the atmosphere in every and any bedroom while at the same time bestowing the object its special functionality - its stackability. Depending on the required use several Stapelliege beds can be stacked upon each other - or used individually - and thus afford a comfortable bed height: and which can be taken apart and reassembled if required and as often as required. In addition the beds curved organic edges make it particularly suitable for children's rooms, or rooms where children are likely to be found - the absence of sharp corners and edges reducing the risk of harm. The appealing, easily accessible form of the Müller Small Living stacking bed is space-saving and at the same time stable. Available in different types of wood and finishes the Stapelliege bed compliments virtually any style and was thus rightly described by the magazine "Home Sweet Home" as a modern classic.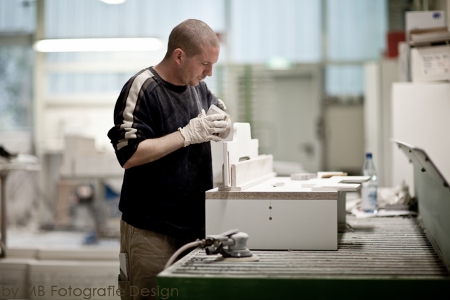 Designer
It is no coincidence that the German designer Rolf Heide created the Stapelliege bed system in 1966 as a wooden product: his career began with a carpentry apprenticeship. Following completion of his apprenticeship he studied interior design and worked for a short time in a furniture shop before his interest in furniture, design and interior design led Rolf Heide to establish his own design studio in addition to working as a freelance journalist for renowned magazines, including "Home Sweet Home" or "Architektur & Wohnen". Almost all the design works of the Hamburg based designer convey his architectural background and are characterized by intelligent forms and high formal stability. Rolf Heide's best known design is without question the stacking bed Stapelliege for Müller Small Living; however in recent years he has worked on a wide pallet of projects and is now considered a generalist and universal designer who in addition to furniture design is also heavily involved with corporate identity projects. In terms of the latter Rolf Heide is particularly active in helping design- oriented companies realise interesting and relevant trade fair stands and advertising strategies. Since the turn of the millennium Rolf Heide has withdrawn ever more from public life, but his work continues to be rewarded with numerous international awards.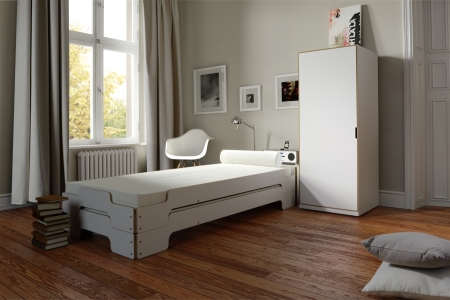 Production
The origins of the high quality and stable characteristics of the Stapelliege stacking bed lies in their material and their preparation. For over 140 years the manufacturer Müller Small Living has prescribed to the German understanding of design and quality, an understanding it puts into all of its products. Since its creation in 1966 the Stapelliege has been the best known and most popular product of the manufacturer. The wood species maple, beech, birch and walnut provide a wide range of grain and colour nuances to the bed and ensure a secure match to your individual bedroom. The high stability and longevity of the Müller Small Living bed is guaranteed through the multi-layer structure of the plywood, a process in which 9 layers of wood are combined to create a virtually indestructible material. The surface of each bed becomes a particularly noble and resistant surface through treating with wax and oil. The 4 sides of the stacking bed are made in Müller Small Living's own 2000 square meters production facility in northern Germany.