3% advance payment discount:

1.620,87 €

(Save

50,13 €

)
Versions which are in stock and immediately available (click here)
These items are in stock and are deliverable immediately:
*
incl. VAT, excl. shipping
Details
Product Type
Dining table or conference table
Dimensions


(1) Height: 74 cm
(2) Length: 75 / 100 / 150 / 175 / 200 cm
(3) Depth: 75 / 100 cm

Gewicht
ca. 41-115 kg
Material
Table top: glass, clear or Optiwhite glass (underside lacquered)
Table legs and frame: Steel, chrome plated
Colours
Tischplatten


Variants
Available in a range of sizes
Care
Chrome plated, powder coated and glass elements should be cleaned with a damp, light cloth and subsequently dried.
Stubborn stains can be cleaned with glass cleaner or water mixed with ethanol in a ratio of 10:1
Certificates
GREENGUARD - Indoor Air Quality
LEED "Green Directive""
Warranty
24 months
---
FAQ
?
Should the answers to your questions not be found here, our service team can be contacted Mo-Fr, 8am to 6pm via +49 (0)341 2222 88 22.
Are the colours offered for the lacquered glass table identical with those of the modular furniture?
The colours are the same as for the USM Haller modular furniture - the tables are painted on the underside, the modular furniture is powder coated. By using so-called Optiwhite glass (low iron, clear float glass with colour-neutral phantom) the colours are not distorted despite the tabletop thickness of 19 mm.
How much load can the USM Haller glass table carry?
The maximum permissible continuous load is 60 kg, a short-term maximum load (max. 1 hour) of 265 kg is however possible.
Does the USM Haller glass table come fully assembled?
The glass table top is individually packed in a wooden crate; the frame, corner brackets and table legs are individually packed. The assembly is however quite straight-forward and requires solely one Allen key. An Allen key which is included in the delivery. Alternatively we can recommend our comfort-delivery services - this includes assembly of the table and the disposal of packaging.
---
Design Story
The Design
USM Haller tables are an integral part of USM modular furniture system. Developed in 1963 by Fritz Haller for the Swiss company USM the system, with its clear design and modular construction principle, revolutionized the office furniture world in the second half of the 20th century. From just three basic components a diverse furniture family can be constructed. and subsequently extended and rebuilt as conditions, location and required functionality change. The USM Haller glass table blends perfectly into the USM Haller range and is available in different sizes and with different accessories. With its clean lines and simple chrome plated table frame the USM Haller table perfectly compliments, for example, with USM Haller sideboards and other USM shelving units. And not only in the USM Haller glass table perfect as a desk, but also as a conference and as a dining table.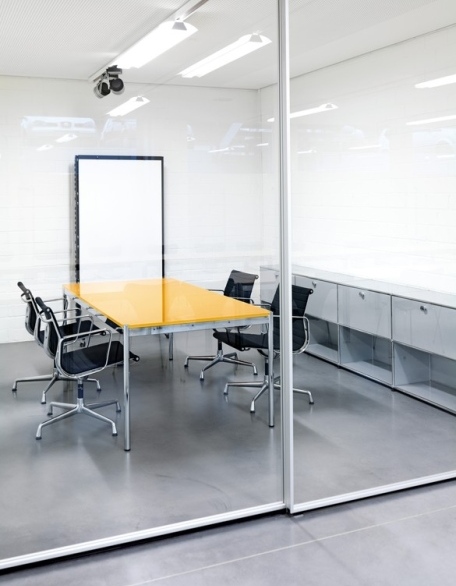 Designer
Born on October 23, 1924 in the Swiss village of Solothurn Fritz Haller is designer of the eponymous USM Modular Furniture including the USM Haller glass table. Fritz Haller studied architect and designed a number of schools, office buildings and production halls, before a commission planning new buildings for USM in the early 1960s raised him to one of the greats of contemporary furniture design. USM director Paul Schärer had entrusted him with the construction of a new administrative building, including devising a fitting and functional interior furnishing. And although Haller was almost exclusively engaged as an architect - as practising architect, architectural researcher and professor - it was his furniture design that became his most successful and recognisable work. The USM Haller system has won several awards and is included in the permanent collection of the MoMA New York. Fritz Haller died in October 2012.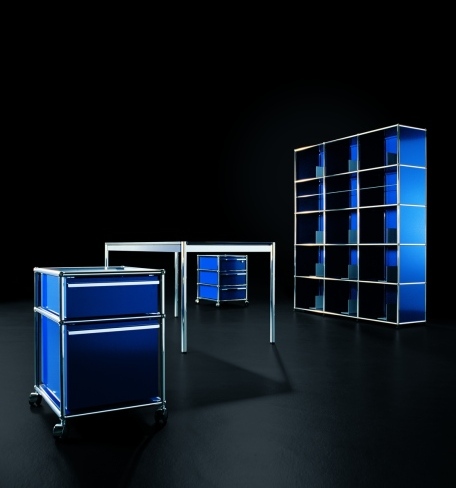 Manufacturer
The company USM has a long, illustrious history in the production of furniture; however, furniture only began to play a role in the company story some eight decades after its founding. Originally founded in 1885 as a hardware store and locksmith concern by Ulrich Schärer, the company only began in 1969 with the serial production of USM furniture. The conditions however which allowed USM to respond to changing market had been laid in the 1940s when the company expanded its portfolio to include sheet metal fabrication. Fritz Haller's furniture designs were originally created for the interior of the company's office pavilion but entered series production in 1969 following the first major order for the system by the Paris based Rothschild bank. Thanks to the global success of the USM Haller furniture system, USM is today concerned exclusively with the production of steel furniture, and of course the further development of the product range.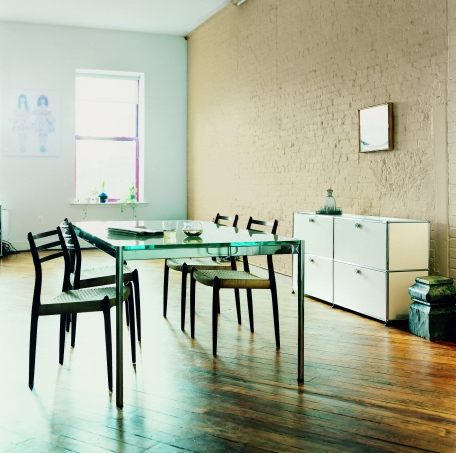 Production
The USM Haller glass table is produced at the company's vase in Münsingen, Switzerland - as are the USM sideboards and all other elements of the shelving system. The reduced table frame is composed of table legs and frame made of chrome plated steel, the table top is available in a crystal clear version as well as in 14 different USM colours. In the coloured glass variant, the plate is lacquered on the underside; the use of a special glass reflecting the colour in an unaltered fashion, thus ensuring a true colour representation. USM products are produced using only high-quality materials, thus endowing USM tables and USM Haller sideboards with a long life. All USM Haller manufacturing processes are environmentally responsible additionally USM furniture has been awarded the Greenguard Indoor Air Quality certification, which stands for low emitting products and a healthier indoor environment.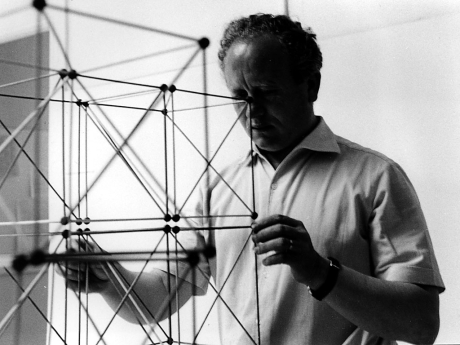 Historical Context
Fritz Haller is a representative of the functionalist design movement as experienced and understood in1950s and 60s architecture and design. True the famous dictum that "form follows function", functional and technical aspects became the focus of the design. Purely aesthetic considerations, as well as unnecessary decoration and flourishes were neglected. This principle is also reflected in USM Haller products including the USM glass table, which with its very clear language, and the minimal use of materials dispenses with decorative elements and thus creates a timeless design classic - both for the office and the home.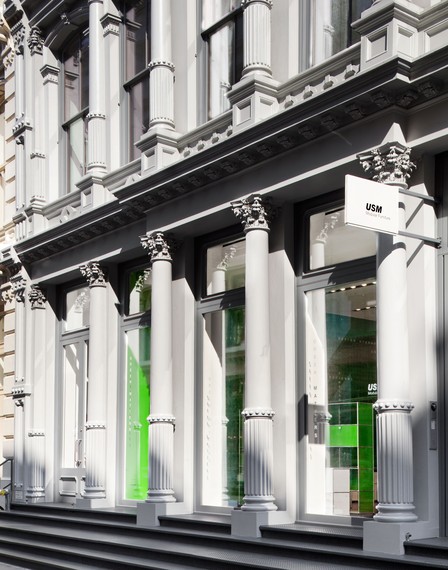 More about 'Haller Table' in our blog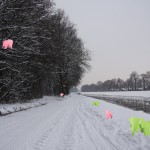 ... Then USM Haller arrived with a lorry full of Haller tables, USM Haller sideboards and roll containers.  And as they left us to head back to Bühl, moooi arrived from Amsterdam. Sometimes it really is like the EU car park in the (smow)yard!!! And then...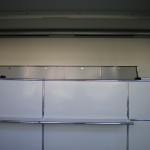 ... For a lot of people USM Haller make units where you can store lever arch files. True. They do. And that very successfully. However, the beauty of System USM Haller is such that with a little imagination, and the correct professional advice, one can also...
'Haller Table'-posts
You may also like these articles: