3% advance payment discount:

143,56 €

(Save

4,44 €

)
Versions which are in stock and immediately available (click here)
These items are in stock and are deliverable immediately:
With its minimalist design, various sizes and designs, the Eiermann table top perfectly matches the Eiermann Table - an object which was originally designed by Egon Eiermann in 1953 without an associated table top. The Eiermann table top was developed by Stuttgart based furniture label Richard Lampert - the manufacturers of the classic Eiermann 1 table frame.
Product type
Table top
Dimensions


(1) Length: 120 / 140 / 160 / 180 / 200 cm
(2) Depth: 80 / 90 cm
(3) Thickness: 2,8 cm (melamine), 3 cm (linoleum, solid wood)

Colours

Material
MDF with melamine coating (28 mm thick) or linoleum (30 mm thick) or solid maple (33 mm thick) or oak (33 mm thick)
Variants
Melamine: with oak (untreated) or white edges
Linoleum: upper surface available in a range of colours and oak edges; under side melamine white
Oak: smoked
Maple: bleached

Available in a range of sizes
Care
Care and cleaning of the melamine coating: The melamine surface can be cleaned with a damp, soft cloth

Care and cleaning of the linoleum coating:
The linoleum surface can be cleaned with a damp, soft cloth. Under no circumstances should a degreasing agent be used.

Care and cleaning of solid wood:
Light soiling of untreated edges can be removed with a fine sandpaper - always moving in grain direction! Oiled and waxed surfaces can be treated with a colourless oil and/or wax if required
Warranty
24 months
Product family
Eiermann tables
Accessories
Table frames Eiermann 1 and Eiermann 2
Accessories for Eiermann tables
---
?
Should the answers to your questions not be found here, our service team can be contacted Mo-Fr, 8am to 6pm via
+49 (0)341 2222 88 22.
Can the Eiermann table top be used on both sides?
The melamine coated and linoleum table tops can have light scratches that mean one shouldn't use the underside. The solid oak and solid core laminate table tops can however be used on both sides.
From which material is the table top made?
With the exception of the solid wood version all table tops are made from coated plywood. The melamine-coated table tops have a 2 mm oak edge (formerly beech) or a white edge. The linoleum coated table tops have a 2 mm oak edge and on the lower side a white melamine coating.
---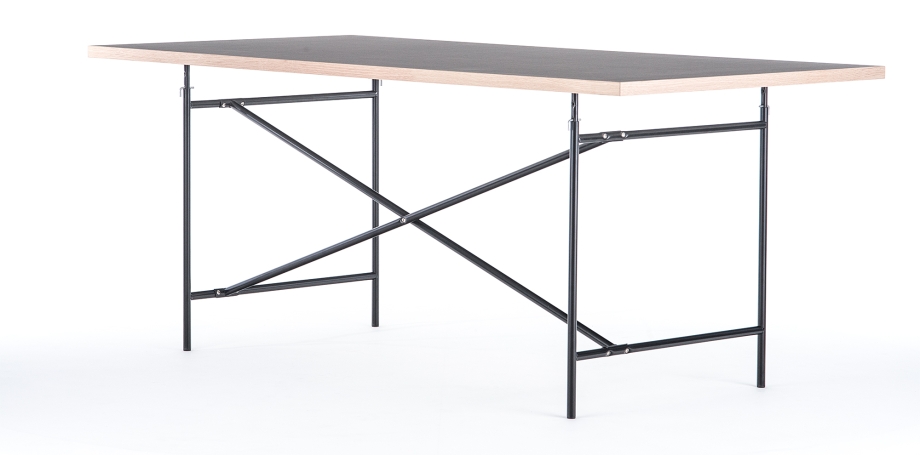 The Design
Accompanying the Eiermann Table Frames Stuttgart based furniture manufacturer Richard Lampert also offers the Eiermann table top. The architect and designer Egon Eiermann designed the table frame with its famous obliquely set support bars in 1953 while working at the Technical University of Karlsruhe. In 1965 a revised version was created, in which the stabilizing crossbar is positioned vertically for more usefulness. This licence-free version is now sold by Richard Lampert as the Eiermann Table Frame 2. The Richard Lampert Egon Eiermann table top itself was not specifically designed by Eiermann for his table frame. Eiermann's original design left the user free to choose his or her own table top - Eiermann's students even used doors. Richard Lampert offers a selection of table tops specially created to both fit the various frame dimensions and compliment the simple yet attractive frame design.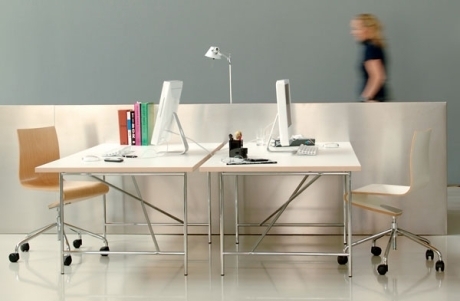 Production
Since 1995 the Stuttgart based furniture manufacturer Richard Lampert has possessed the license for the production of the original Eiermann Table Frame 1. The Eiermann table tops are sold separately to the frame. They are made either from either solid wood (oak or maple), melamine covered MDF or colour coated linoleum and are available in a range of sizes.
Manufacturer
The license to produce the original Eiermann Table Frame 1 has been held since 1995 by Stuttgart based furniture manufacturer Richard Lampert. Lampert also produce and distribute furniture designs from a wide roster of international designers including Peter Horn, Herbert Hirche and Alexander Seifried, in addition to a specially commissioned collection of children's furniture.

Historical Context
Egon Eiermann's can best be understood in context of the functionalist tradition of classical modernism, as ably demonstrated by, for example, the Eiermann Table. The reduced, practical and timeless design from the 1950s is almost the perfect physical manifestation of the Zeitgeist of post-war European society. Although Eiermann worked as an architect at the time of Bauhaus, his oeuvre clearly distinguishes itself from that school. His style is much more aligned with the so-called second modernity and architects and designers such as Arne Jacobsen and Alvar Aalto.
The design might not originate from him per se, but it was ultimately Egon Eiermann who inspired the Eiermann table tops through the reduced elegance of his table frame design. Egon Eiermann was born in 1904 in Neuendorf near Babelsberg. He studied architecture at the Technical University Berlin and worked as a freelance architect from the 1920s. Among his most popular works are the New Kaiser Wilhelm Memorial Church in Berlin and the Horten department store in Stuttgart, from which developed the so-called Horten Tiles. Although popular, many of Eiermann's works also generated protest on account of their progressive design language. Eiermann's furniture was much more readily accepted. In addition to the Eiermann table Egon Eiermann also created numerous chair designs which are and were produced by Wilde + Spieth. Egon Eiermann died in 1970 in Baden-Baden.
Eiermann Table: Accessories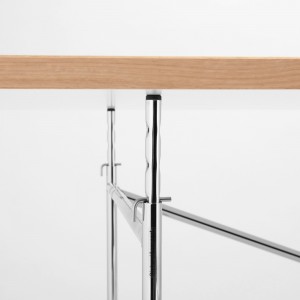 To allow for more individual height adjustment options these Eiermann Table extensions allow the basic height of 65 cm to be increased in five stages of 35 mm up to maximum height of 85 cm. Because each extension can be individually adjusted the extensions also allow the table frame to be angled, for example, for use as a drawing table. "

Mounting set - For fine adjustments and fixing
For fixing or finely adjusting the table top the Mounting set allows height dieffernces of up to 20 mm to be evened out. Leaving no excuse for uneven sufaces!

Cable trough - For a little order under your desk
Safely and securely store cables and similar objects under your Eiermann Table with the cable trough. Available ina range of sizes the for all Eiermann Table's the cable trough simply hangs in the frame and solves all those cable salad problems.

Height adjustale feet - The simple solution for uneven floor surfaces
Uneven floor surfaces can make correctly positiong a desk a tiring business. The Richard Lampert height adjustable feet are simply screwed into the Eiermann table frame and can even out differences of between 20 and 40 mm. Thus ensuring the work surface you deserve. Regardless of where you work.
The industrial castors turn a static Eiermann table frame into mobile office element that can be effortlessly transferred from A to B and back again as required. And with each set conatining two castors with a brake, security is also included. Through the castors the table top height is raised by 70 mm
You may also like these articles