TASCHEN
Gio Ponti Art Edition
by Gio Ponti, 1948-49 & 1954
— 3.000,00 €
3% advance payment discount*:

2.910,00 €

(Save

90,00 €

)
In honour of the Italian architect, designer and visionary Gio Ponti, TASCHEN Verlag have published a limited Gio Ponti Art Edition, a fulsome Ponti monologue which is accompanied by the exclusive reproduction of the original square "Planchart Coffee Table" from 1954 and four art prints of sketches from the Ponti archive. Produced by Molteni&C for TASCHEN Verlag, the iconic Ponti coffee table - in the round shape also known as the Arlecchino coffee table - impresses under the glass top with its lattice structure, the colour combination of which changes depending on the perspective of the beholder. The Art Edition is uniquely limited and numbered to 1000 pieces.
Product type
Limited special edition consisting of a book, coffee table, 4 prints and a signed certificate
Dimensions
Coffee table
Height: 39 cm
Width/Depth: 57 cm

Book
Height/Width: 36 cm

Art prints
Height/width: 40 cm
Colours
Exclusive colour selection (Cadmium Yellow, Capri Blue and White) based on Ponti's original colour palette of the coffee table for the Villa Planchart from 1954
Material
Coffee table:
Table top: hand-painted steel grille with glass top, clear glass
Legs: steel, copper colour

Art prints
Hahnemühle Fine Art Paper (Photo Rag Ultra Smooth 305 / m²)
Function & Properties
Special limited edition

Book: numbered (Art Edition 1-1000, total circulation 5000)
Gio Ponti Art Edition. Salvatore Licitra, Stefano Casciani, Lisa Licitra Ponti, Brian Kish, Fabio Marino, Karl Kolbitz (Eds.)
Hardcover, 572 pages
Label in the form of a crystal (Ponti leitmotif)

Coffee table: handmade and numbered
Removable glass plate
With Gio Ponti Archives logo and TASCHEN logo

Art prints: numbered on the back
Ocean liner interior prints
Ponti drawings from the years 1948-49 (originals are kept in the CSAC/University of Parma)

Certificate: with the signature of Salvatore Licitra (curator and founder of the Gio Ponti Archives in Milan and grandson of Gio Ponti) and the manufacturer's emblem Molteni&C
Delivery includes
Set of hardcover anthology Gio Ponti Art Edition incl. Multilingual booklet with foreword, introduction, essay (DE/EN/FR/IT) + numbered Planchart Coffee Table 2021 Edition + 4 numbered art prints in a folder + signed certificate
Pflege (Couchtisch)
Glass
Properties:
Contact with harder material can cause scratches, therefore avoid contact with rough surfaces, grains of sand and sharp metals.
Cleaning:
Clean glass regularly with a damp, soft cloth. A household glass cleaner is recommended.

Steel
Maintenance:
You can freshen up chrome from time to time with an appropriate polish. You can achieve a special shine by polishing with a dry, soft cloth.
Cleaning:
Clean with lukewarm water and, if necessary, with a mild soap. A stainless steel cleaner helps with heavier soiling. Thoroughly wipe off all cleaning agents used. Never use harsh detergents. Use only soft cleaning cloths.
Certificates & Sustainability
Set contains certificate with signature of Salvatore Licitra and manufacturer's emblem Molteni&C
Warranty
24 months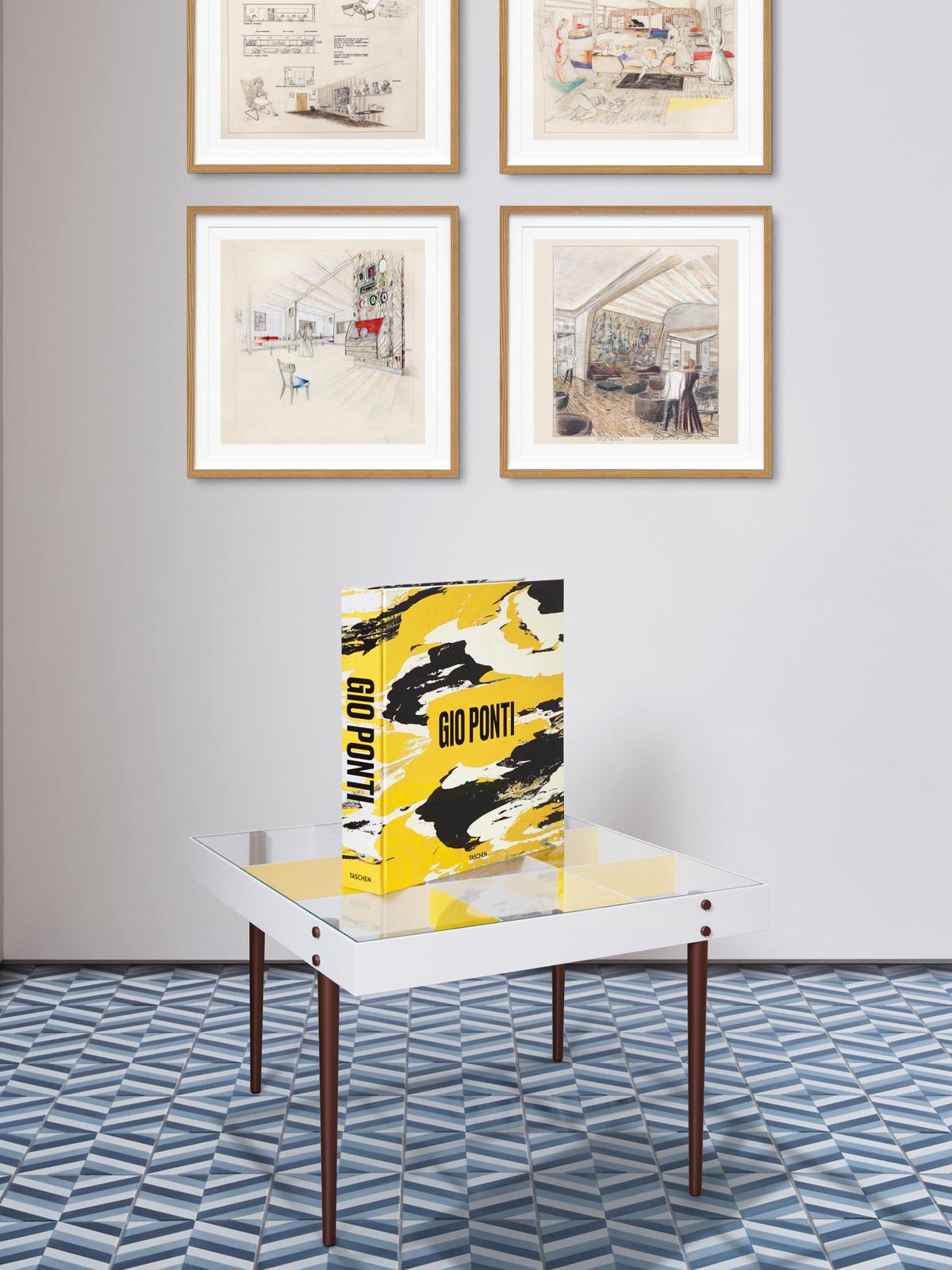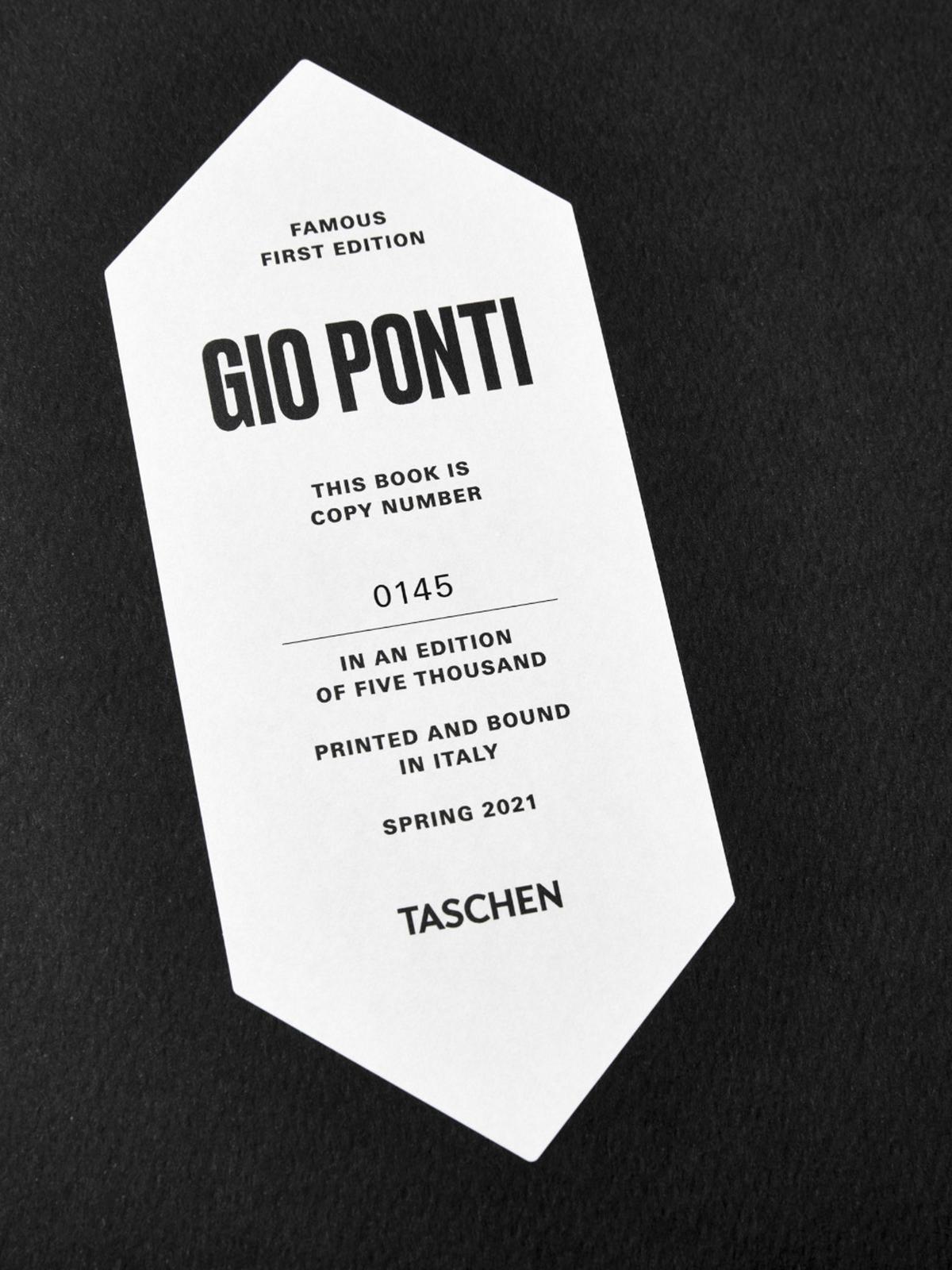 Design
The numbered TASCHEN Art Edition of 1,000 copies (No. 1-1000) comprises Gio Ponti Coffee Table Book with booklet, the exclusive reproduction of the Planchart Coffee Table in square format, a set of four numbered prints from Ponti's Ocean Liner studies and a certificate signed by Salvatore Licitra, Ponti's grandson and founder of the Ponti Archives.
The Planchart is an exclusive reproduction of the iconic lattice coffee table by Gio Ponti with a glass top. The table - designed by Ponti in 1954 as a square prototype for the Villa Planchart in Caracas - was later produced in a round shape as the Arlecchino table and has now been reissued for the first time by TASCHEN in its original shape. Based on the painterly approach of the De Stijl artists Piet Mondrian and Theo van Doesburg, the surface of the table is based on a dynamic grid structure, the colour combination of which changes depending on the viewer's perspective. The colours of the re-edition were based on Ponti's original colour palette from the Gio Ponti archive exclusively for the TASCHEN Art Edition.
The extensive Ponti hardcover book published by Art Director Karl Kolbitz was created in close collaboration with Ponti's grandson Salvatore Licitra and contains texts by Stefano Casciani and Ponti's daughter Lisa Licitra Ponti. The anthology documents the development of Ponti with previously unpublished materials and is the most comprehensive presentation of his work to date.
The prints of the Ocean Liner studies are based on drawings by Ponti from 1948-49. Ponti produced these valuable works as part of a tender for the interior of two cruise ships. They testify to his idea of ​​creating two different rooms, each with a completely unique design for luxury cruises.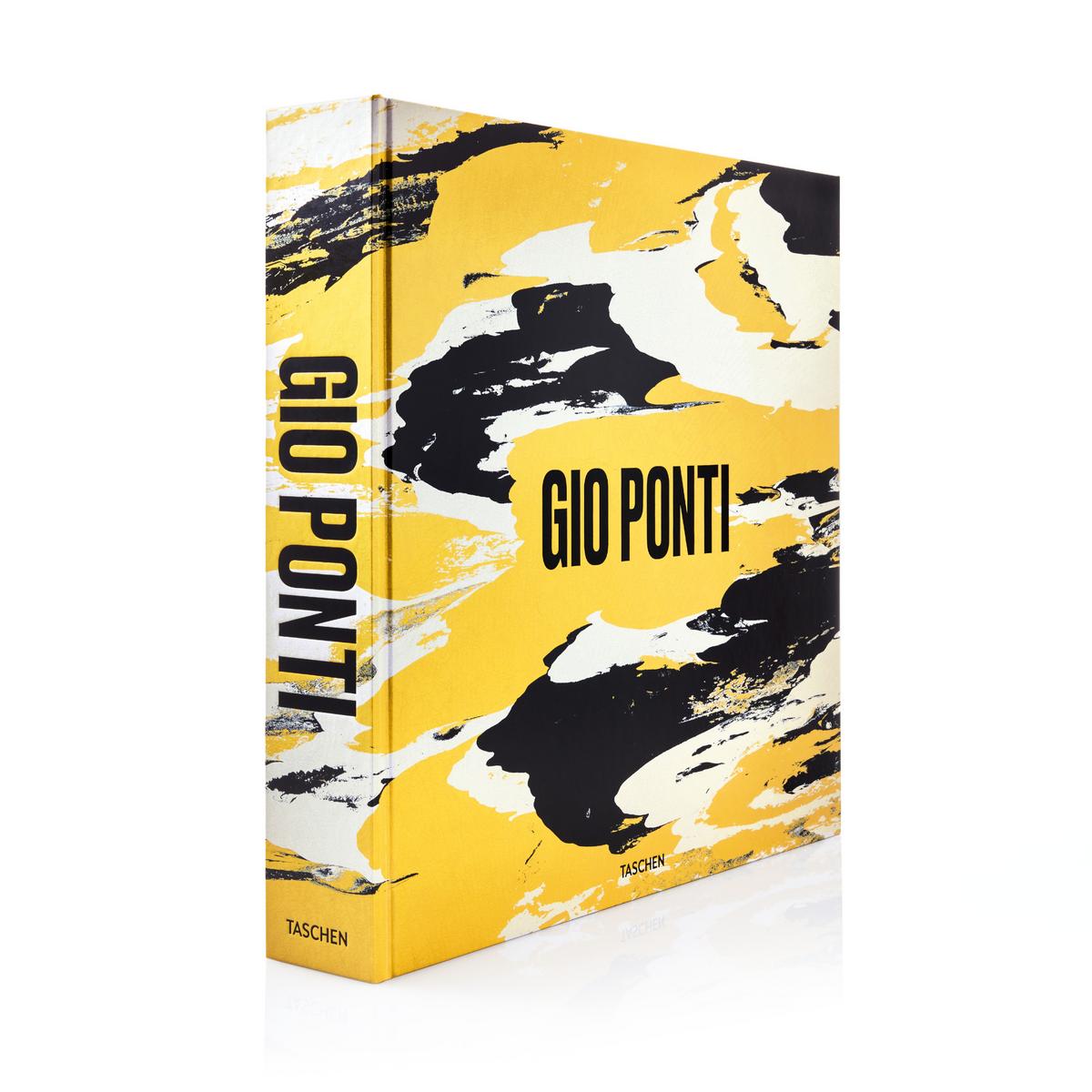 Each book in the Art Edition from TASCHEN Verlag is numbered from 1 to 1000, with the individual number being fixed in the form of a sticker on the front of the book. This detail is something special as the sticker picks up on the typical crystal, Ponti's leitmotif . The book is in English, the multilingual supplement contains the main texts in German, French and Italian. Like the table and book, the prints are numbered, and the certificate is also signed by Ponti's grandson, Salvatore Licitra.
The Planchart Coffee Table is produced by Molteni&C exclusively in context of the Art Edition and in collaboration with the Ponti Archive. The legendary new edition of the table is numbered, has a discreet Gio Ponti Archives logo and a TASCHEN logo. Each table in the 2021 edition is handcrafted based on the design of the prototype from 1954. The characteristic steel grille is hand-painted in the colours cadmium yellow, capri blue and white, the steel legs are lacquered in copper