3% advance payment discount:

213,40 €

(Save

6,60 €

)
Versions which are in stock and immediately available (click here)
These items are in stock and are deliverable immediately:
*
incl. VAT, excl. shipping
Details
Product type
Table frame for use as a desk
Dimensions


(1) Height: 66 cm (72 - 85 cm with extensions)
(2) Depth: 66 - 78 cm
(3) Length: 110 cm

Material
Frame: steel, varnished or chrome plated
Variants
Support cross bar either central or aligned towards rear
Optional extensions (5 steps, each 35 mm - allowing table height of 72 - 85 cm)
Colours
Table frame



Crossbar


Functions & Properties
Height adjustable with extensions
Care
We recommend cleaning with a soft, slightly damp, cotton cloth.
Warranty
24 months
---
FAQ
?
Should the answers to your questions not be found here, our service team can be contacted Mo-Fr, 8am to 6pm via +49 (0)341 2222 88 22.
How much weight can the frame support?
Lampert recommends a maximum weight of 90 kg for the Eiermann table frame. The frame can support a greater weight; however, should the table be knocked from the side or is otherwise moved, the frame can develop a certain "momentum" and potentially deform.
Which table top can be used with the frame?
Egon Eiermann designed the his frame without an associated table top: his students simply used any available board as a desktop. The manufacturer Lampert however offers table tops in various sizes to match the various frame sizes. The table top should always protrude sufficiently beyond the frame - i.e.e.g, for the 78 cm deep frame, choose the 90cm deep table top.
What is the difference between the frame colours chrome, silver and colourless?
The silver frame is a silver lacquered finish which in contrast to the chrome frame is more matt. The chrome plated frames shimmer. With the colourless frame the steel tubing itself is visible - and thus also not only are the welds visible but over time changes in the material may occur. The colourless version of the Eiermann frame has a "raw" industrial character and is often ordered by architects and artists.
---
Design Story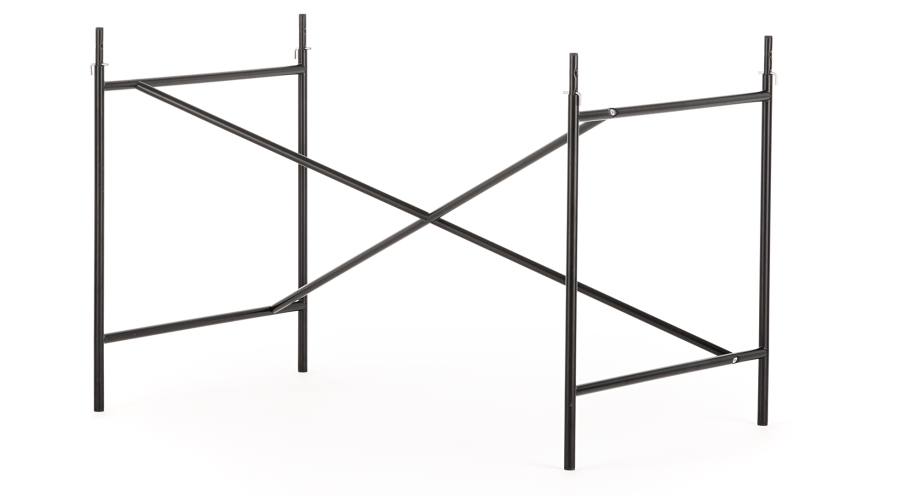 The Design
The design of the Eiermann table frame was developed by the architect Egon Eiermann, one of the most influential Germany architects of the 1920s to the 1960s. Created in 1953 the frame reflects Eiermann's interpretation of a modern, functional design. The Eiermann frame is stabilised by an angled crossbar, a feature which is not only structurally important but aesthetically defining and which allows the design to exude a clarity and ease typical for Egon Eiermann's work as an architect. The crossbar can be placed either in the centre or offset set in the frame. Not least because of the importance of its creator the Eiermann table frame is very popular in architectural circles and is therefore sometimes called the architect's table. However the Eiermann table doesn't just belong in architects offices, rather an Eiermann table belongs anywhere looking for a timeless, classic example of post war European design.


Production
Since the 1990s the Eiermann Table Frames have been produced by the Stuttgart designer furniture manufacturer Richard Lampert. Company founder Richard Lampert acquired in 1995 the rights to the manufacturer for the all but forgotten original design and brought the desk classic back on the market. Lampert produces the Eiermann Frames in various sizes and colours, including a special version for children. The term Eiermann Table Frame 1 serves to distinguish Eiermann's 1953 frame from the that developed in 1965 by the workshop manager of the Technical University of Karlsruhe, where Eiermann taught. The Eiermann Table Frame 2 is, although visually very similar, technically not quite as sophisticated as the Eiermann original and licence-free. In addition to the table frames Eiermann 1 and Eiermann 2 Richard Lampert also produces Eiermann table tops for the Eiermann Tables Frames.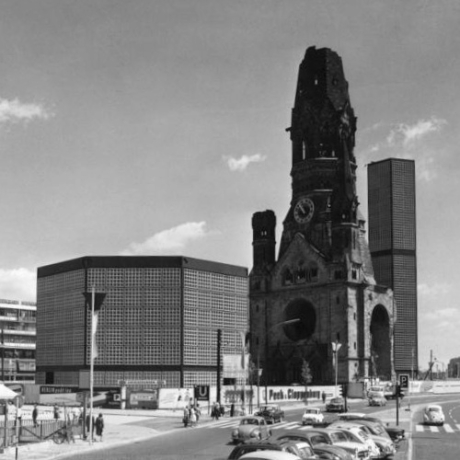 Manufacturer
Richard Lampert founded his contemporary furniture company in 1993. Lampert, who had already gained extensive experience in the furniture business, wanted to start a company which offered an eclectic mix of of classic and contemporary design. Although particularly well known and celebrated for his re-editions of Egon Eiermann furniture, in particular the Eiermann table frames, Richard Lampert offers an internationally relevant portfolio of products from designers as varied as Herbert Hirche, Peter Horn or Otto Sudrow and has recently launched a very successfully children's collection created by young international designers.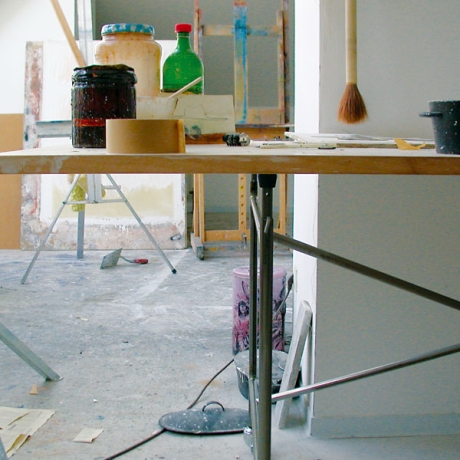 Designer
Egon Eiermann was born on 29 September 1904 in Neuendorf, today part of Babelsberg, and died on July 19, 1970 in Baden-Baden. After studying architecture at the Technical University Berlin, Eiermann worked between the 20s and 60s as a freelance architect, initially in Berlin but later globally. Among his most important works is without question the New Kaiser Wilhelm Memorial Church in Berlin. His first commercial furniture designs arose in the 1950s in response to the need for post-war furnishing solutions. Typical of his works is a simple, austere geometry and an immediate visibility of function. In addition to his famous Eiermann table frame Egon Eiermann also designed several chairs which have gone on to define furniture history.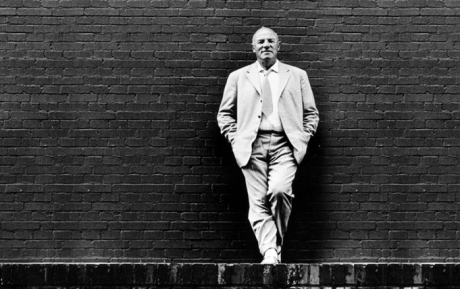 Historical Context
Eiermann's work falls in that age of modernism which is often referred to as "second modernity". Egon Eiermann began his work as an architect in the 1920s and worked almost until his death in 1970 as an architect and furniture designer. Although his work thus falls within the period of the Bauhaus he is not considered in this movement. It was indeed only in the 1950s in context of study trips to the United States that he first met the likes of Walter Gropius , Marcel Breuer, and Ludwig Mies van der Rohe. Unaffected by the problems of the Second World War, in post-war Germany Egon Eiermann became one of the nation's most important architects, his a lightness and freshness promoting and progress symbolizing the hope of a better brighter future. In addition, post-war Egon Eiermann was the first German designer who developed furniture collections that could hold their own against the international competition. The architect and designer Egon Eiermann is now considered a leading figure of the second modernity, is designs are closely related to functionalism, and in this context, the concept of "good form" which defined German design of the 1950s, 60s and 70s.
Eiermann Table: Accessories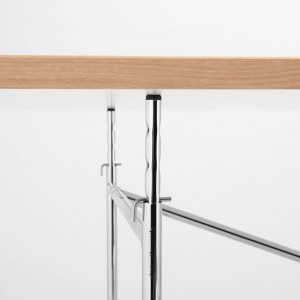 To allow for more individual height adjustment options these Eiermann Table extensions allow the basic height of 65 cm to be increased in five stages of 35 mm up to maximum height of 85 cm. Because each extension can be individually adjusted the extensions also allow the table frame to be angled, for example, for use as a drawing table. "
Mounting set - For fine adjustments and fixing
For fixing or finely adjusting the table top the Mounting set allows height dieffernces of up to 20 mm to be evened out. Leaving no excuse for uneven sufaces!

Cable trough - For a little order under your desk
Safely and securely store cables and similar objects under your Eiermann Table with the cable trough. Available ina range of sizes the for all Eiermann Table's the cable trough simply hangs in the frame and solves all those cable salad problems.

Height adjustale feet - The simple solution for uneven floor surfaces
Uneven floor surfaces can make correctly positiong a desk a tiring business. The Richard Lampert height adjustable feet are simply screwed into the Eiermann table frame and can even out differences of between 20 and 40 mm. Thus ensuring the work surface you deserve. Regardless of where you work.
The industrial castors turn a static Eiermann table frame into mobile office element that can be effortlessly transferred from A to B and back again as required. And with each set conatining two castors with a brake, security is also included. Through the castors the table top height is raised by 70 mm
Eiermann Table Frame 1 vs Eiermann Table Frame 2
The Eiermann table frame 1 is an undisputed classic of contemporary furniture design. Designed in 1953 by Egon Eiermann the table frame is composed of two steel tube side elements joined, and stabilised, by a diagonally attached crossbar. Utilising a minimum of material to achieve a maximum of stability in an object that remains true to Eiermann's aesthetic principles, the Eiermann table frame 1 is as unique in its construction as it is flexible in its uses.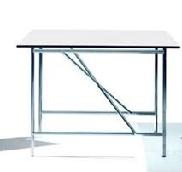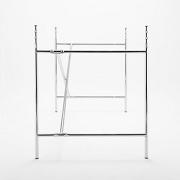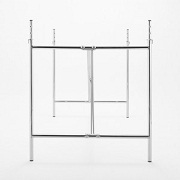 The adapted version of the table frame with the vertical supporting crossbar was developed in 1965 and is, as with the original model, known as the Eiermann table frame. Indeed over the years the name Eiermann table frame 2 has established itself in common parlance to distinguish the version designed directly by Egon Eiermann and the adapted version.
In direct comparison of both frames one instantly realises that the Eiermann 1 typifies Egon Eiermann's attention to fine detail more than the rather industrial Eiermann 2.
More about 'Egon Eiermann', 'Eiermann Table frame' in our blog
... Established in 1993 with a primary focus on producing the designs of Egon Eiermann, including most famously the re-edition of Eiermann's 1953 table frame, Stuttgart based furniture manufacturer Richard Lampert have quietly developed over the intervening...
... Established in 1993 with a primary focus on producing the designs of Egon Eiermann, including most famously the re-edition of Eiermann's 1953 table frame, Stuttgart based furniture manufacturer Richard Lampert have quietly developed over the intervening ... In 2013 Richard Lampert presented the so-called Frame Regal by Alexander Seifried, a shelving system which took the classic Eiermann Regal that Egon Eiermann created in context of the 1932 ...
... Then came Vienna Design Week 2014 and Bratislava Design Week...
... On Friday September 26th the Egon Eiermann Society will present the inaugural "Egon Eiermann Chair" Award at a ceremony in the Neue Kaiser-Wilhelm-Gedächtniskirche in Berlin. Initiated to recognise those individuals or organisations who have made an ... Built in 1937 Wohnhaus Matthies is one of Eiermann's earliest constructions, presents the paired down cottage style that was so typical of much of his early work and has been a listed building...
... Once again Alexander Seifried was responsible for the re-quoting. And in our opinion has found a wonderful solution, and elegantly disproved the old adage that you can't teach an old dog new tricks. In design you can. A few impression from Richard Lampert...
... The city's most famous architectural son although he was not from there and never lived there..... However, following his war enforced move from Berlin to Baden-Württemberg Egon Eiermann realised numerous important projects in and around Stuttgart,...
... In the context of another project we are currently researching various aspects of Egon Eiermann's architectural output. And have discovered the most wonderful contradictory positions as regards dealing with his legacy. Contradictory positions which pose ... Constructed from 1967 to 1972 the sprawling campus has remained empty since IBM moved out in 2009; and the new owner, having failed to find any new tenants or alternative uses, went bankrupt in...
'Egon Eiermann', 'Eiermann Table frame'-posts
You may also like these articles: