Not only on account of their timeless, simple design, but also because of the large selection of accessories, the Eiermann tables from Richard Lampert fit effortlessly into every room: be that living, dining or work. The modular tables can be combined to different sizes.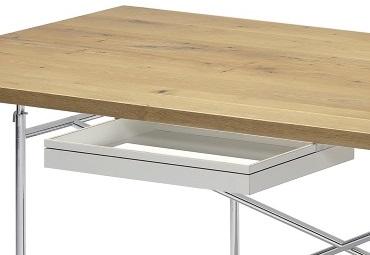 In addition, the variable table frames can be optimally supplemented through various extras such as the practical Eiermann table height extension unit. Both the Eiermann 1 and the Eiermann 2 table frame can be changed in steps of 3.5 cm each - thus resulting in an overall height of between 72 and 85 cm. Richard Lampert table height extensions are available in either chrome or in the respective colour of the table frame.
Also in terms of compensating for uneven floor surfaces a solution has been developed which is as simple as it is stylish. The Eiermann levelling feet allowing a height adjustment of between 20 and 40 mm.
Furthermore, there are practical cable trays, tailor-made for the respective Eiermann 1 or Eiermann 2 table frame, CPU holders, drawers or castors, which supplement the Eiermann table frame according to your individual requirements.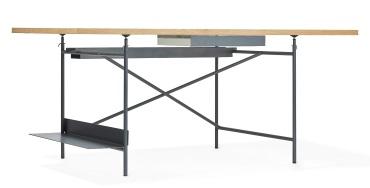 The sliding of the table top can be prevented by the black plastic Eiermann rubber stoppers.
Thanks to the versatile accessories, the already very versatile Eiermann table frames can be supplemented and adapted to every conceivable need.