Morten & Jonas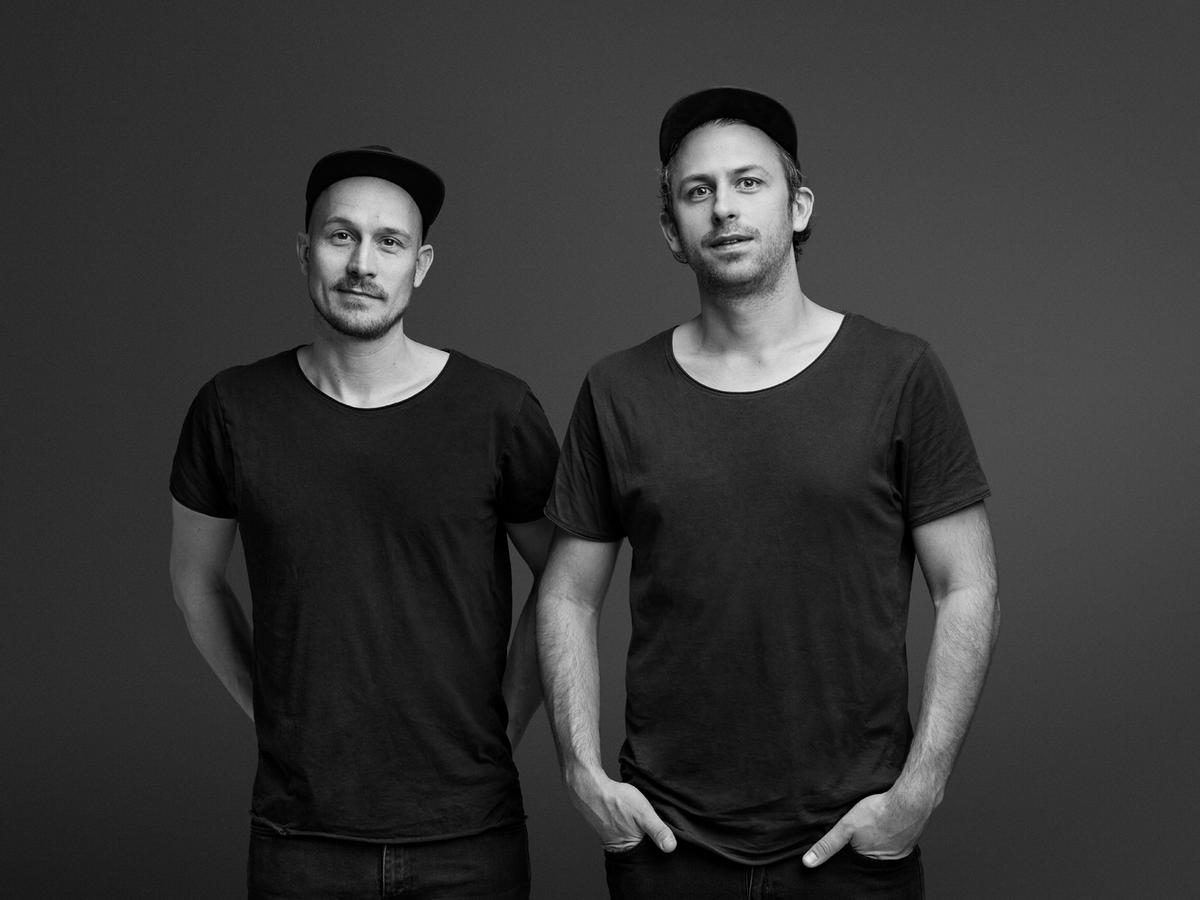 Morten Skjærpe Knarrum and Jonas Norheim met while studying for their Master's degree at Bergen Academy of Art and Design, establishing their joint studio in the city upon their graduation in 2011. Now based near Oslo Morten & Jonas realise a wide range of furniture, lighting and accessory projects with and for manufacturers as varied as Fora Form, Petite Friture, Bolia or Northern; the latter of whom Morten & Jonas also serve as Art/Design Directors, thereby helping guide the Norwegian manufacturer's development. And wherever they work Morten & Jonas bring their wit, charm and critical questioning perspective of contemporary relationships with furniture and lighting.
SMOW INTERVIEW WITH Morten & Jonas
smow met up with Jonas Norheim to discuss the origins and development of Morten & Jonas, their work, their roles with Northern and also Norway and design.
Relationships have to work on a professional and a personal basis
smow: You and Morten met at the Academy of Art and Design in Bergen, was it clear at the academy that you would establish a joint studio, or...?
Jonas: Not at first, Morten's from a different part of Norway and for the first six months or so I didn't really understand what he was saying because he has quite a strong dialect, certainly for me! However, over the next two and half years we became friends, we both had similar ideas about the career we wanted, what we wanted to do, and at the end of our studies decided to take a joint stand in the Greenhouse section at Stockholm Furniture Fair, but both showing our own work. However we cooperated very closely on the preparations, helping each other with our projects, and so by the time we got to Stockholm it was clear that we should probably work together.
smow: Going back to those early years, did you feel visible in Norway, were there opportunities for young designers, or was it a case that you had to travel to find clients and contacts?
Jonas: When we started in Bergen there was the group 'Norway Says' who were one of the more interesting Norwegian design groups at that period, who were helping make design in Norway visible internationally, and they were quite a good inspiration for young designers at that time. The design scene was growing in Norway, but there is a saying that it is always easier to get recognised in your home country if you make a name outside of your home country. And so we made a three year plan which involved going to Milan for three years, to the Salone Satellite, to be as visible as possible and see if we can meet some people who like what we're doing and who want to let us do what we want to do.
smow: And was Milan helpful? Did you meet those people?
Jonas: Yes! We established a lot of contacts, some of whom we are still in contact with, including people who wanted to work with us such as the French brand Petite Friture, who we still have products with. And we also got to know a lot of Norwegians; and so I guess the old saying isn't a cliché, it's true, it helps a lot.
smow: What was your first commercial product?
Jonas: That was a kind of strange product, it was a lamp called Bake Me a Cake...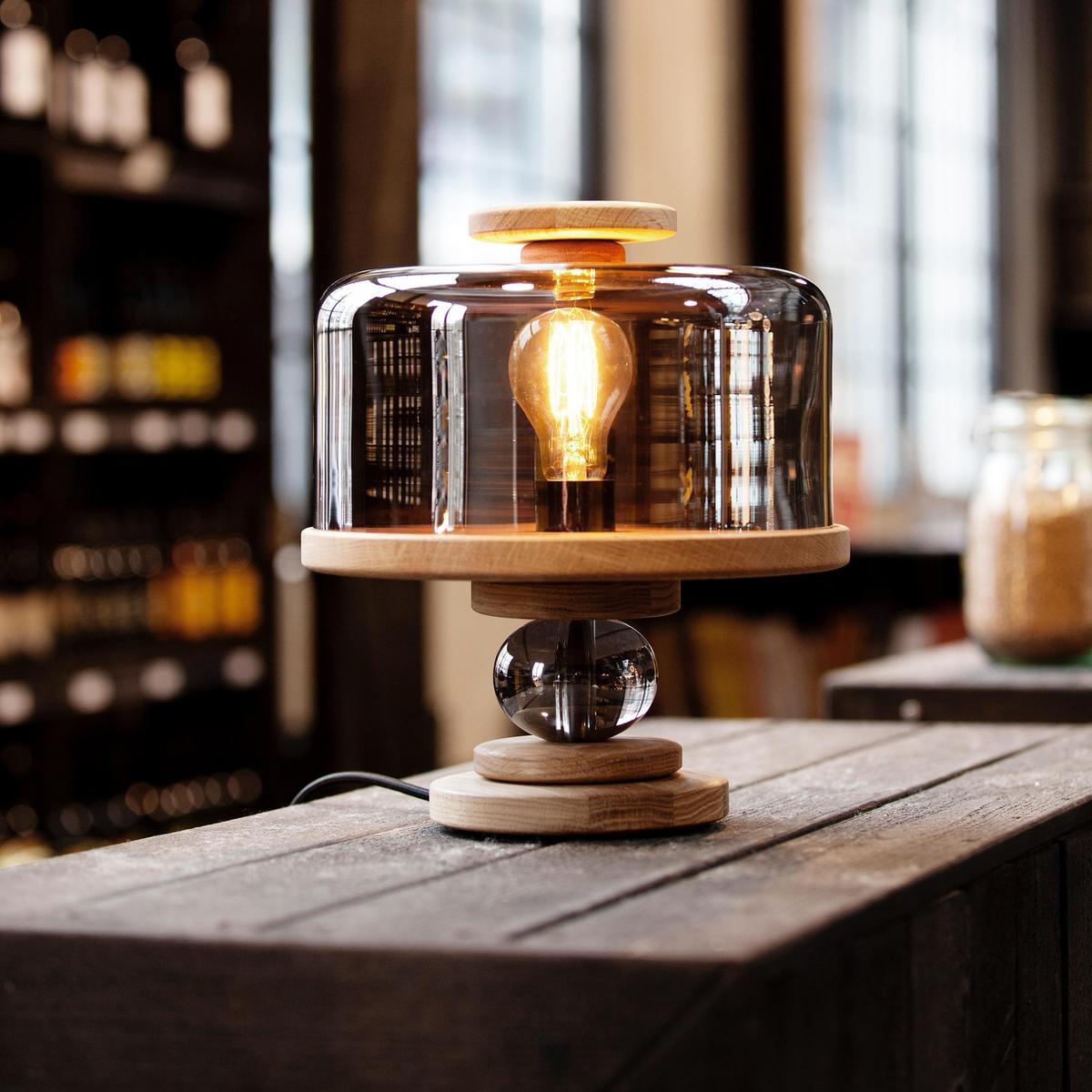 smow: ...we were so hoping you were going to say that! We've never seen it in the flesh, but we do like it, and it is also interesting in many ways, including if we're correctly informed, it was designed or produced in prison?
Jonas: We got chatting with Ove, the owner of Northern Lighting, as Northern was then, at Stockholm Furniture Fair, and he suggested we try to design something for them, and I think we pitched like 50 ideas, we were quite eager. But Ove also knew we were involved with a social project at Bergen prison, a project that was related to Morten's Masters Thesis, and he suggested we try to develop a project with the prison workshops, which became Bake Me a Cake, and which was then produced for Northern Lighting in the Bergen prison workshops.
smow: Another thing that interests us with Bake Me a Cake is that it is more openly playful than a lot of your later works, a lot of your more recent works are very playful but in a more understated, reserved, fashion. Can one see Bake Me a Cake as a step on your way to finding your voices?
Jonas: Morten and I are also Art/Design Directors at Northern and when I view the product proposals young designers send to us, a lot of early works by designers are very playful, it's somehow normal, and I think that's because the inspiration tends to come from things they see or things they do, and everything has to be fun. But as you mature as a designer you move past that, the way you work changes as you become more experienced and are exposed to more situations as a designer, undertake more cooperations, work with more clients. And also you understand over time that objects that are funny aren't necessarily good, they may look good in magazines and get you attention, but aren't always the best solution. In design you learn with age as with everything.
smow: You mentioned your roles as Art Directors at Northern, how did that arise?
Jonas: After Bake Me a Cake we produced the lamps Me and Over Me with Northern Lighting and then Ove asked if we'd like to join the company as Art Directors, which was an idea we liked, not least because it would allow us to better understand the production, the industry, to get to know the whole design process and to be part of something bigger. And then after we'd been working with Northern Lighting for a couple of years Ove announced that they were considering transforming Northern Lighting into a furniture brand, he asked me what I thought, I said 'it's about time', and we were then, along with Ove, responsible for the development of the first Northern furniture collection which was launched at Stockholm in 2018.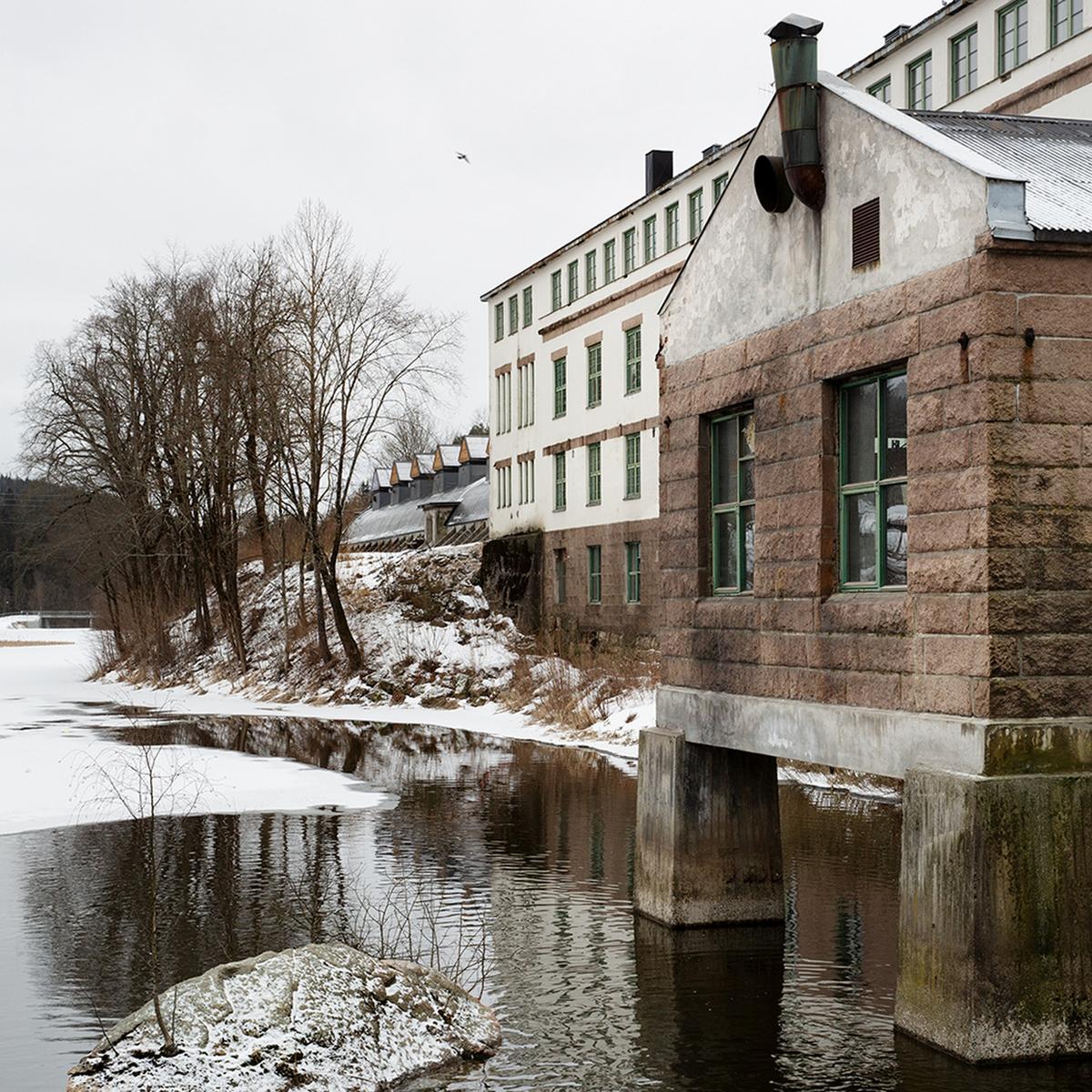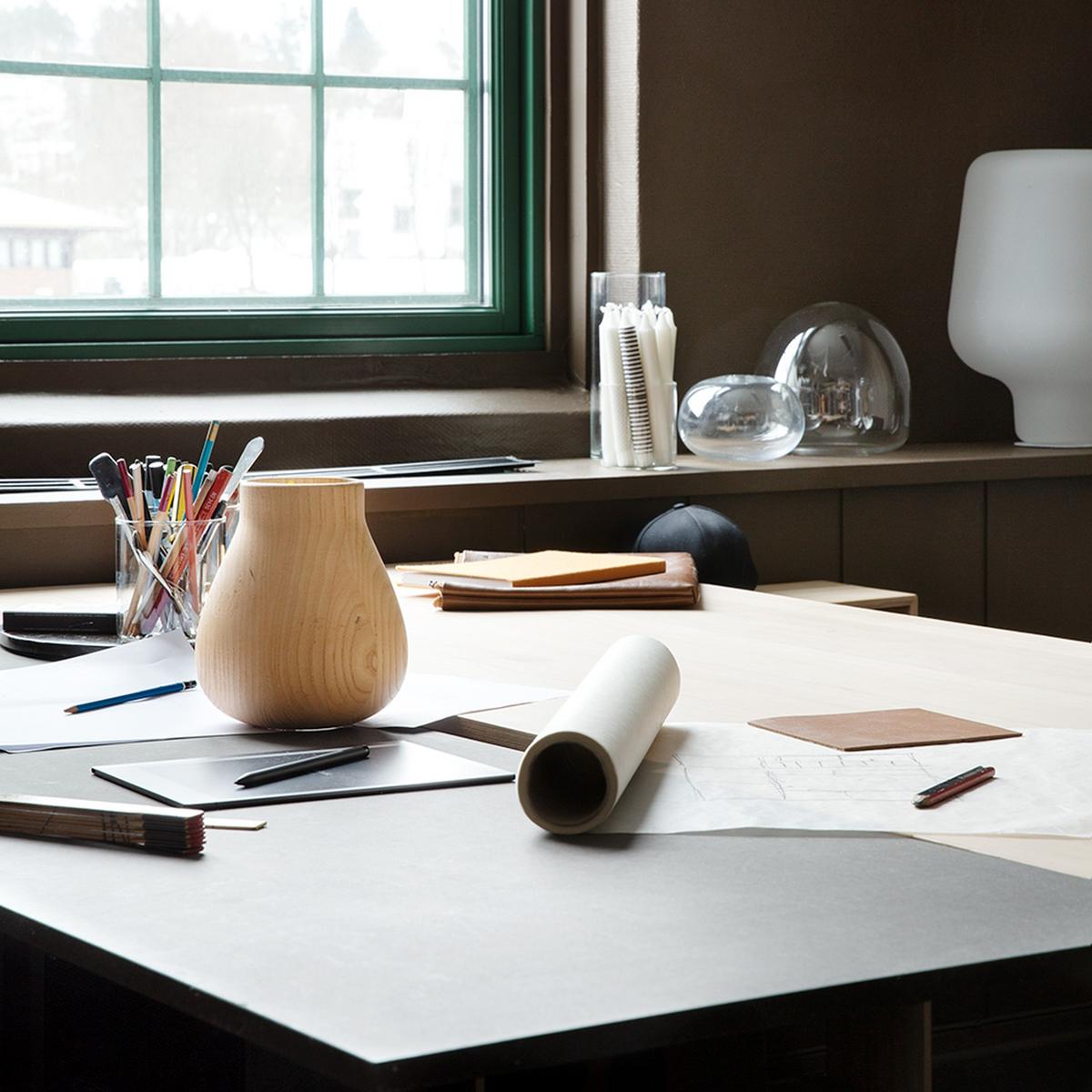 smow: We remember it very well, and since when the portfolio has grown, as has the roster of designers with whom Northern cooperate, how do you approach adding new products to the roster?
Jonas: At Northern we are very open for designers to send us proposals, that channel is always open, and that's because we know ourselves how difficult it is to get in with a producer when you're starting out, so we look at every proposal that we receive and if we see something we like we take things further. We also have student competitions, some of which have resulted in products for Northern, we visit fairs and talk to young designers, but we also commission works from designers we know and who have a design language that fits in with Northern. For us it's important that Northern is a company that can help young designers get their first products into the market.
smow: In terms of your own design language, when we look at your portfolio we see quite a strong graphic element, is that important for you when you're developing a project?
Jonas: Good question, I don't think we've ever thought about it that much. It may be something to do with the Nordic design heritage, about being influenced by the objects that you have around you everyday, but it's not something we've ever actively considered or aimed for.
smow: And generally speaking, how do you begin developing a project?
Jonas: We start with a lot hand sketches, just quick, imprecise sketches, generally very bad sketches, but the fact they're not very good means in a way it's more open and means the other person has a possibility to see what it could be, it's not set because the sketch isn't that good, it's more an idea of what it can be. And then you can develop it from there, play with it, and then once we've got a better idea of what it should be then we move to the computer and make detailed 3D drawings.
smow: And in terms of the interplay between yourself and Morten in the development process, would you say you compliment one another or contradict one another?
Jonas: We see design in different ways, one could say that I'm more of an ideas man and Morten is fine tuning. And while that has probably changed a bit over the years we both still bring different aspects and positions to a project and therefore tend to build on each other's ideas. We've always worked very well together, in all stages of the process.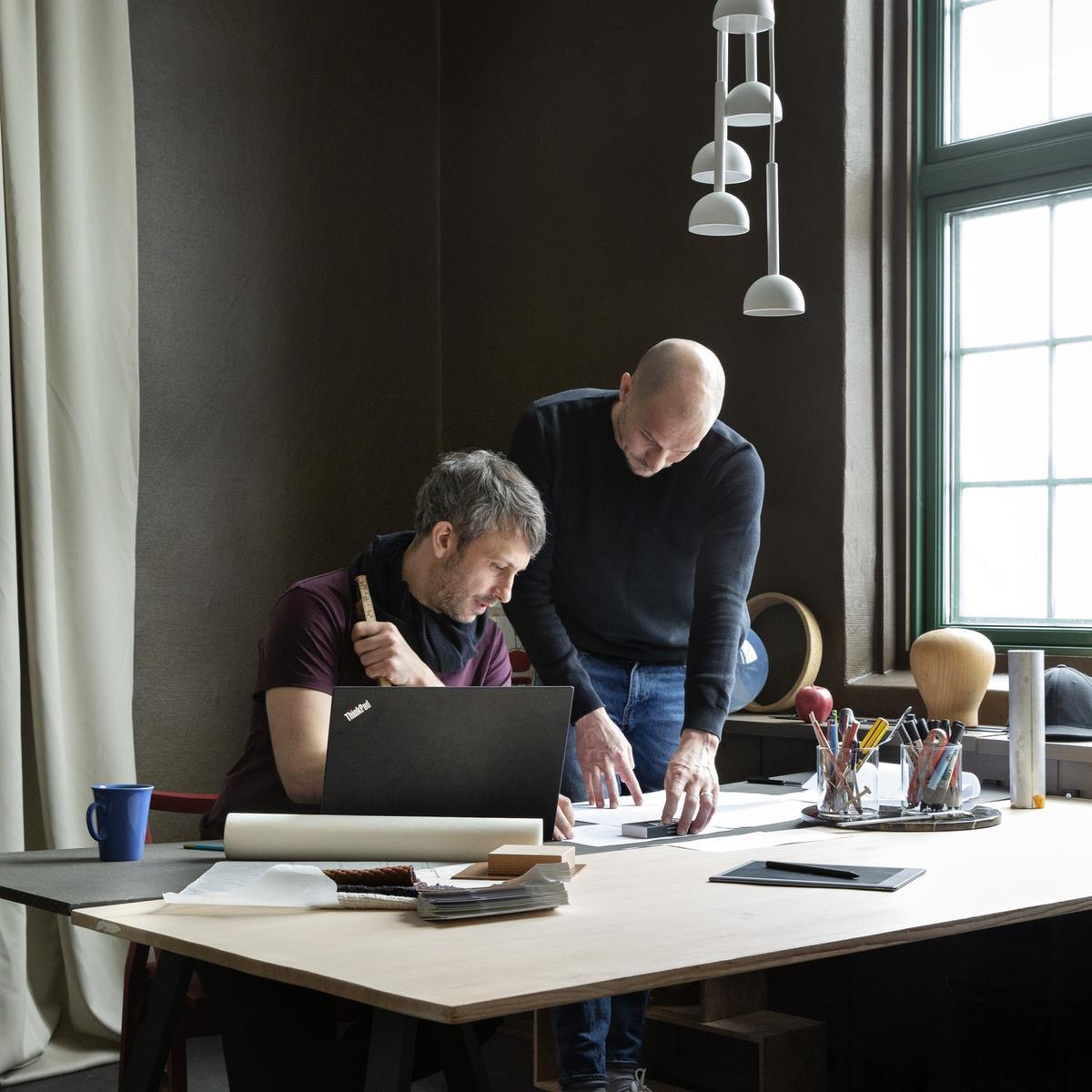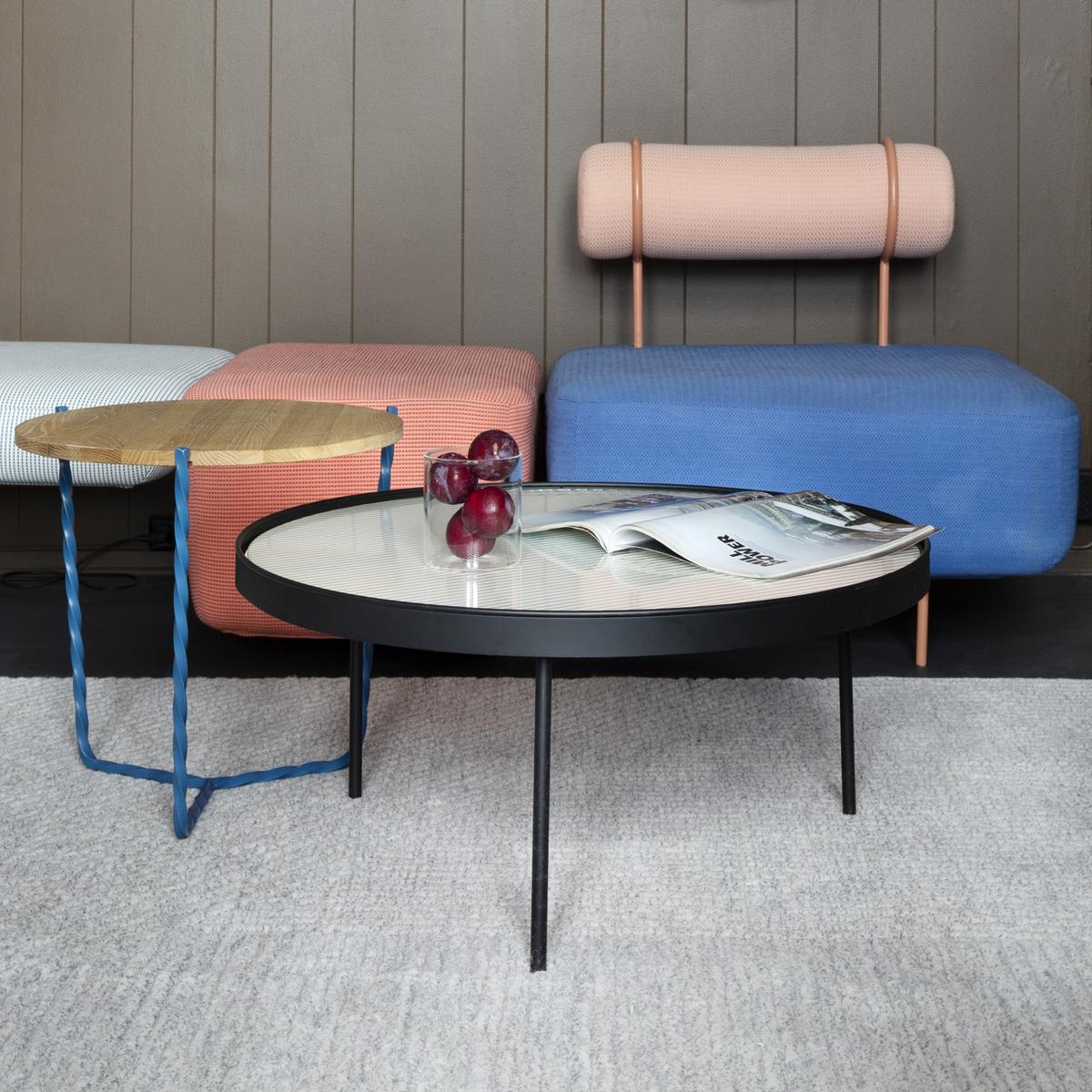 smow: Moving briefly to your work, aside from the individual objects you also have the Blush and Daybe collections, were they planned as collections from the start?
Jonas: Talking as an art director not a designer, if a product works, is popular, if people like the language of the design, then it's quite normal to ask is there something you can do to grow the family, to make it more than a product. Not every product can be something more, but many deserve a family, which was the case with Blush and Daybe.
smow: The Daybe sofa/Daybe sofa bed Northern was also Morten & Jonas's contribution to that first Northern furniture collection in 2018, what was the original idea?
Jonas: That started out as the idea of a sofa that was also a daybed. At that time you had many sofas that became beds via complex mechanics and we wanted to make a super simple non-mechanical product, something that was simple but also beautiful and comfortable and easy to use.
smow: And in that ease of use it's also got that playfulness, that understated playfulness which adds to its appeal. And then more recently the Daybe sofa became the Daybe Dining Sofa, which is differently interactive, and which isn't a widely found genre, what was the thinking behind it?
Jonas: The way we are eating is changing a lot, people are spending longer sat at the dinner table and you want to be comfortable, not necessarily sitting on a wooden chair, and in many restaurants today you sit on sofas when dining, so why not at home? And also in small apartments, apartments smaller than in the past, the dining area is often also the living area and so a space where you want to relax, want be comfortable, and is also a space where you don't just sit at the table to eat, but maybe sit at the table to do homework with your children, and where again you want a little more homely comfort than wooden chairs. And as an object the dining sofa is becoming increasingly popular in Norway, and in Scandinavia in general.
smow: An increasing popularity because design and furniture design is more visible in Norway today than it was?
Jonas: I think so, yes, I think Norwegians have changed a little, before design wasn't that important for the majority of Norwegians, but now ever more Norwegians are considering more what they buy. And one reason for that could be that there are a lot of TV programmes about home decoration and furnishing and that helps get people more interested in designer furniture. And also the impact of social media has had huge impact on helping Norwegians become more interested in design.
smow: And are there thus more manufacturers now than when you started, are there more opportunities for designers in Norway?
Jonas: Yes, there are more and more brands, and also brands that are increasingly willing to deal abroad, who are willing to go further than the Norwegian borders and see if they can be more than just a Norwegian label, which helps improve the visibility of design in Norway.
smow: As, we'd argue, have Morten & Jonas. Briefly to end, you've been a professional designer for a little over a decade, what's the most important thing you've learned?
Jonas: Things take time, more than you think. The development of a product is a long process. And the importance of having patience and developing a good dialogue with those you work with, because they are people you'll be working with for a long time. Relationships have to work on a professional and a personal basis.