Not found what you were looking for?
We can deliver all products from this manufacturer. Please contact us at +49 341 22228822 or service@smow.com to discuss your specific product request.

Skagerak becomes 'Skagerak by Fritz Hansen'
The Danish furniture manufacturer Skagerak, internationally renowned for its wood and metal outdoor designer furniture joined the Fritz Hansen group at the end of 2022, and where, under the name "Skagerak by Fritz Hansen", it will henceforth constitute its own brand within the Fritz Hansen family. Skagerak will continue to offer outdoor furniture of the highest quality that convinces with its reduced, timeless and functional design, and in addition plans to expand their product range into new areas.
Aside from their close connections with Denmark , the two Danish design brands are also connected through their core values of quality and craftsmanship and their ambitious sustainability goals, while according to Josef Kaiser, CEO of Fritz Hansen and Skagerak, Skagerak and Fritz Hansen are naturally complementary because both share the Scandinavian design tradition, a committent to responsible manufacturing and stand for furniture and interiors of the highest quality.
Family Firm Skagerak by Fritz Hansen
The family firm Skagerak by Fritz Hansen was founded in 1976 on the northern Danish Skagen peninsula and specialises in the manufacturer of traditional, contemporary, furniture. Based, as they are in coastal area the Skagerak portfolio of indoor and outdoor furniture has a charming maritime flair and freshness. Developed by a roster of international designers Skagerak by Fritz Hansen furniture celebrates a passion for wood and a demand for the use of high-quality materials. In addition to numerous tables, chairs, coat rack and other interior objects Skagerak by Fritz Hansen also produce home accessories inspired by life at sea. Particularly popular are the Grenen and the Skagen collections by Mogen Holmriis; something taht comes as no surprise once you have experienced the natural warmth of traditional Scandinavian design which they exude. The Danish furniture manufacturer uses only organically grown wood, including, amongst others, teak, oak and cedar are; as a result Skagerak by Fritz Hansen outdoor furniture such as the cedar Overlap Bench and Overlap Table are not only durable, resistant and aesthetically charming, but also socially and environmentally responsible. And that regardless if in the kitchen, dinning room, terrace or garden.
All Skagerak by Fritz Hansen furniture is realised according to the motto "Design for generations". This means, above all, an emphasis on a long service life of the products. The Danish manufacturer follows the philosophy that durable products are valuable in many ways - the level of enjoyment, in terms of economic aspects and of course for the environment. With high-quality furniture the procurement of raw materials, the transport, packaging and disposal are naturally reduced on account of the long service life and thereby the environment is sustainably protected. Sustainability and quality go hand in hand with the furniture of Skagerak by Fritz Hansen. And of course, products that remain beautiful and functional for years and for which generations have their joy, are also more cost-effective in the long term. Corporate Social Responsibility (CSR) is also a top priority at Skagerak by Fritz Hansen, with the aim of acting as responsibly as possible in every step of the business. Social as well as ecological aspects are equally important to take responsibility for the future of our society and the environment; among other things, Skagerak by Fritz Hansen formulates a number of zero-tolerance points, which must be fulfilled in every area of ​​the company and its suppliers: Forced and child labour are banned, employees must be treated with dignity, and harmful and dangerous working conditions must always be avoided. The Scandinavian manufacturer also takes responsibility for wood procurement and pays special attention to sustainable forest management. For example, Skagerak by Fritz Hansen supports the Forest Stewardship Council™ (FSC™), a non-profit international organization that certifies sustainably sourced wood and paper.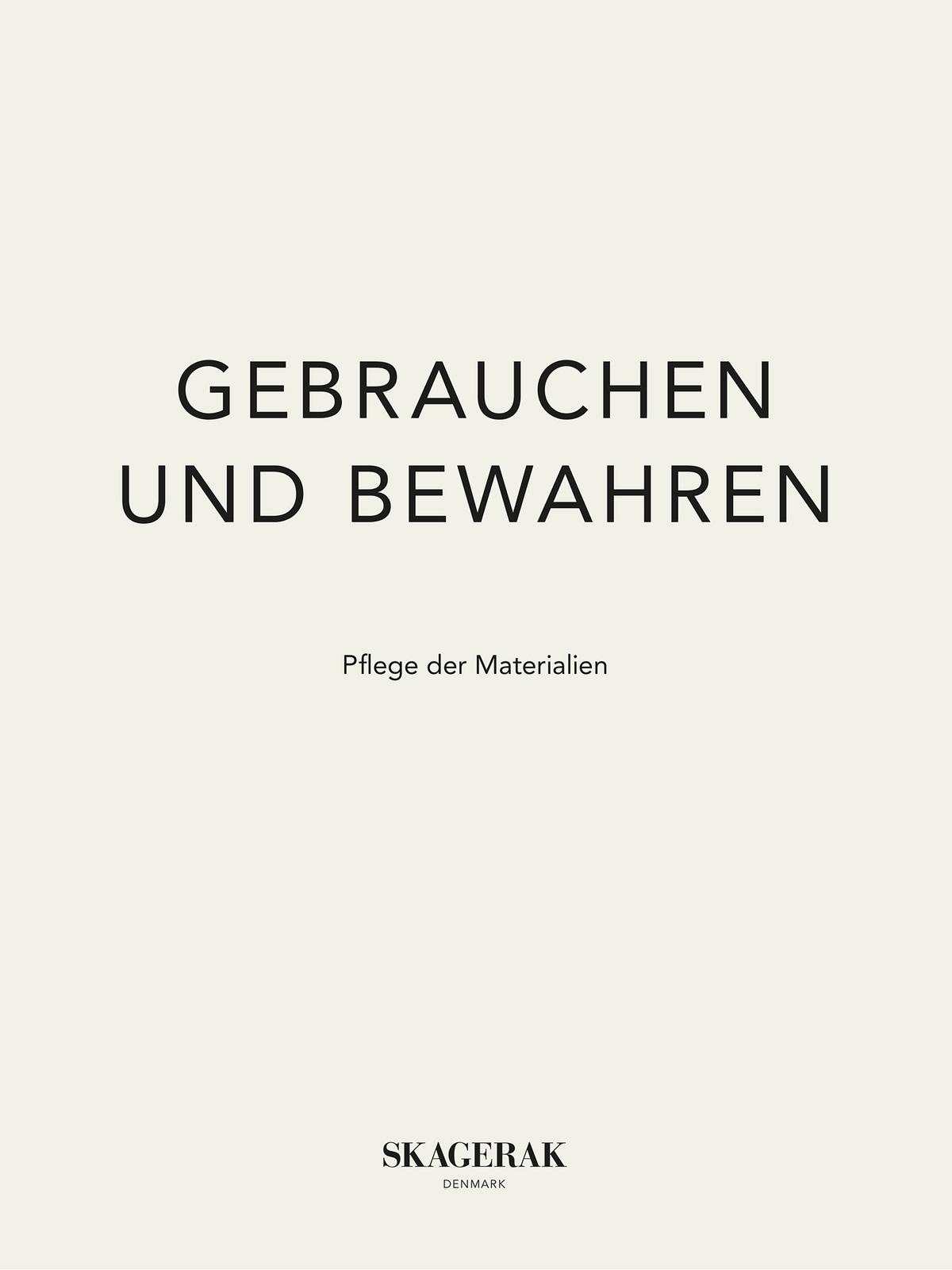 smow sells exclusively originals from licensed manufacturers and is an official trading partner of Skagerak by Fritz Hansen.