Müller Small Living - Clever furnishings for small spaces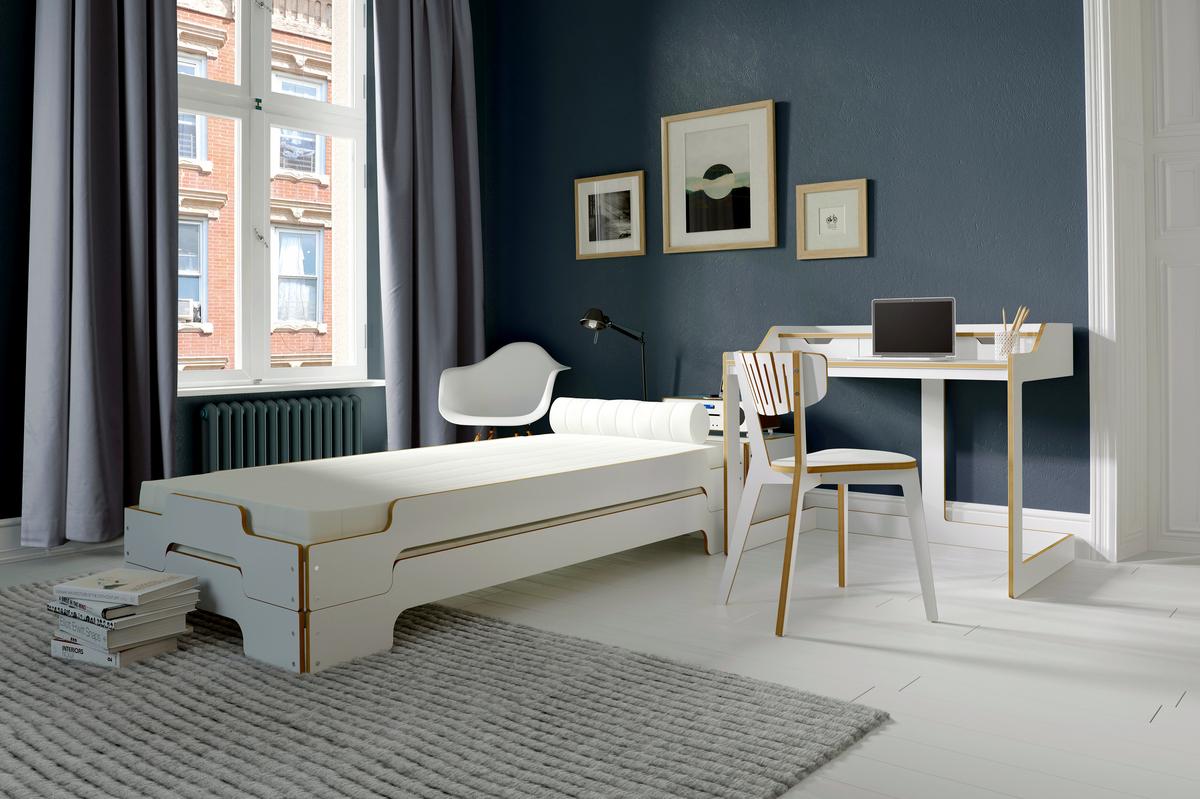 While some fulfil their dream home with a "Tiny House", most people have no choice but to move into a small apartment. Especially in large cities with lack of housing and high rents, instead of the spacious industrial loft, it may be more like the angled attic apartment: thus when it comes to furnishings, a lot of creativity is required. Fortunately there are furniture manufacturers like Müller Small Living, who are taking care of the increasingly topical subject matter. As part of the Small Living concept, the traditional company, together with renowned designers, develops and produces multi-functional furniture and furnishings especially for small spaces. A folding or extendable kitchen table, a bed with a bed box, a Flatmate Secretary with integrated lighting or the modular shelving system Konnex turn out to be a real panacea to save space and storage space and with a little planning skill, one still has overnight accommodations for guests and enough space for the birthday party. Wall cabinets and wall shelves are particularly practical as they do not occupy any floor space. In addition to space-saving furniture with storage options, home accessories such as cleverly placed mirrors or a sophisticated lighting concept also have a positive effect on small rooms. The choice of wall colour can also be decisive for the perception of the room. With classic white and very bright tones you are on the safe side, but also dark shades can - cleverly used - visually increase the space. An important tip: maintain order! Those who combine the spring cleaning with a proper tidy, create more space and bring an important calm to the apartment.
Müller Small Living in the contract sector
In addition to intelligent concepts for private homes, manufacturer Müller also offers solutions for the contract sector as part of the Müller Small Living concept. The focus here is on the areas in which many people live and work in a small space, such as student residences, hotels, hospitals or other objects that house micro-apartments. The limited space requires special planning skills and flexible and space-saving furnishing concepts with multifunctional furniture, but without forgetting a cosy, homely ambience. Especially in objects that ensure a longer comfortable stay and possibly even serve for recreation, such as spa facilities or hotel rooms, the well-being must not be neglected in all its functionality. Thanks to its extensive expertise, the German furniture manufacturer masters these challenges: starting with design classics such as the Stacking Bed by Rolf Heide, the flat Flatmate Secretary and individual storage space solutions, Müller Small Living offers space-saving design furniture for every requirement and situation. Together with the Cologne-based designers Kaschkasch, the manufacturer also developed the intelligent furniture system Corner, which works on the modular principle and promises optimum space utilization at low costs.
High quality design made in Friesland
The medium-sized family business Müller Small Living was founded in 1869 as a carpenter's workshop and has been synonymous with high-quality designer furniture made in Germany for five generations. The figurehead and absolute design classic is the Stacking Bed by Rolf Heide from 1966, which represents the company's design and company philosophy. Traditional craftsmanship meets at Müller a clear design language without fashionable-short-lived flourishes and details and ensures that the collections remain relevant for generations, thus adding to their sustainability. The North German company is also very active in the commercial sector and in shop fitting and, in close collaboration with architects, realises sophisticated interior fittings for offices, hotels, student residences, hospitals and other public facilities in accordance with the "Müller Small Living" concept.