Muuto Outline sofa collection
Not found what you were looking for?
We can deliver all products from this manufacturer. Please contact us at +49 341 22228822 or service@smow.com to discuss your specific product request.

Elegant, comfortable and versatile - the Outline upholstered furniture from Muuto
In 2016 Danish manufacturer Muuto launched the Outline furniture series, a collection which revives classic Scandinavian sofas and armchairs from the 1960s in a contemporary expression and has the potential to become a classic in its own right. At first glance, the Outline seating furniture impresses with its clean and elegant appearance, the deep and comfortable padding conveys a feeling of security and homeyness. The timelessly simple upholstered furniture family, designed by Anderssen & Voll, effortlessly becomes a particularly beautiful and cosy centrepiece in every home. Despite the individuality of the various members of the family all share the delicate, powder-coated aluminium base, which perfects the simple, stylish sofa and armchair design. The Outline upholstered furniture is also available in various colours and in fabric or leather.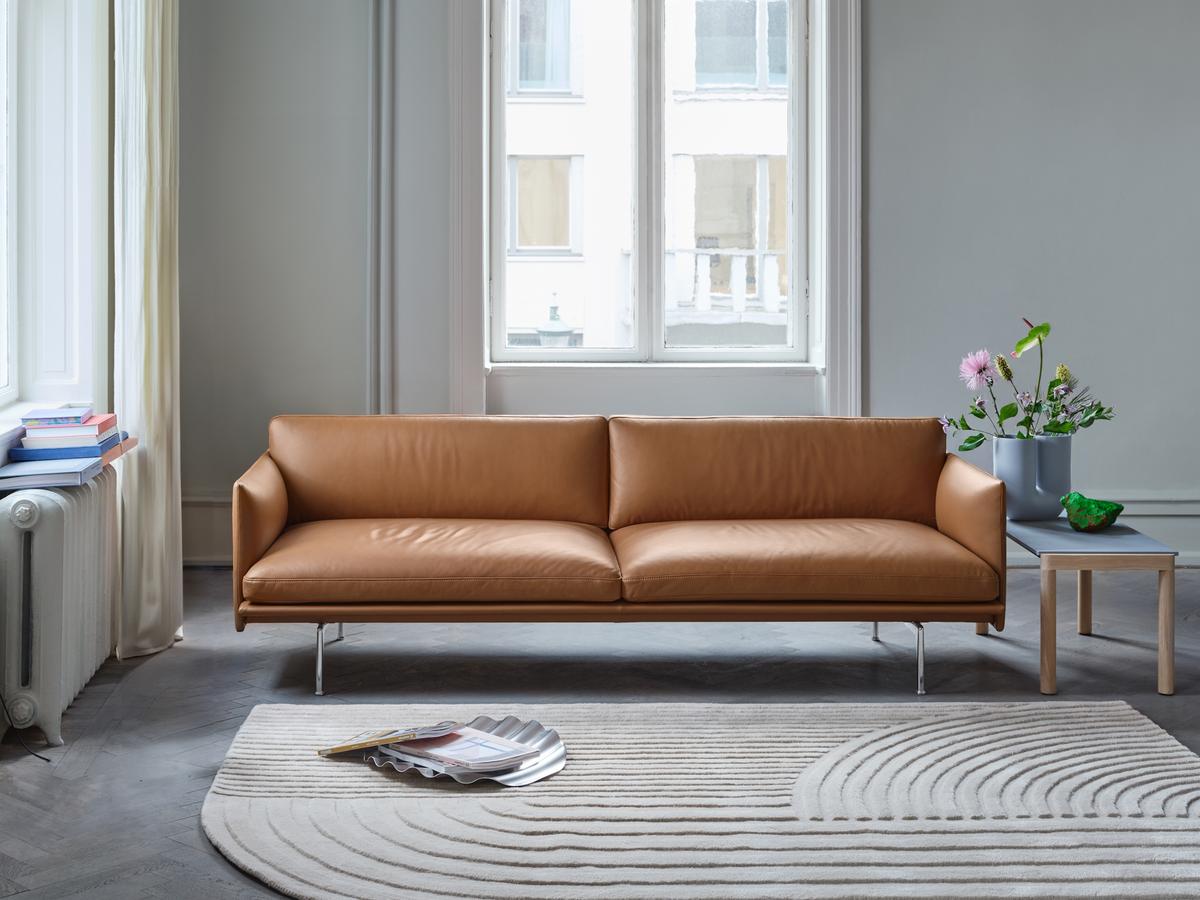 The Outline upholstered furniture collection: Which seating for which room and requirements?
With the Outline upholstered furniture Muuto embodies timeless sofa design where simple, precise and characterful design meets excellent materials and perfect workmanship. Added to this is the versatility of the Outline collection: whether in the living room, in salons, lobbies or even meeting rooms the Outline upholstered furniture is an ideal choice and is also a first-class choice for discerning furnishing lovers.
The Outline Studio Sofa and the Outline Studio Armchair are designed to be a little more compact than the other Outline furniture from Muuto. The narrower dimensions allow for comfortable lounging with minimal space requirements. The Outline Studio Sofa is ideal for smaller rooms or as a complement to the larger Outline Sofa.
In addition to the Muuto Outline Sofa and the Muuto Outline Studio Sofa, the series also includes the elegant Muuto Outline Highback Sofa, which provides visual and acoustic insulation and is therefore particularly used in offices.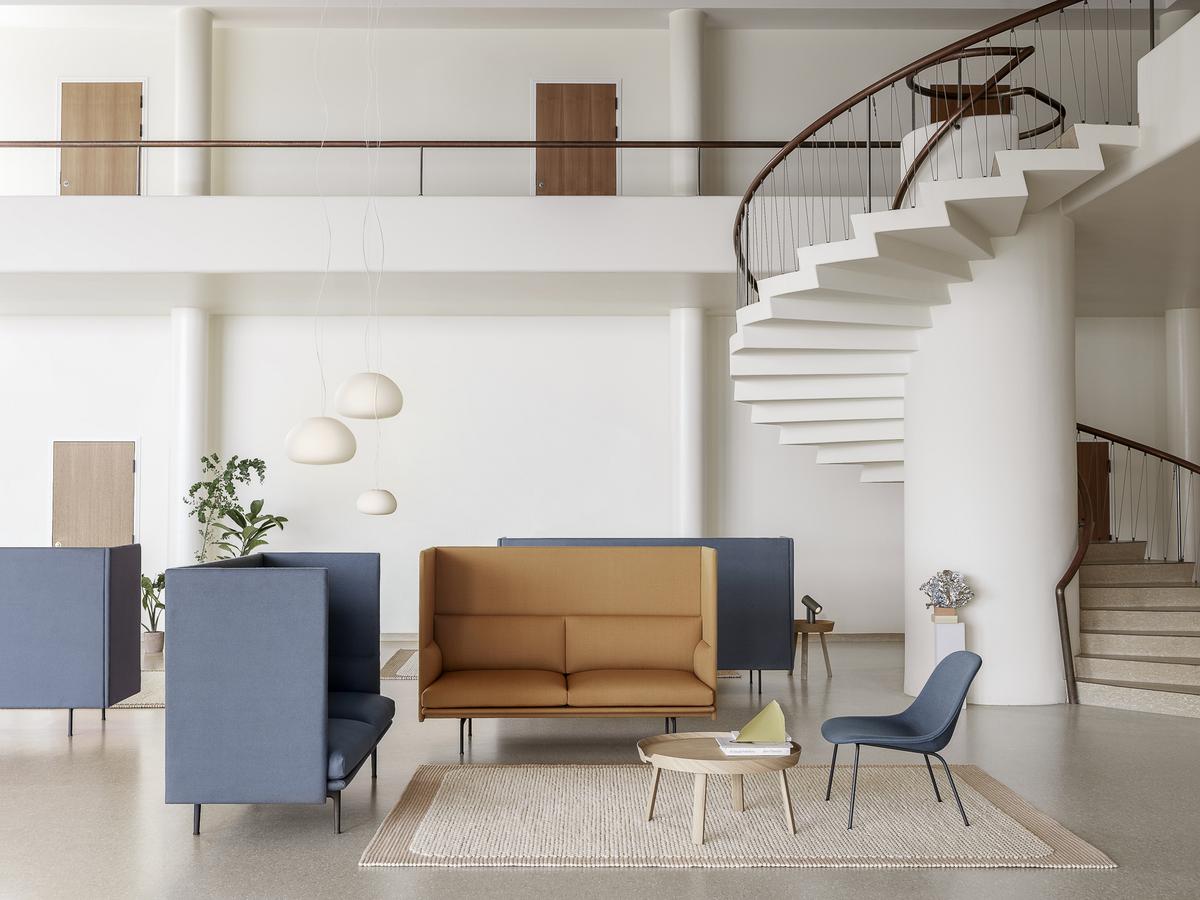 Muuto Outline armchairs and sofas in action
Muuto Outline upholstered furniture bequeaths rooms a luxurious touch and, thanks to their clear and slim lines, fit perfectly into a contemporary living environment. Uniformity is not a must - the simple Outline seating furniture can tolerate sophisticated breaks: in combination with an exposed brick wall or a patterned vintage carpet, they reveal their full elegance.
Combine Outline furniture
Muuto Outline upholstered furniture particularly shines when combined as seating groups: armchairs and sofas with different upholstery materials can be combined here, for example, an Outline sofa with leather upholstery in black also goes perfectly with an Outline armchair with fabric upholstery in Greyish Green. The collection therefore offers ideal scope for furnishing hotel lobbies and large common areas.
Autumnal, classic, soothing - Outline upholstered furniture with cognac leather cover
The warm cognac of the leather cover harmonises perfectly with the clear lines and simple elegance of the Muuto Outline furniture and creates a particularly cozy yet stylish atmosphere. If you want to enhance this soothing effect, you can complement the room with selected accessories, such as cushions, blankets or vases, in shades similar to cognac.
Outline furniture for a Scandinavian living style
Anyone who feels most comfortable between "minimalist" and "cozy" will be naturally at ease with the Scandinavian Outline aesthetic. Muuto Outline upholstered furniture can be combined with side tables in a simple Scandinavian design from manufacturers such as Fritz Hansen or &Tradition. Light wood surfaces, pastel tones and metallic accents work particularly well with this style. Slim pendant lights or floor lamps complement the horizontal lines of the Outline sofas and emphasize their elegance.
Buy Muuto Outline upholstered furniture online or in store
Discover the Outline upholstered furniture from Muuto in the smow online store or in a selected smow stores near you. Our team is available to help you select your Outline seating furniture and offer comprehensive information and fabric samples.