Soft Seats free with four Vitra Chairs

Buy Four Vitra Chairs and receive the matching Soft Seats as our Gift
Buy four Vitra Dining Chairs by June 30th 2023 and receive the matching Soft Seats as our gift to you! You can combine the colours and versions of the Eames Side Chairs, HAL Chairs, Panton Chairs or EVO-C as you wish and can also choose your preferred version of the Vitra seat cushion.
Vitra Dining Chairs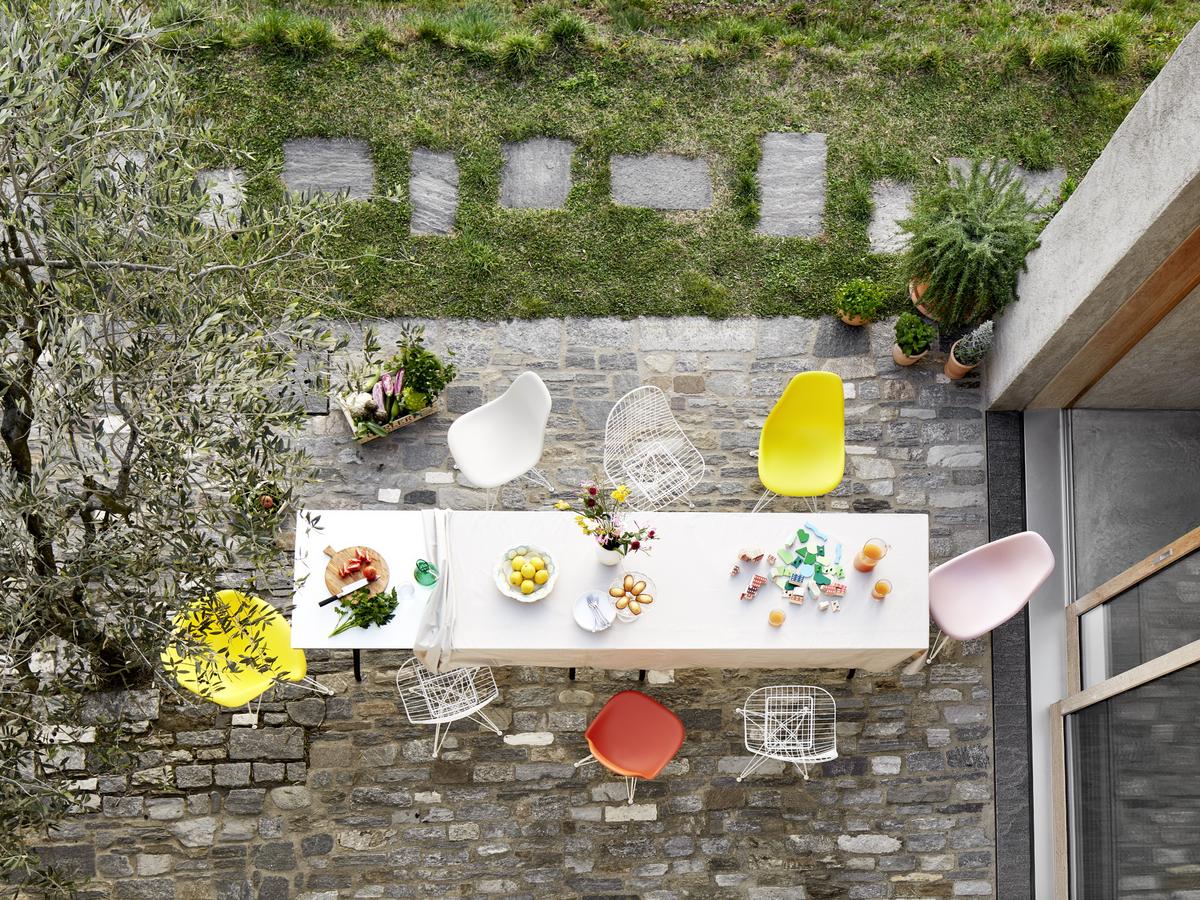 Whether Eames, Panton or Prouvé, the Vitra Dining Chairs are as versatile as their designers. Designer chairs have always been a priority for the Swiss furniture company Vitra and today its impressive collection allows the history of industrial furniture design from the end of the 19th century to the present to be traced. When considering which Vitra Dining Chair best suits your needs, some pragmatic aspects should be considered. Are you looking for a dining chair for an elegant dinner table? If so design classics such as the legendary Panton Chair, Vitra dining room chairs made of wood or cantilever chairs are particularly appropriate. Your Vitra kitchen chairs should match the furnishings of the room, in addition Vitra chairs with armrests are particularly suitable here. Should you require flexibility at the dining table, easy-care Vitra dining chairs with low weight, which can be quickly moved from one room to the other if necessary are ideal. In the catering sector, or for homes which host regular large dinner parties, we recommend stackable Vitra chairs such as the Vitra .03 chair by Maarten Van Severen. While the quintessential Vitra design classics, the Eames chairs, can be combined as the mood takes you, contemporary Vitra dining chairs such as those from the HAL collection by Jasper Morrison cut a fine figure at the dining table through their combination of elegance and comfort with a simple design and noble materials.
Vitra Dining Chairs for Garden and Balcony
Those who like to move their dining room outside in the warm season will find an equally versatility in the Vitra Dining Chairs. Thanks to special material properties many Vitra chairs are ideal for the garden, the terrace or balcony. All-rounders suitable for outdoor use, such as some of the Belleville Chairs by Ronan and Erwan Bouroullec or the weatherproof version of the Vitra Wire Chairs, offer the perfect seating for mild summer evenings outdoors. Similarly, restaurants, cafés and other catering facilities can also benefit from Vitra's easy-care and robust indoor/outdoor furniture.